Thanks for the great questions everyone! Sorry it took so long to answer them. Not having a laptop anymore has made my late night, tv watching, internet surfing, a lot less productive or should I say non-existent. hehe
1. What kind of sewing machine do I use and do I like it? Does it have an embroidery attachment?
The first Christmas after we were married, my sweet husband bought me a sewing machine. I had asked for one of course, he didn't just think "hmmm...think I'll get her a sewing machine." We went to a local
whole in the wall
dealer that sold Singers. My mom had a Singer so I thought that was way to go. We bought a
Singer 4616
for about $160. It's got some fancy stitches which I've honestly used maybe once. It's been a pretty trusty machine. My biggest complaint is how loud it is. But my husband can sleep through it even at 4am. It's easy to use and gets the job done. There are of course a ton of better machines out there. I just haven't had the luxury of shopping for my next one yet. I hear that Bernina is the best brand as far as machines and Babylock for sergers. If you are wanting to buy your first machine, look for one that comes with a button-hole attachment, has a built in light (I'm sure that's standard) and is simple to thread. There should be guides printed on the machine to show you how to thread it.
I personally do not have an embroidery machine. Any applique work I've done has all been by hand. Meaning I use a tight zig-zag stitch on my machine and maneuver the fabric under the presser foot to sew around the appliques I've cut out. See a quick tutorial on how I do it
here
. But...my friend and business partner, Amy, has a computerized sewing/embroidery machine and it's really fun. She's got a
Babylock Ellegante2
machine and a
Babylock Imagine
serger. With that said, the machines don't make the seamstress, it's practice and technique that are most important. My machines are both entry level and have served me just fine. Amy's are top-of-the-line and have features that are more fun to use and the self tension and auto-threading can keep you from pulling your hair out, but she'd be just as excellent a seamstress on my machines.
2. When you make ruffles, do you use a ruffler attachment on your machine?
I do own a ruffler attachment but I have yet to work it successfully. I do all of my ruffles by hand. Here is a good
tutorial for how to make ruffles
. This is what I do and it's super easy. I just enjoy doing things by hand (hence my love of hand embroidery). It's the same with cooking, I'd much rather cook from scratch. I have a lot of friends that use their rufflers and swear by them, which is why I bought one.
3. I have an unhealthy fear of zippers. Seriously, I break out in a cold sweat at the thought of putting in a zipper. Any advice?
Hahaha...love it! Ok, being completely honest here (as always), I have not put in a zipper either. I have that same unhealthy fear. But it's on my list of things to tackle in 2010. Zippers and knits both terrify me. But, I just found some good tutorials on YouTube. I like
this lady
and the fact that her words are also typed at the bottom in case you miss something. Looks like there are a bunch in this series so look for more videos by her. And
here is another tutorial
that looks good. What do you say we give it a try?
4. What was your experience as an Ebay seller of boutique clothes? When/if you go back to it, will you do anything different this time around?
My experience was great! I had no idea that the Custom Boutique world on eBay even existed until my girls were almost one. I happened upon it and one of the first custom listings I noticed was by my soon-to-be-friend
Jenn
. It was love at first site, total design crush on her! If you have no idea what I'm talking about, go to eBay and search "Custom Boutique" then sort highest to lowest (I also choose auction only) to see all the loveliness. The talent out there is pretty inspiring. I started sewing my little heart out until I got the hang of it and figured I could hold my own with the big girls. And the rest is history.
I had/have THE best customers a gal could want. But I think that's also pretty typical of the custom buyer. They truly appreciate all that goes into a handmade piece. My most faithful customer, turned
friend
, is coming to visit me in a couple of weeks. How fun is that?
I was in a couple of design groups over the 3 years I sold (XOXO and IvyLane) and I think this time around I'll stay solo. I loved the friendships I made and having others to ask my silly questions of. But the monthly launch requirements won't fit into how Amy and I want to work this time around. Some people really like having a planned launch date and theme to motivate them to create something different but I find that sometimes it keeps me from doing what I really want to do. My next idea might not fit nicely into a theme or my schedule may not allow me to meet the launch date, which isn't fair to the group. It will just be easier to be on our own, I think. As far as fees go, Etsy takes a lot less of your money than eBay does. We plan on selling through both sites though.
If you have more specific questions about selling your creations and the business side, feel free to e-mail me at tadacreations(at)gmail.com.
5. What brand of fusible web do you use with your applique? What kind of stabilizer do you use? Do you use different kinds of stabilizer with different kinds of fabrics? I think I'm the biggest sewing nerd ever!
I use
Heat 'n Bond Lite
to fuse appliques. You can find it at JoAnn hanging in the notions isle. Don't forget to use your 50% off coupons! For stabilizer I use a
tear away stabilizer by Sulky
that you iron on. When working with knits, I iron on two layers and after the applique is done I remove it one layer at a time so as to not put too much stress on the stitches. I'm not a fan of the cut-away stabilizers since you can't get close enough to the stitching. And I'd rather not monkey with the dissolvable ones. And since I'm not using a hoop for an embroidery machine I need it to stick to the fabric so I always use the iron on kind.
p.s. I love sewing nerds! ;)
6. I SO want to learn to SEW...but it's completely overwhelming to me. Where do I start???
My first piece of advice is to get a basic machine, you don't need any bells and whistles and $150 should be enough. Then start with a pattern from
You Can Make This
. All of the patterns on this site are designed for beginner sewers. Growing up, my mom taught me how to sew. But I always let her do the tough parts like reading the patterns. I left home knowing how to straight stitch, do a zig zag, wind a bobbin, thread a machine and start and stop sewing. Pretty basic, but invaluable none-the-less. Thanks Mom! It was enough to be able to sew my own curtains when we bought a house, making it up as I went along (no pattern needed, they're just rectangles). But it wasn't until I bought
my first pattern
from YCMT that I realized just how easy clothing creation was. The confidence and tips I gained from the first two pieces I ever made were priceless. I was eager to learn more and shortly after, bought my first store-bought pattern. Granted I've never sewn for myself and fitting little girls is so much easier without darts and such (ahem *zippers*), but I'm sure I could handle that too.
*Don't be alarmed about how long some of these patterns are, they are similar to the tutorials I have done for you here on my blog (see sidebar). They are full of pictures and explain each step in detail. You can also e-mail the authors with questions.
Here are some patterns I would recommend starting with:
Twirl Skirt by Pouty Princess
The basis of all twirl skirts.
~OR~
Evelyn Apron Skirt
by
Jona
I have not bought this one, but it's adorable.
Pillowcase Dress (for dolly too)
I have not bought this one but it's got to be easy. They also have a Mommy top version.

Flouncy Tiered Sundress
I have not bought this one, but it looks super easy.
Patterns to try after you've mastered button holes:

Round Neck Sundress/Top
I just made these for the girls' Easter dresses and it was a snap.
Emily's Camisole
Looks easy and making the button placket will help you sew other patterns later.
Emma Swing Top
Super popular right now. I've bought it and it looks very easy.
I hope that helps!
7. How can I be sure to find out about your class?
I'll have the date on my blog as soon as it's scheduled (probably not until August). It will be at
Eagle Creek Quilt Shop
in Shakopee, MN this fall. We'll have a lot of resources for you as well as a show-and-tell of our work. I'm excited you want to come!
8. Have you ever made piping and if yes then how do I do it???? I'm just learning to sew and I love it!
Another confession...I have not made piping. I'm starting to feel like I haven't done anything! I just searched "piping sewing tutorial" on YouTube and found
this
. It's only one part of a series and it looks like it's for a pillow or couch. There are also these tutes that look easy to follow too,
here
and
here
.
9. Tags for clothing.
I bought my TaDa! Creations labels from
fancyweaver
on eBay. They are made in Hong Kong and they are very easy to work with. You get 200 labels for $45 and they carry size tags too. I know you can also use an embroidery machine and stitch labels onto grossgrain ribbon, but I haven't tried that.
10.How to make your appliques look professional.
Good question! Start by working
s l o w l y
. It's not a race! And when you come to a corner, keep moving the fabric so your needle comes back to the inside of the corner and slowly fans it's way around the corner. I usually hand-crank each stitch and reposition the fabric before putting the needle down every time. Don't sew to the end of the line and butt the next line (perpendicular to it) right up to it. You need to pivot your fabric around the corner for a professional look.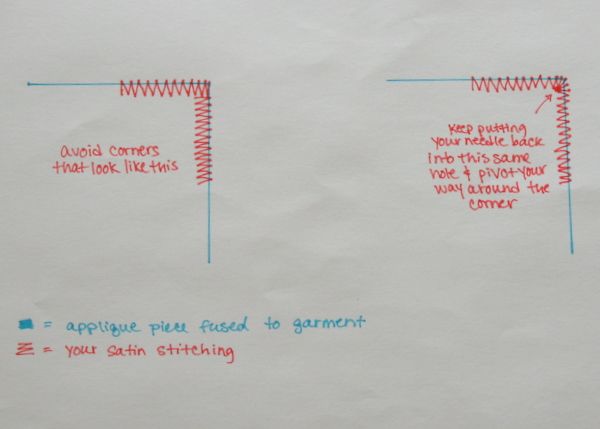 *Sorry for the not-so-good drawing. I had a very interested 4 year old at my elbow.
Also, if you are laying a lighter color on top of a darker color, I double up on the light fabric. For instance if I have a piece of white that overlaps red and denim, I cut out two of those white pieces and fuse them one on top of the other. That way the fabric from underneath doesn't' show through. One of the things I don't like to see is someone who took a lot of time and care to applique something cute on to a dress made out of polka dots and you can still see those polka dots through the applique. Not very professional in my opinion and I try hard never to let that happen.
Thanks for all the questions and the super sweet comments! Feel free to ask more and I'll do a part 2.