I've been wanting to make this cake for many weeks and this morning we finally had time. The girls were SO excited! They love to make this cake with me because I let them do almost every part of it themselves.
It's called Jell-o Poke cake, and here is all you need
1 box yellow or white cake mix (oil, eggs, water)
1 sm box of any flavor Jell-O
1 sm tub of Cool Whip
Start off by baking the cake per the package directions. Hopefully you won't have to hunt down your eggs because the Egg Bandit hid them all under the couch. Because that happens you know. Really. I wouldn't lie to you. And don't forget to check the refrigerator in their play kitchen for that one missing egg. Eggs need to stay cold you know.
Then you let your
Egg Bandit
hungry daughter mix the Jell-O with 2 cups hot water.
Did you see it?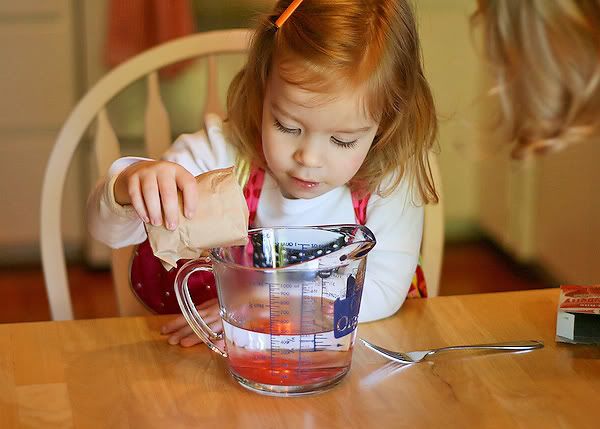 Let's take a closer look.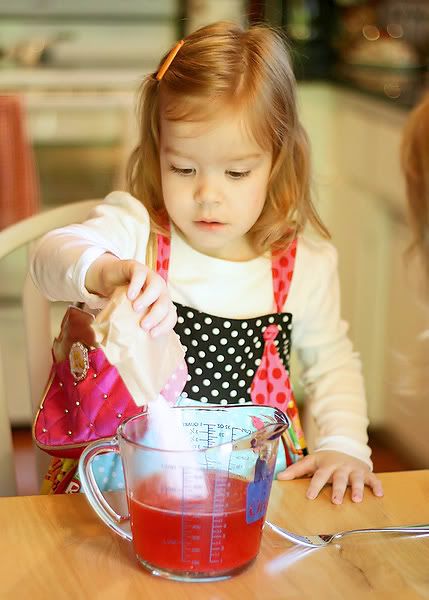 That's right, a true Princess can
not
make Jell-O without her Sleeping Beauty purse.
Next, you give the cake a little poke.
Then turn the fork over to your oldest and pray that you've taught her everything she needs to know
as she has grown up so fast right before your very eyes and will some day go off into the world without you by her side
to poke a cake.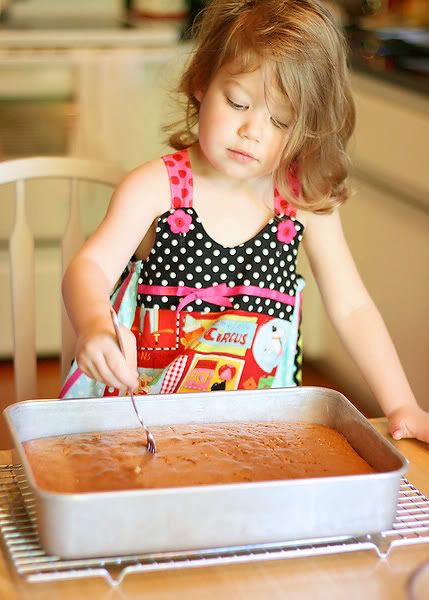 Then you pour the hot Jell-O over the still warm cake. You might hear your
Egg Bandit
little helper say "those holes are
thirsty
Mom."
Until it looks like this.
Then you put it in the fridge to cool while the kids are at pre-k. Once they are dropped off you will feel compelled to hurry home, making all the yellow lights lest you be slowed down, put the baby down for a nap and let your nose direct you back to the kitchen where the cake is just waiting for you to
rescue
get it from the fridge and spread a whole tub of Cool Whip on top of it. Of course you have to "test" it before the kids get home, just to be sure it's edible. Don't worry if the first piece falls apart when you take it out of the pan. The second piece could use some testing too.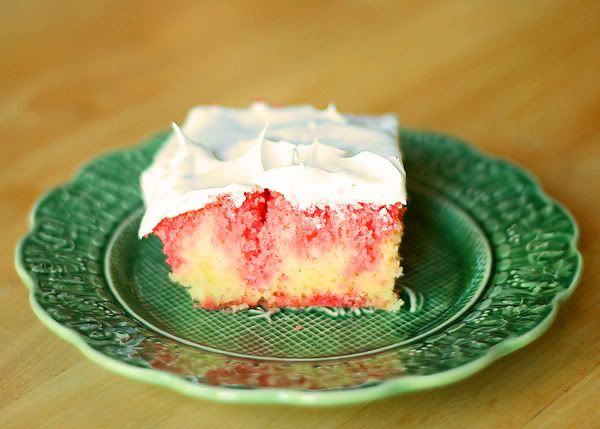 Enjoy!