I know, such original blog titles lately. I'm blaming it on the weather and lack of sunshine lately. Does anyone else suffer from seasonal affective disorder (SAD)? The past two years have me convinced that I have it. And I've got David about 50% convinced we should move to Ashville, NC which is a huge feat considering he would never have even entertained the idea before.
Anyway, what I came over to tell you was...I found THE perfect lamps! I need to go back and pick up a matching one for my side table. I found it at Bed Bath & Beyond today and after coupon it was $26. It has a khaki colored linen shade. And our room will be going khaki from yellow soonish. I'll either paint his table black or find one with drawers (to paint black) so he has a place to store his junk. This one is pretty girlie for my manly man, or so he tells me. ;)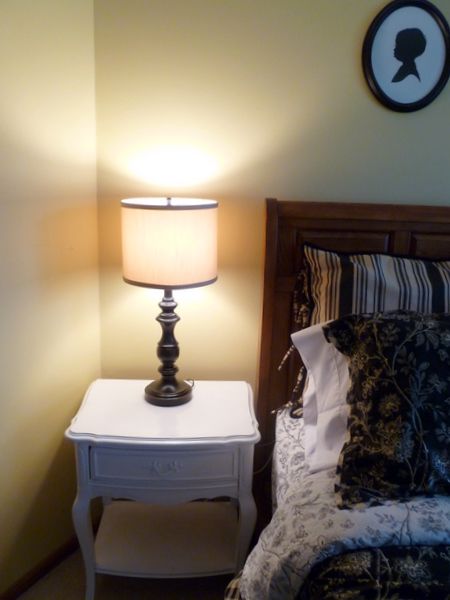 Crossing my fingers that the twin bed we just called about will still be there after we make the 2 hour drive (both ways!) on Sunday. Eeek! Are we crazy to think that $30 is worth the leisurely Sunday drive? Or...maybe just a little desperate. I'm not going to show you until it's in my garage. I've also inquired about a wing back chair for $25 that I'll make a drop cloth slipcover for, a la
Miss Mustard Seed style
.
I tell ya, I'm on a thrifting kick lately. This is fun!