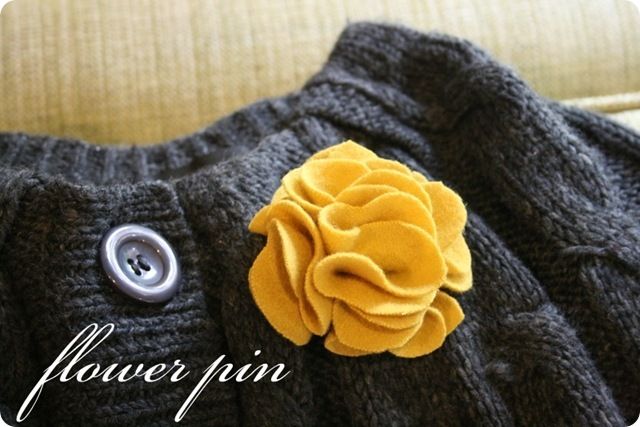 I am so making TONS of
these
! I might even start tonight as I take one more night off to veg in front of the tv. Where in fact there will be no vegetables in sight. Just. Dove. bars. Total tangent here, but growing up someone always had a note in their stocking to go look in the freezer and there would be several boxes of Dove bars wrapped in Christmas paper. I
made
suggested David carry on that tradition this year. So yes, one more night of Dove bar indulgence before I chain myself to my sewing machine all week-end (which I
am
of course looking forward to because I get to play with
the
cutest new pattern). So go check out
Jones Design Co's flower pin tutorial
. These couldn't be easier to make.
By the way, did you know that I keep a running list of tutorials from all over blogland, that I love,
right here
? Well I do. You should take a peek, you just might find something new. I should probably include a photo of each item to make it easier to search, but that's a project for when all my sewing is caught up. Yeah, it will be a while. If you ever need to find the list again, it's over in my sidebar under "Other Favorite Tutorials."
And aren't
these cookies
just adorable? So cute all winter long. We'll be making these on a snowy day soon.