This was the first time I've ever made Halloween costumes for my kids. I'm so glad I did! I hope to never do store-bought again. It was a whirl-wind of 2 days but now I am "that mom".
Since no one was going to look very closely at these and I had so little time to make them, I skimped a lot on workmanship. Sam's vest took all of 20 minutes and I drew it on the back of the fabric with a sharpie first, based on a sweater vest from his closet. His hat came from the dollar store last year.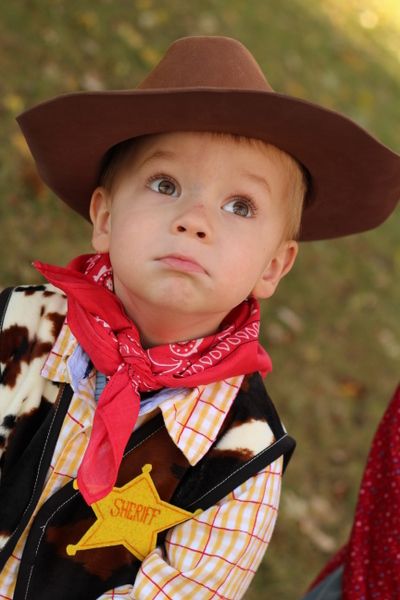 Allison's started as a $12 shirt from Sears' boy department. It took me forever to find a plain white shirt to work with. I love that she has red sequin trim on her shirt and that it matches the fun hat we found at Target. I though about hot gluing the trim on, for about 3 seconds, and then realized I had to hand-sew it on so it could be machine washable. These clothes will stand up to lots of dress-up play. I have no doubt they will get a lot of use.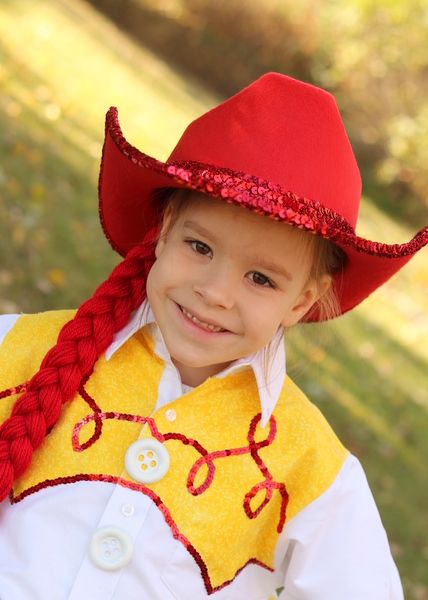 The cow print has been in my stash for years. I think I was going to recover an ottoman at one point and I don't even have an ottoman. LOL
Emily's bonnet we already had, I just added red velvet ribbon and bows to tie it in with the red dress. I forgot when we were picking out fabric that it needed to go with her already pink bonnet. Oops! I ran out of time making an over dress for her, so it turned into a 10 minute apron instead. No top-stitching here! And everyone has room to wear a sweater under their costume. We got lucky in that it wont' be too cold tonight. Love the metal pail I picked up at Home Depot too. She loves her outfit and next year wants to be Mary Ingalls instead of Laura.
Sam's shirt was found at a used kids clothing store for $3. I just took a red sharpie to draw in the lines to make it look more like the real deal.
Do you remember last year when we came home from vacation to find our neighbors willow tree had fallen down? Well that was after the leaves were already gone. So imagine our surprise this year to find a beautiful red tree gracing our new view.
What a gift. Love it!
And so the trick-or-treating begins. Hope you all had a fun night!