If the rest of the day goes anything like it's start...I'm in serious trouble. I decided it was a good idea to get a shower even though Dave had already left for work. That's where it all went wrong.
Shower = Good
3 year olds left alone (make that one 3 year old) = Bad
Sam sitting in his bouncer in the bathroom. Check.
(I played peek-a-boo behind the curtain a couple of times. He was not impressed.)
The doors to our bedroom sufficiently locked. Check.
Girls on the couch drinking apple juice and watching Martha Speaks. Check.
Interruption #1
Mommy, can I have some string cheese? Yes, when I'm done.
Interruption #2
Mommy, here is your towel (throwing hand towel into shower). Thanks Hun????
Interruption #3
Mommy, can I eat cupcakes (showing me the bag of cupcakes)? Not now, please put them back on the counter. And make sure the refrigerator door is closed!
While I'm combing my hair she walks back in, mouth full, carrying the keepsake box for her baby teeth and it's wet!!! First of all, I know the box was in my sewing room...my heart sinks. When I take it from her, it feels too heavy. Fearing that it's full of water, I open it. It's not filled with water...it's filled with C A K E! And so is her mouth. Bad...bad...bad...I tell you.
The box, which is made of paper, is not salvedgeable. I found it on eBay as a set, by
Susan Branch
when we found we were having twins and I needed one to match (or at least coordinate) the one I had bought years earlier. I big-red-sparkly-puffy-heart love Susan Branch, almost as much as
Mary Engelbreit
! Tossing the box in the garbage I head straight for my sewing room, bracing myself for the disaster I am sure awaits me.
What I found was this...
Yes, they were all lined up in a row and one big bite out of each one. I guess she couldn't decide which one she liked the best.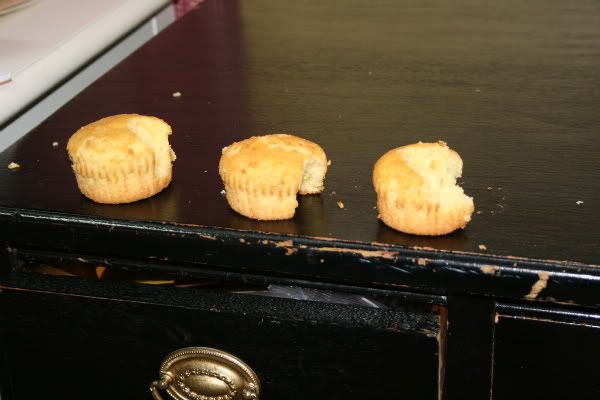 She hasn't mastered the zip-top bag yet. Pink pinking shears no less. There were about 3 more wrappers than cupcakes. I wonder if I will find any surprises hidden somewhere. This girl is a chipmunk and likes to store food in odd places. Drawers and purses are a favorite.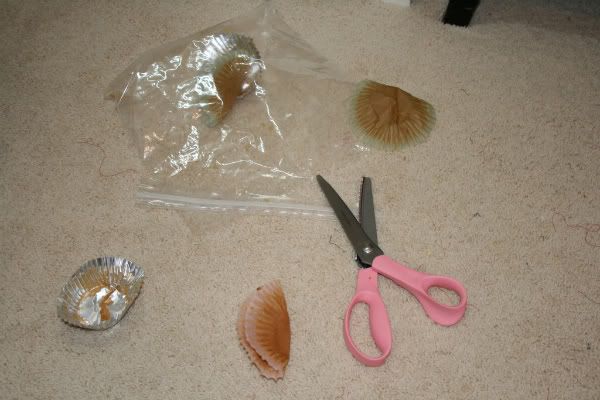 Is it bedtime yet?