So I had this great idea. To take the kids to the park for a pic-nik.
Getting there was just fine, coming home was a different story.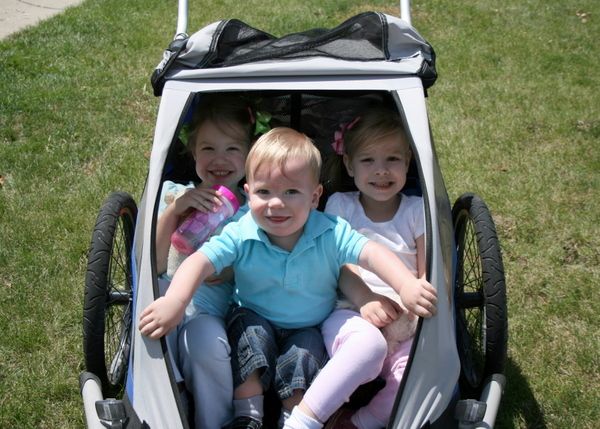 Yep, that was 3 kids in a stroller made for 2. Cozy and a little hot. Emily was our look-out for each next patch of shade along our trek.
We dined on ham and cheese sandwiches, grapes, Oreos and apple juice. As Sam would say, "Yum!"
I really love this park, it's so pretty all around here.
A rare moment when they were all in one spot.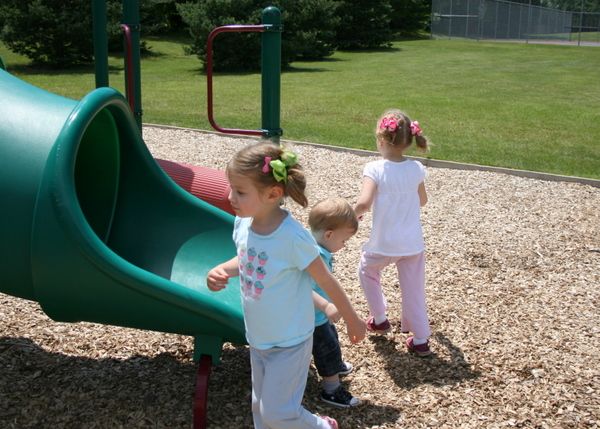 It's fun to think that we started coming here when the girls were Sam's age, and now there isn't a part they can't play on by themselves.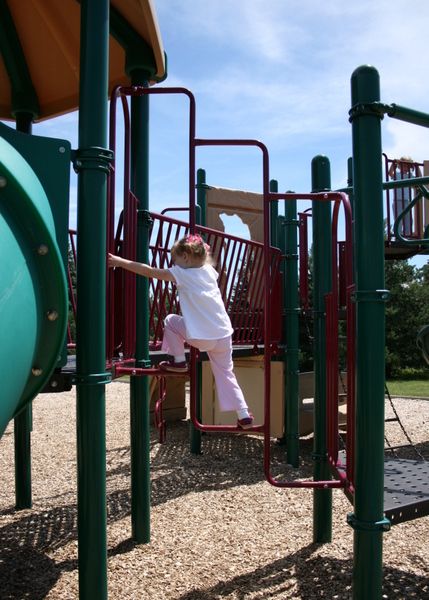 We didn't get to stay very long since Sam's nap was approaching and he was looking pretty red from heat. I took what I thought would be a cooler way back, more trees. But I should have been more concerned about the time. Before I knew it they were all complaining and trying to get out.
Sam getting coached by his sister on how to say "Hi" to everyone they meet.
Do your kids do that too? Can you see his red little face? At this point I was really wishing I had brought along even more to drink.
This lasted about half a block more, then the crying and fighting began as some wanted back in and others wanted to walk without holding hands and I tried to tame the unruly stroller which really gets away from me going downhill.
Fortunately we happened upon a lemonade stand and I even had cash with me.
Unfortunately Sam took a nose-dive onto the street and was now bleeding from his nose and forehead (the third time in two days...boys I tell ya). Carrying him home the rest of the way (he was NOT going back in that stroller) and getting the girls to push the stroller not down the middle of the road was next to impossible. But, nothing a nice little nap can't cure!
I think next time...we are driving to the park or waiting for Daddy to get home.
How are you enjoying your summer days?