What could be cuter than a Dollie in a skirt?
TWO Dollies in skirts!
I had originally planned to make the girls Dollies out of the Swell fabric from their
Easter dresses
. but when I saw I had enough scraps left of the fabrics I used for the covered canvases in
their bedroom
, I quickly changed my mind. I'm so glad I did!
A sweet little note from me to each of my girls. I hope they cherish these always. I fully expect these little ladies to grace their dorm room beds in about 14 years.
And I still want one for
my
own bed. Seriously!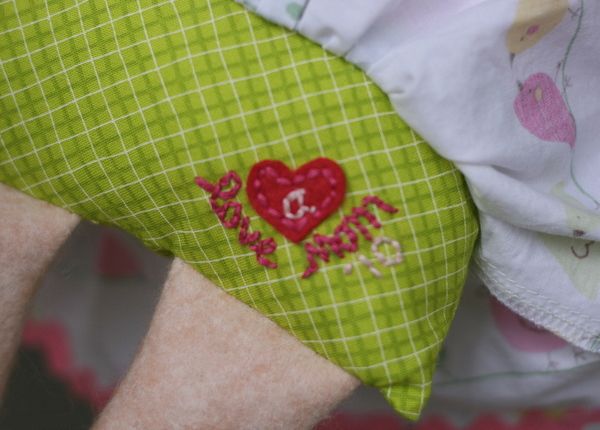 Amy and I will be whipping up a big batch of Dollie fun next month. Yes, for sale!!! If you have any special requests (skin/hair color, etc...), just leave us a comment here and we'll do our best to make something irresistible. We've even been dreaming up a few accessories!
Oh, and there's something super-duper special about these dolls. You will love it! But we've decided to keep it under-wraps until we can get them in our shop.
By the way, I'm sure you all know by now, but I've used
Nic's gorgeous Softie Doll tutorial
to make these special ladies. Thanks Nic for a brilliant tute and for allowing me to sell them.