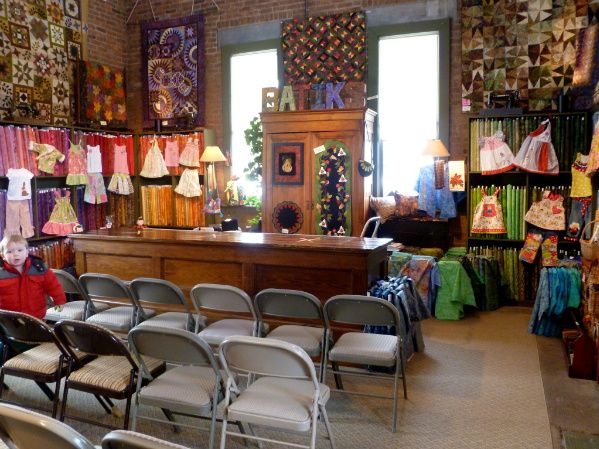 We had a packed house on Sunday, 35+ people. It was a lot of fun. Thank you to everyone that could make it. We enjoyed talking with you after the show. It was so fun to see others excited about sewing, for their own little ones, or their grandchildren. Such a joy to be able to share our passion with each of you. And how surprised was I when a sweet young Mama of two little girls introduced herself and said "you probably don't remember, but you were my Bible study leader back in Jr. High." Wow! Hi Stephanie! That had to have been 15 years ago. So fun to see you again.
So, pinned up there on the bolts of fabric are just the samples I still have that don't fit my girls anymore (you can't see all of them in this pic). Weren't they just itty bitty yesterday? *sigh* We had a huge hanging rack to hold everything the girls modeled, at the other end of the building. It made me sad that I've even parted with the few samples that I have. So I'm thinking that going forward, I'll just need to buy more storage bins and keep every single piece going forward. I know I'll enjoy pulling everything out 25 years from now. And my girls will too.
I'll add more photos of the actual event, as I get them. This was the only one I had time to snap myself. And how gorgeous were those smocked flower girl and holiday dresses we got to see too? Annette's work is amazing! Hopefully she'll be starting an Etsy shop soon and I'll share it with you. A HUGE thank you to our moms and pint sized models. Everything came together without a hitch. And especially thank you to Lori and Becky of
Eagle Creek Quilt Shop
. I never would have met Amy 2 years ago if you hadn't asked me to do that first class. Thanks for having us back!
Next up...a quick tute on how Amy and I gather the skirt of a dress the easiest way we know how. And beleive me, we've tried it every which way possible. ;) We'll also be adding Paris Paws to the shop this week too.