My dear friend
Amber
made this Dresden plate pillow cover for me a day or two before she gave birth to her second daughter. She was overdue and said she needed a fun little project to keep her mind occupied. She finished it and mailed it off all in one day. Talk about a Super Mom! Thank you Amber, you are truly amazing and I love looking at this pillow every day. Maybe if everyone
goes over and says "Hi"
, she'll update her blog and show you the gorgeous handmade nursery she put together this summer. It's vintage and cozy and everything nice. Or maybe she'll let me feature it here. ;)
I am seriously in awe of this pillow! Sorry it looks like a stuffed sausage. I haven't been out to buy the correct size inset for it yet. I love that Amber knew exactly what fabrics would fit in my living room. She's that kind of friend. Love you sweetie!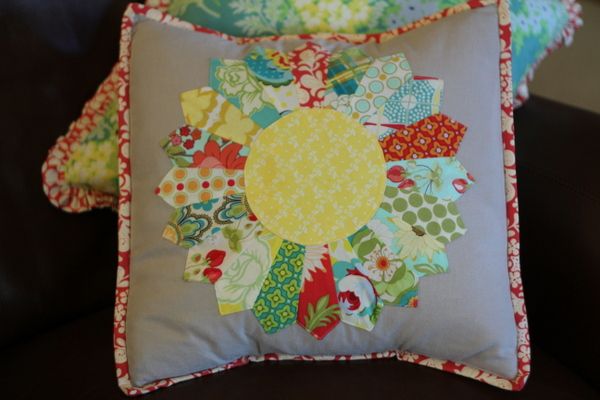 This past summer I saw this aqua kitchen cart in the Ikea catalog and promptly made a bee line for the store. Their display showed they were already sold out so I asked when they thought it would be back in stock. Much to my delight they said they still had some and pointed me to the correct isle.
Best purchase ever!!!
It holds all of my current hand sewing projects and can be lifted up into the corner by the lamp when not in use, or wheeled to my room if I need to stitch in silence. Here is what I've been working on this week. Sam's stocking. He's been hounding me to get it done and I was more than happy to oblige.
I've spent the past two days getting it this far. He's super excited about it. Look at that darling cuckoo clock!

Side note: I think my antique sewing machine in the corner of my living room (I still want to paint it's table aqua) needs an old cuckoo clock that I've spray painted red, hanging over it. It's doesn't even have to work.
Last week I got this little hanging almost finished.
I stopped when I realized that I don't care for the gold trim that was in the kit (on the right).
I'd like to find something more like the gold loopy braid on the left.
I plan to use this on our black front door in lieu of a wreath.
For ever and ever amen.
Oh and guess what!? It's a super close match to
the tree skirt
I've had for years. Score! I've never seen this kit so I was thrilled to get it for under $20.
Now, you know how much I adore
Bucilla felt and sequened kits
and I usually like to make them from scratch myself. But this next piece has been impossible to find for under $175. All summer there have been two new kits sitting out there on Ebay for either $250 and $175 (surprisingly the $250 one sold first!). Um, yes please, but no thanks. ;) Well somebody out there has been able to buy them and it always pained me a little when it would say "ended" in my watch list. Yes, I'm a glutten for punishment. Though I could never drop that kind of money on a "craft" (no matter the significance), I sure dreamed about it and I kept asking myself if it would be worth it. A few times I did searches for "sold" kits only to find two of them in the last few months had sold immediately for under $20 with a buy it now. Ugh!!! Why couldn't that have been me!?! It seemed I was never looking at the right time, but knowing that they had been out there made me more determined to keep looking and not cave to those higher prices. I had my phone notify me when ever a new listing for "Bucilla advent" came up.
It finally paid off!
This is THE most amazing advent calendar I have ever seen. No others (in my mind) can compare to it. it's not gaudy, there is no Santa on it and it's not a cheap knock-off. I found one on Ebay that was already made, for $70. My heart sunk a little when I saw that the quality of work was not very good. When I contacted the seller she dropped the price down to $50 and threw in an ornament kit she had laying around. Wow! I was so so happy when it got here, to see that the ornament kit was one I had been watching elsewhere for $20 and seriously wanted. So now it was like I had gotten this advent calendar for just $30.
But...now on to the work ahead of me...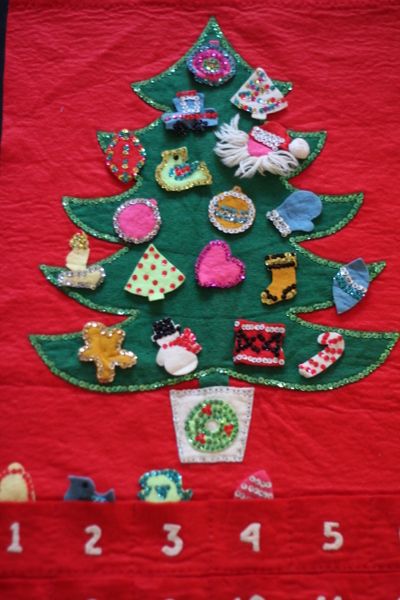 I had to re-cut every single number (I should have taken a before photo) because the black lines you are supposed to cut off where still on there. The person that made this (bless her heart) had cut on the outside of those outlines, instead of the inside. Ther circles insdie the little numbers weren't even cut out. She also just tacked the numbers on in the middle, instead of whip stitching around the edges. Well, that actually made my trimming job a little easier, but I'm still in the process of attaching the numbers correctly. I had to re-cut the edges of all the ornaments too. It's missing the blue angel and gold start but I'm confident that I can recreate them myself out of all the vintage felt scraps I have from the many kits I've made and have yet to make (I'm glad I've kept all that!). I'd also like to re-do that furry Santa up there too. He's seen better days. Also missing from this kit are the little snaps on the back of each ornaments and on the tree. I'm pretty sure my grandma's calendar had snaps on it and not just pins holding them on there.
The back story:
for me this is much more than just a gorgeous kit. It's the same one my grandparents had at their house. And I distinctly remember using it the Christmas we lived with them (and many years later when I would visit). We had sold our home in Columbia South Carolina the summer before and moved to Eden Prairie Minnesota so my sick Mother could be closer to her family. She passed away that February. I went to two different kindergartens that year. And though there are a lot of sad feelings from that time, this still brings comfort to me in seeing it in my home now. I remember where it hung, in the front hallway (next to the huge walk-in linen closet us cousins played hide in seek in) of my grandparents house and all the fun I had taking the ornaments off and rearranging them. I love that my kids will get to do the same thing. I'm thinking of making a pattern from this original and making more for my brother or cousins that may wish to have this too (that will take a while though). I'm sure they all remember it too.