I made these this week and they have both earned spots in my cookbook binder so that's saying' something.
The only thing I would change is skip the cream cheese (that was definitely out of place, I'm glad I'm the only one that tried it that way) and don't cook it in a skillet after it's cooked in the broth. It was too dry and taking straight from the broth to the bread would have been perfect. I've always wanted to make these at home but had no idea what type of meat to buy or how I could slice it thin enough. So I was thrilled to know that you can just buy Black Angus Rare Roast Beef from the deli counter. But at $9.99/lb this won't be on the menu very often and for our family I'll just get 3/4 lb next time. Oh funny, now that I'm reading the recipe again I realize that I left out the onion soup packet, although I did buy it. I guess you don't need it, because it didn't taste like it was missing a thing.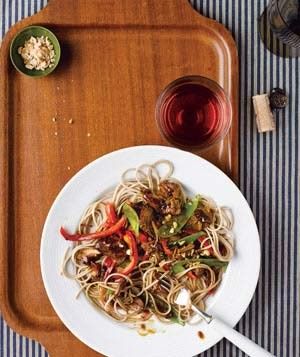 They had me at snow peas. My fave! The sauce for this was absolutely wonderful and just may replace my go-to stir-fry recipe. This can easily be done with beef or chicken too. I didn't cut up my pork loin because if I don't have to cut raw meat I don't. However, I did end up cutting it up in the crock pot after it had been cooking for 2 hours so it would hold it's shape rather than fall apart with over cooking. The Soba noodles were interesting, but I think next time I'll just serve this with rice.
I highly recommend both of these. They were a hit with both kids and adults.