Good news...yummy monster smoothies for breakfast.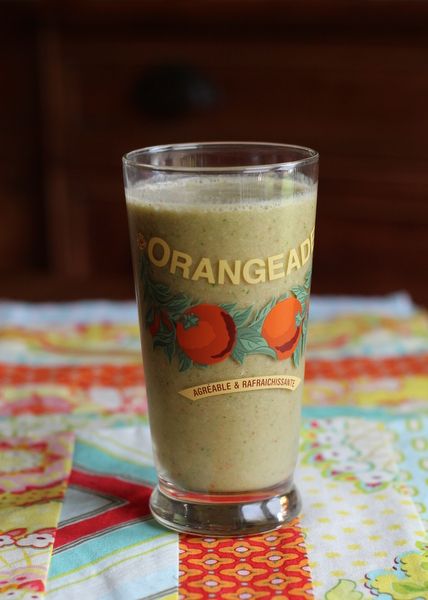 Bad news...a leaky roof during a week-end of rain.
Yesterday a tornado touched just 4 cities west of us and this morning we had snow for 5 minutes. I keep telling myself, it could be worse.
At least it can only be coming from a small section of the roof (right over the front door) making the job of re-shingling about 30 sq' not so daunting. But, we need this rain to stop! We saved 2 squares (is that the lingo?) of extra shingles after we put the roof on ourselves (with the help of family) 10 years ago. Thankfully we have the tools and the knowledge to fix it. It's not leaking through our ceiling, just comes in the top of the door. Praying it's an easy fix and no serious damage has occurred.
Good news...I replaced our non-working door-bell all by myself!
Gone is the 80's intercom/doorbell that I disconnected over a year ago when I removed the main control panel while painting our kitchen. Yes, we've been without a doorbell for that long. I finally removed the old eye-sore at the front door last week and this morning at 9am I was out there in the freezing cold painting over the old spot and installing the new wireless bell.
And now for something cute!
I'm almost done with this fun outfit for the girls. I still have the coordinating set in blue and orange to make as well. The fabric is Dream On by Moda. It makes me want to take everyone on a pic nic.
The pattern (McCall's M5835) as it's not the easiest to put together for a beginner (or me, ha!). It only comes in size 4 or smaller so it really fits a 5T best and my girls are 6x going on 7. It still works, but I want to experiment with making the arm holes deeper on the next top.
And here are a pair of ruffle capris I made to mix and match a bunch of their clothes this summer. I still need to top-stitch that ruffle. The gray lace is just packaged interfacing lace you find with the ric rac.Turns out it shrinks a bit in the wash so I shouldn't have sewn it down along the bottom edge. I'll just remove that line of stitching and they'll be good to go.
I've got a lot on my plate this week, but all I really want to do is read. I'm on book 4 out of 8 of the
Mitford series by Jane Karon
. Someone recently told me that their grandmother read all of those. Ha! So I like books about an almost-retired Episcopalian priest. I really am enjoying them though. She's a good story teller.