How's that for a title? ;)
Thankfully, sitting and stitching requires little effort and was one of the ways I kept my mind busy these past two weeks. I'm almost done with the next two stockings. After these are done, just two more to go!
*More stocking details at the end of this post...if you are here for just the creative fun stuff, feel free to skip the middle.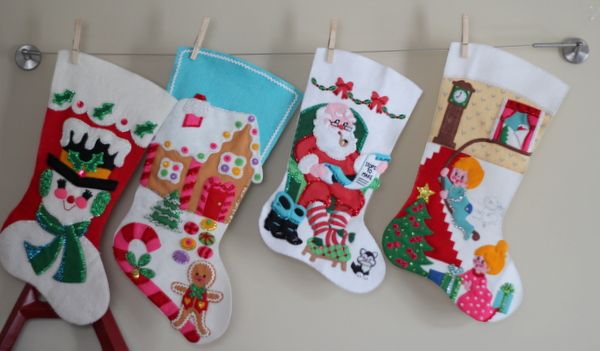 Today was my first day driving the kids to and from school and grocery shopping. I haven't done that in over two weeks. Thanks to my lovely mom, who has been with me most every day. She's been holding down the fort, doing laundry and dishes and taking the kids out to lunch for a little fun.
I was hit hard by a massive sinus infection. It almost landed me in the ER last week, and required a shot of Torodal at the doctors office and now 14 days of a strong antibiotic (that I don't think is doing it's job) and 14 days of Prednisone. It should be another week or two before I'm back to normal.
I swear the head and eye pain I've had rivals the Optic Neuritis I had 5 years ago. It's the most excruciating pain I've ever had. Thankfully my Dr. was able to rule that out right away last Friday. He did say that I should have gone to the ER the night before but we had opted to not have to wake anyone in the middle of the night for childcare and for a smaller medical bill. Thankfully I was able to get an 8am appointment with
the
best doctor I have ever seen. If you are local, I will gladly give you his info. I never want to see anyone ever again! He was incredibly thorough and very compassionate.
It hit me right away when he also found a 1" solid mass on my thyroid, that it would likely have been overlooked at the ER. Hopefully it's brand new since I didn't notice it either. He sent me for an ultrasound right away. You know it's not good when the ultrasound tech (who knows I know what I'm seeing on his monitor) tells you more than once "Don't freak out, these are usually benign." We waited just 30 minutes for my Dr. to call us in the waiting room and explain what he knew, taking the time to tell us each separately on the phone. He even called us at 9pm that night with my bloodwork results and to see how I was doing. He got me in to see a surgeon first thing Monday morning, saying that she would likely want to just remove it right away. But how refreshing that a surgeon's first words were "Let's not rush into surgery until we know what we are dealing with." Tomorrow I have an appointment for a needle biopsy. The toughest part is that I won't get the results until next Wednesday since the surgeon won't be back in the office until then, though they'll have the results by this Friday. Ugh! Patience has never been my strong-suit, but one that God is definitely helping me with right now. I have felt very calm about things most of the time and that is not my usual inclination.
The reality is, the numbers are on my side. Ninety percent of these
are
benign. But then I also think about how we only had a 6% chance of having twins and well...we have twins. It is also not lost on me that 31 years ago this month I lost my mother to breast cancer. I was in kindergarten. It was February. My girls are in kindergaten. It's February. It's hard not to go there in my mind. I've only had 2 full nights of sleep in the last 9 days. Most nights getting only 1-2 hours of sleep. Last night I found myself lying in bed, fighting back tears and praying over and over again "I trust you Lord...I trust you Lord..."
God is always in the details. My dear friend
Kim
told me she woke up Friday morning just knowing that a friend was in trouble. She immediately started cooking. God put my name on her heart and a short time later I was e-mailing our Bible study with my prayer request. Before we even got home that day, she had already delivered two casseroles, an awesome fruit salad, lettuce salad, chocolate and muffins for breakfast. Wow! Gave me the Holy Goosebumps when she told me later.
If you think of it, please pray that tomorrow would hold minimal pain for me, as I've reached my max lately. And that next Wednesday would come soon.
Now...on to the fun stuff, the stockings!
When I ordered these, they seemed to coordinate a little better on paper than they actually do in person. Their sizes and shapes are a bit all over the map for the OCD crafter that I am. But I'm ok with that. I have a clever way to hang them next year and some coordinating finishing touches to each one should make them perfect.
I do love this Santa I made for David. I love the white background and the pops of aqua. One thing about buying vintage is you never know the condition something is really in. Turns out this one had a bottle of perfume spill into it. Thankfully only one small piece was discolored and I was just able to cut a new one out. But the directions had wet ring marks on them and they wreaked! Also, the blue felt it came with was rather dull in color. The photo on the packagewas very misleading as far as colors went. But I was able to cut out new shapes from the left-over aqua felt that was used for the background on the gingerbread house stocking. I also added more sequins than it called for, using some blue ones from the snowman kit I had. I ran out of aqua thread to cover those last white lines on his boots, but after I match that up, he will be done for now. I think on our stockings, I'll just use the names Mom and Dad (or Mother and Father, I'm undecided) so our kids or grandkids can someday use them for themselves if they like.
Here is Emily's. The next step is to draw a third girl with brown hair (representing Emily) sitting and playing with the puppy. I'm thinking she should have a matching nightgown to her sister's. There should be enough room, I just hope it works out as well as I'd like it to. The little leaf background on the wallpaper is supposed to have dark green leaves with red sequins (think holly), but I'd like to change the thread color to aqua (that matches Santa's boots, when I pick it out) and still use the red sequins. I'm loving all of the blue pink and red on this one and that these colors are repeated on the rest of my collection.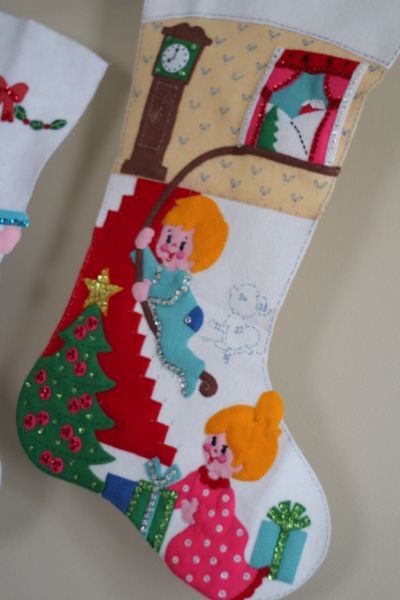 Sam loves that he's sliding down the banister. I
am
worried that he'll try it at home though. We've already had talks about why we don't do that.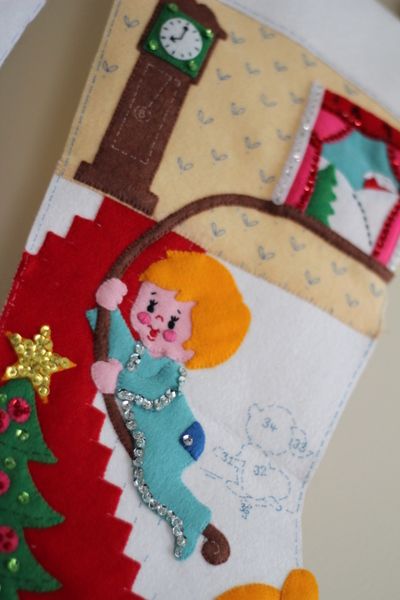 So, that's it for now. Part of me wants to set these aside for a while and focus on something else. Not sure what just yet...
I am also happy to say that I have now made it one third of the way through the Bible. In just 8 weeks! And that was with me slacking for a couple weeks a bit ago. I'm just starting 2 Chronicles now and can't get enough. I'm already thinking about how I'll read it differently the next time around.