I spent a fun afternoon with my girls making heart garlands today. After seeing
Jenn's craftiness
I was smitten and drove to my nearest crafty store for my very own jumbo heart punch. I am now addicted to punches and have been dreaming up oodles of other garland opportunities. Although they may not be necessary as these might just stay up all year.
Just punch and sew them all in a row.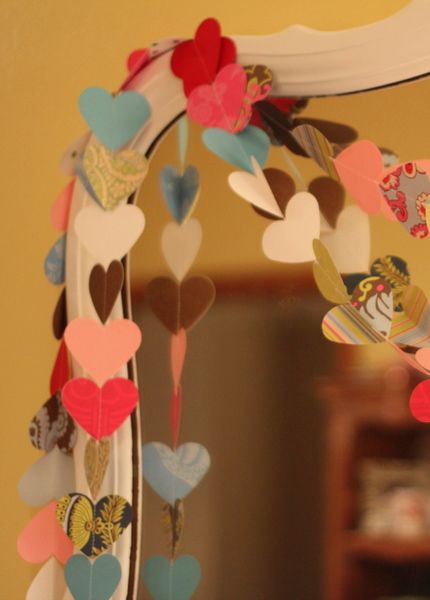 (I started by pulling my upper and bobbin thread through to make a long tail. Then made sure my needle was in the center position. Laid one heart down just in front of the needle and sewed a couple stitches, then back-stitched and sewed down the length of the heart. When you near the end, just place your next heart down and feed it in right after the first one. I backstitched at the end too and left a long tail. Turns out I didn't need the tails though, since I didn't tie mine (except downstairs I tied together 2 shorter strands for the length of my window). Have fun!)
I even broke out my Amy Butler scrapbooking papers for this project. My total cost was free since I used a 40% off coupon and had a gift card that covered the $9 punch. Hard to beat that!
I wish I had made more double hearts. Just stack 2 hearts when sewing. Then, when you fold them in half you end up with a 4-sided heart. Double sided paper works well for these cuties. I also found that a lot of my filler papers were white on the back and because of the nature of this garland they spin around a lot so you can't control whether you are seeing the front or the back. Oh and there's the mirror too. Once it occurred to me, I tarted sewing 2 hearts at a time with their white sides together to ensure the most color. I did make hearts out of just white paper too. My favorite color addition are the browns. A last minute decision that really worked.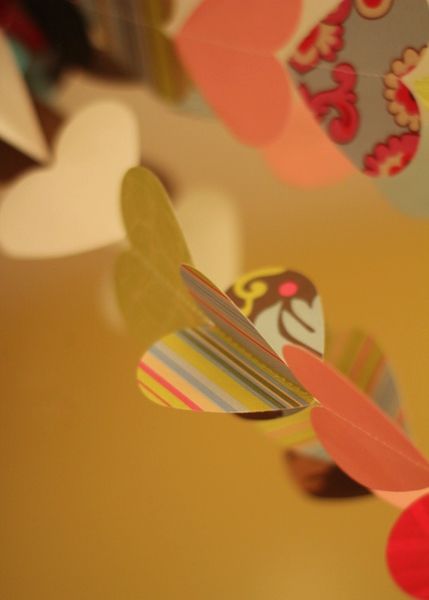 This was also the perfect excuse to spruce up the buffet. It was looking a little bare after putting away our Christmas decorations. I adore this little owl music box. It had been a gift to my grandparents long ago and I'm so glad to have it in my home.
This just makes me smile.
And now that colder temps have arrived (below zero wind chills here),
it adds sunshine to my day.
Oh Hai! How do you like my new apron?
It's from Anna Maria Horner's ready-made line.
I have a matching dish towel too.
Merry Christmas to me!
How about a look around the room a bit?
This is always a good reminder...
I went for it! A added a large
chalkboard vinyl
to my cupboard door. I used it for a grocery list the first couple of weeks. But "pepper" and "napkins" isn't very fun to look at. ;)
I tell ya what, I measured and measured that thing and then measured it some more and it still ended up crooked. Grr... I think it would have been a snap if I had peeled off the backing from left to right instead of top to bottom. Oh well. You can't win them all. Maybe someday I'll just paint a chalkboard on there. We'll see...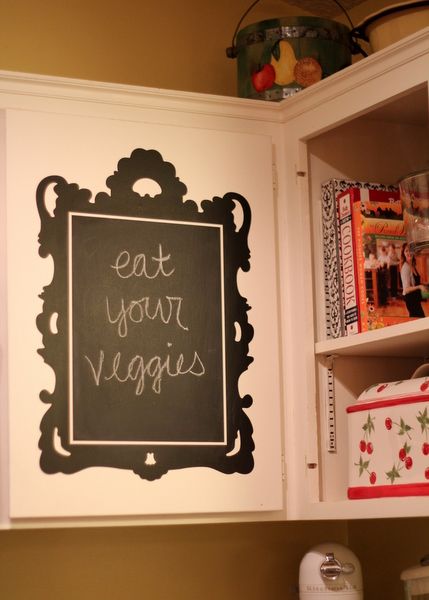 I've still got more garland to sew. Seems we overdid it with the hearts and there is still a pile on my sewing desk. There are lots of other places that would look lovely with this little addition. Hmm, like my sewing area...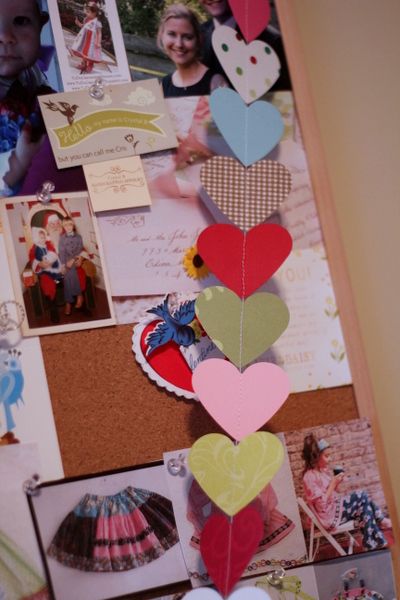 I'm linking up with Skip to My Lou's