I'm in love with the new baskets in place of doors on my hutch. I've always wanted a convenient place to store potatoes and onions. It's the simple things that make a girl happy sometimes.
Ahhh...The hutch that still needs a paint color. Black? White? Turquoise? I love the idea of black, but worry that it will be too dark when I'm trying to lighten up the place. Turquoise was my first choice, but when I put out my Christmas stuff, I don't know again. Maybe if I just lost the green dishes and the yellow/orangey platter it would still work and I wouldn't get sick of it year round. But then I start wishing I hadn't sanded it in the first place and just left it brown. Hey, who said that? Was that really me? Although the finish was pretty bad and the bottom of the hutch part has some water damage to it, so it at least needs refinishing.
*sigh*
What's a girl to do?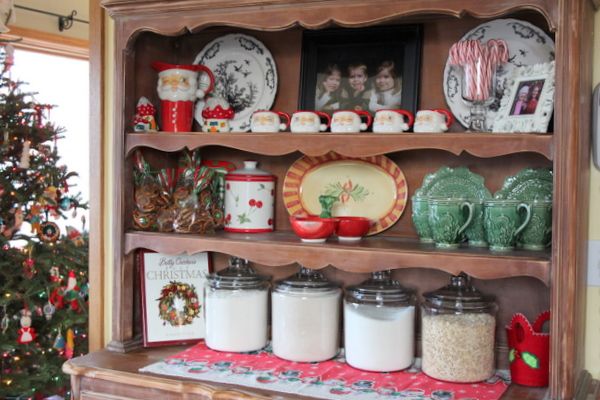 Here is my favorite view in the whole house. Standing here always makes me look up and just enjoy it. It won't be quite as pretty once the tree is gone. Since we are still waiting for our white Christmas, we for sure need to keep it up until it finally snows.
I love the nativity on top of the cake pedestal this year. Just a little bit further away from tiny hands.
And I can't beleive that our Christmas cards have stayed here this long without wandering away. These little slots have been empty for the past six years (with the exception of the occasional Little Pony) and now I envision them full of cute stationary this spring.
Three more days! As my kids keep reminding me. Are you ready?