*Please excuse my photos. We were sitting halfway back and the only way to take pics at all was to take them of the tv monitors on either side of the platform.
You put 60 plus four to six year-olds up on stage for a Christmas concert and you never know what you'll get.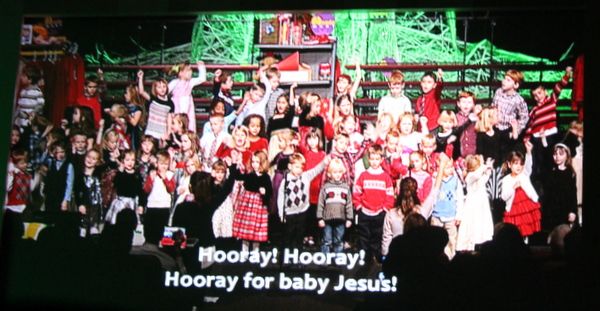 Waving furiously at Daddy because she had been so worried she wouldn't be able to find us.
Singing at the top of her lungs. Yes, the one that was louder than all the rest. That's my girl.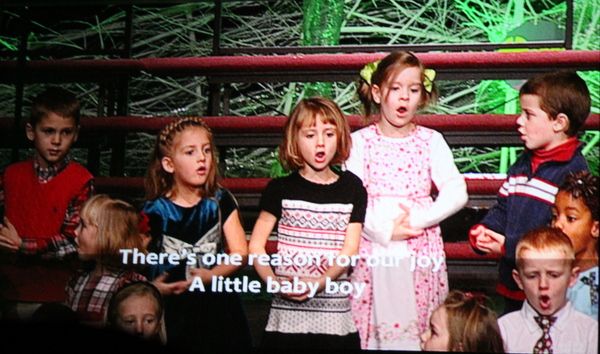 Mesmerized by the giant screens on either side of them. Afterall, isn't it more fun to watch yourself on tv than pay attention to your director? Of course it is.
Now you see her, now you don't. Both girls kept sitting down between songs and even verses. But I heard from another parent that her little one did the same thing.
And here, Emily had actually moved down to the riser in front of her because a boy behind her had said something mean. Watching it happen, we were wondering what she was thinking. She want back to her spot less than a minute later. I guess she was over it by then.
Never a dull moment.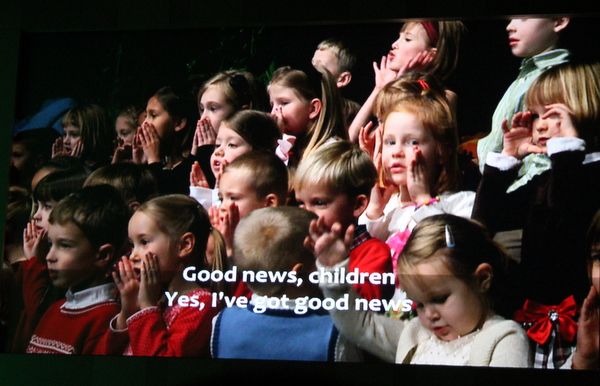 The did have a lot of fun learning all their songs. And since everyone got a practice cd to play at home, Sam knows most of them as well.
We stayed for the big kid choirs and their musical called "Dude, you hear what I hear?" It was super cute. We are excited for the girls to graduate to the full fledged choir next year.
I hope you get to hear the sweet voices of children singing praises this Christmas.