Yesterday was the girls' last day at their first school. While we really loved this school, and they had a wonderful teacher there and a fun classroom, we still made the decision to switch them. I'm feeling a little sad about it tonight because it really is a great school. When we first told the girls about the switch they cried. Which of course made us feel terrible and question if we were doing the right thing. But over the past week we've seen several little confirmations that this is the right thing to do.
So why the switch? Well, we originally had our hearts set on a charter school in our same school district but didn't get in. First we were number 80 and later number 40 on the wait list. But then 2 weeks ago we got a notice that they had room for both girls for
this
school year. I had to read it several times to make sure it really said this year and not next year. The girls could either be in the same or separate classrooms. We were thrilled and of course we chose separate classrooms which wasn't even an option at their old school this year. I had already put them on the wait list for next year, but we knew it would be better to switch them now, in the middle, than wait again to see if we'd get in next year. Now was our chance and we took it. Even their current teacher thought it was best to move them now.
The main benefits to their new school is the traditional, classical education they will receive and the much smaller environment. It's a K-12 school with only 50-60 students per grade. It's considered a college prep school. They learn Latin and wear uniforms. Oh and did I mention that it's a "public" school so it costs us nothing? Well, if you don't count the uniforms that is. And yes that wasn't easy to fork over the money after I had already bought their fall/winter wardrobes for this year. And not a single pair of their shoes match their uniforms. C'est la vie!
This school also uses a systematic and sequential approach to teaching. When they study a certain time period in history, they will also study that same time period in every subject they are taking, across the board (geography, science, Latin, literature, grammar, math, music and art). Doesn't that makes perfect sense? They still offer other languages like Spanish in the upper grades and they combine with another charter school for sports (soccer, basketball, golf, volleyball). They also have drama and an orchestra where the kids can play whatever instrument they want. We were worried about it being such a small school that they wouldn't have enough of the same opportunities as the rest of the district.
Did I tell you that we live in the city that Money Magazine said last year was the best place to live in the entire country? We have fabulous schools and our high school football program is highly sought after. But I feel confident they won't be missing out since they are in dance and we have a piano they will learn. They'll stay in community sports, soccer for now, and hopefully start violin at a music center in a few years too. And of course there will be swimming lessons too. They will definitely be well-rounded kids and hopefully more confident at school because of the smaller more intimate environment.
I personally love that they won't ever change schools at different grade levels too. There is no separate middle school, junior high or high school. It's all in one soon-to-be renovated building just 9 minutes from us. K-6 is still meeting in our old church building one city over from us until their portion of the new building is ready at Christmas. We toured there with the girls last week and it was fun to show them where we were married and to see David's dad's old office. Brought back a lot of memories.
I grew up in Minneapolis which is a HUGE school district. We were moved from one school to another every 2-3 years. And guess what. Every.single.time. all of my friends went off to the other school in our area, never the same one I was going to. I should have interviewed them first. "I can be your friend as long as you are moving on to the same next school with me." So, I was basically the new kid 6 times in my school career. It's no wonder I never had a best friend throughout my school days. Being that it's a charter school and you can live anywhere and still go there, now we can choose to live in a less expensive area and not worry about changing schools too.
So, on to their Fall party. They both came home saying that they got to hi-five everyone as they left that day. So glad their teacher made it fun for them right up to the last minute. She really is a sweetheart.
With their favorite friend from school, who they've also played against in soccer this fall. I'm sure we'll see her again through community sports. Would it kill them to give me a smile?
Pumpkin bowling was a huge hit. Those pumpkins took a beating and had to be covered in masking tape by the time they were done.
Bat B I N G O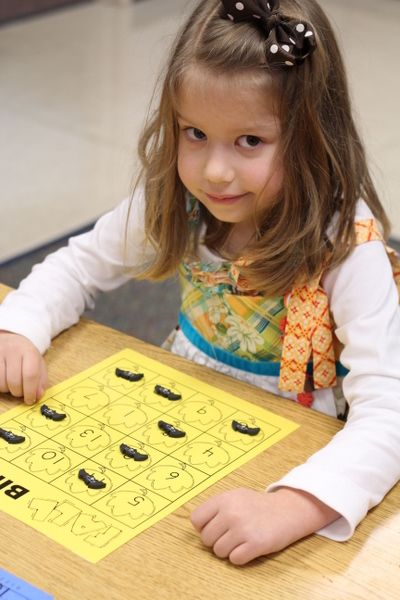 Making necklaces.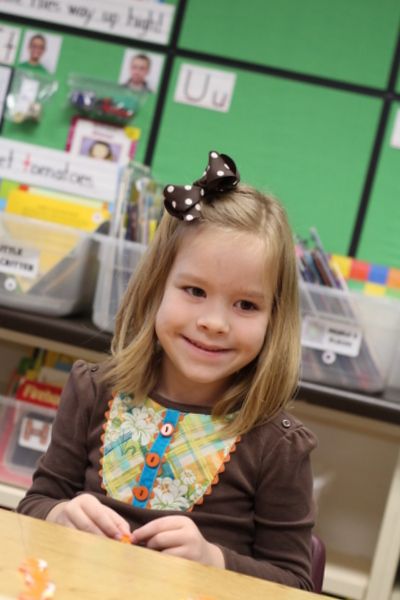 Enjoying a fun snack of apple pie and hot cider. Cutest, easy dessert ever. The kids got to scoop out their own pie filling and we added the whipped cream.
Since we forgot to bring back our library books I'll need to visit the school again. That gave me time to run out and buy the book "Oh the Places You'll Go". When I go back to their school next week I'll ask their teacher to sign a book for each of them. Then I'll continue to do that every year, without them knowing of course, and we can give them the books at graduation. Thank you
Pinterest
for that idea!
By the way, if you are looking for a great book to read, I highly recommend "
Secure Daughters Confident Sons
". I'm half way through and it's really good.