In the midst of one of the most difficult weeks of my life, a little ray of sunshine arrived from the South, in the form of
Jessica and her family
. I'm so glad I was able to take a couple hours out of the day last Thursday to attend the Junk Bonanza with my friends. I had bought my ticket months ago and had been looking forward to Jessica and crew coming for weeks.
Here is a little glimpse at one of the beautiful booths we saw.
Very
Miss Mustard Seed
, don't ya think?
Loved how they turned this shutter into a jewelry holder.
I have two tall shutters at home just waiting for a new life. I'm thinking my girls need one in their room for necklaces and the other
should hold photos
somewhere upstairs.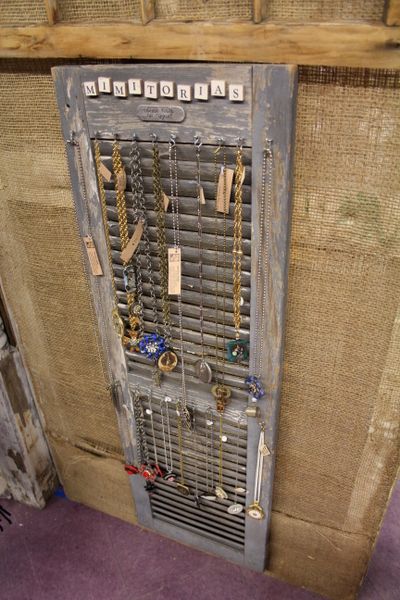 Amy joined up with us too, but of course she managed to avoid the camera. She's all stealthy like that. But she can't hide for long. ;)
And then, after a few text messages, we had what felt to me like a celebrity sighting. We got to meet-up and chat with
Jenn
for a bit. I tell ya she is every bit as sweet and genuine as you expect her to be if you
read her lovely blog
.
And as if that all weren't enough, I also found and bought the top three items on my "junk" list. A vintage globe, food scale and old schoolroom pull-down map of the USA. It's HUGE, and a dream come true. I'll share them as soon as I do a little decorating/rearranging around here.
Next up, a day at the apple orchard and THE most beautiful flower arrangement I have ever seen. I spent an hour this morning photographing it. Yes, I may be a little nuts.