How can our days not start out sunny with these new curtains?

I dare someone to stay crabby over their bowl of oatmeal.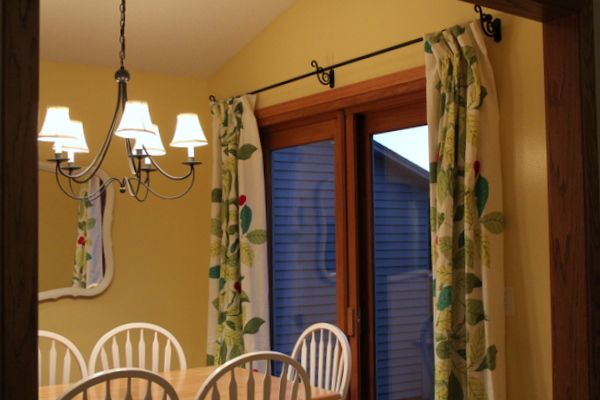 I found these fun curtains at
Ikea
a while back and have been dreaming about them for a long time. But I'll admit I was pretty worried they would be too over-the-top with such a bold graphic print. It also helped to see them in
Edie's home
too. ;) Having lived with floral and toile curtains for 12 years I was ready to go all white in the whole house. But my heart was really saying "Do it!" And I'm so glad that when Amy came over she said "Do it!" too. I love them even more now that they are hung.
So here is how I hung them up...
I didn't know this until I opened them, but these have gathering tape already attached to the back and are lined too. I'm sure by next spring I'll need to add black out lining too since this west side of our house gets super hot from 4-7pm. But since fall is here we don't need that so much in the winter and I'm ready to move on to another project.
Back to the curtains. I used these little metal hooks and placed them at the height that looked good once they were hanging. But I also made sure that that was below some extra stitching. On our last curtains I made them from scratch and reinforced the stitching along that line. But even with that some of the stitching pulled out from all the opening and closing these get to control light throughout the year.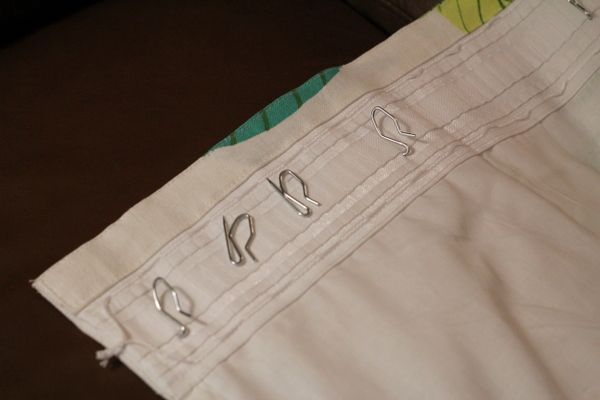 (Please note that the two hooks in the middle are just there to show you what they look like.)
I used nine hooks per panel. Just make sure you use an odd number so all you have to do is keep finding the middle. No measuring. Gotta love that!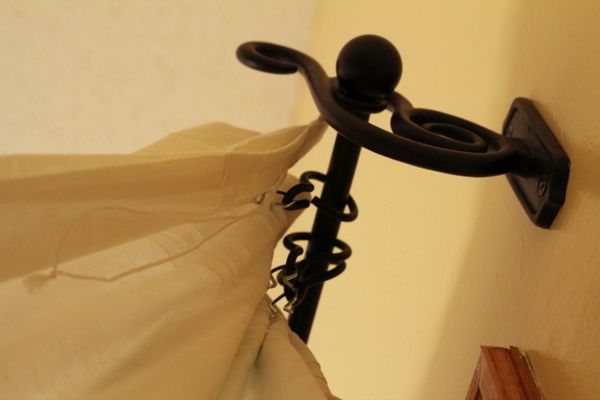 Next I pulled on the gathering strings to shorten the width of the panels to the size needed.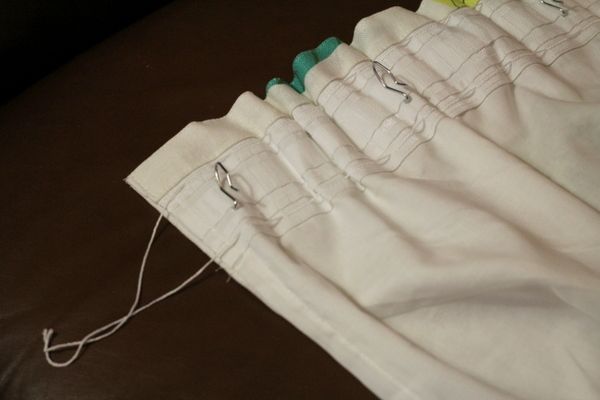 I still need to shorten them so I just left them to puddle on the floor until tomorrow.
So...what do you think? Am I a little nuts for loving these?

We will be replacing our table and chairs this week with my mom's set. It's in perfect condition, unlike ours that is falling apart. It's oak like our floor, oval with a double pedestal base and has 3 leaves that store inside it. At it's smallest size, it's the same length but 6" wider. The chairs are very similar but the legs are straight instead of turned. We'll place it in the opposite direction and I'm no longer adding a buffet below the mirror.
Now to decide what color to paint the table and chairs. Black or white?
And what color to paint the mirror frame next to it. Red or aqua?