Right about now, we are on our way back home from a week-end of camping. We likely have tons of mosquito bites, tired kids and smell like a campfire. And we've gotten to show our kids some of our favorite places in northern MN.
Split Rock Lighthouse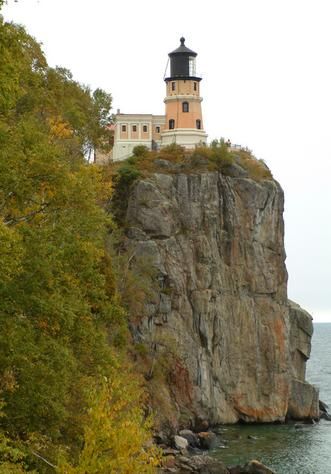 and Gooseberry Falls
In the meantime, I have a few things to share with you.
Did I ever tell you that I painted our front door black last summer? I don't think I did and it looks pretty cute so I wanted to show you. I used spray paint and so far it's holding up very nicely.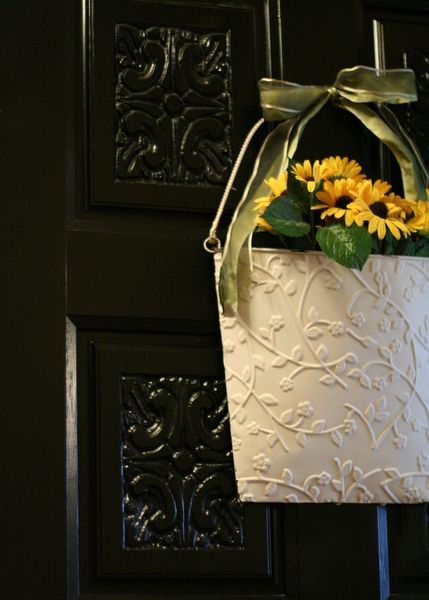 Last week I did something I've never done before. On my way to Amy's I passed a treasure on the side of the road. I was going over to give her a quick tute on hand embroidery for a dress she's making her daughter and along the way I saw that her neighbors were getting rid of an old patio set (4 chairs and a round table). It just needs some sprucing up. So when I walked in, she greeting me with pizza and I greeted her with a "would you be terribly embarrassed if I went out and loaded up your neighbors trash into my truck?" Classy, huh? I think they will be perfect in our
new backyard
but I can't decide if they want to be white or black. What do you think?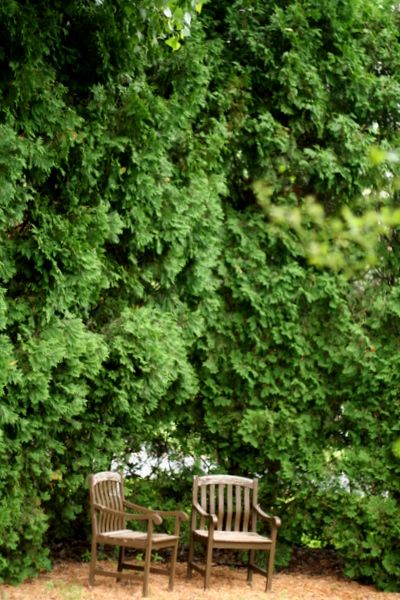 Eeek! I'm so excited to share this next treasure with you. But actually, I'll save it until the end, because anything after that will seem like such a let down. Instead, here is my $25 craigslist table I picked up last year. It will be getting a fresh coat of white paint, some distressing and lots of poly so it can be used outside year round. I envision it serving as a buffet table for outdoor birthday parties this fall and at our front door the rest of the year, with a table cloth and a vignette that changes with the seasons on it and a chalk board made from an old window (that I hope to find at the
Junk Bonanza
this year) hanging above it to welcome people. I think she's got a serious case of the cuties. What do you think?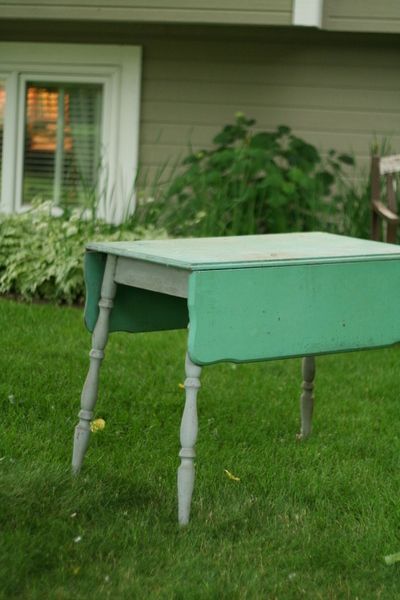 I don't think I ever showed you the flower bed I made at the front corner of our property, last year. Before this, all that was here was that
giant rock
and the world's ugliest tree (the leaves are practically black). Now that I've tied them together it looks more like it was meant to be and the tree doesn't bother me quite as much.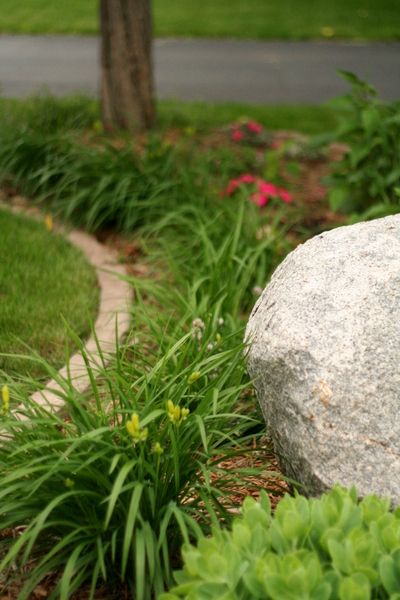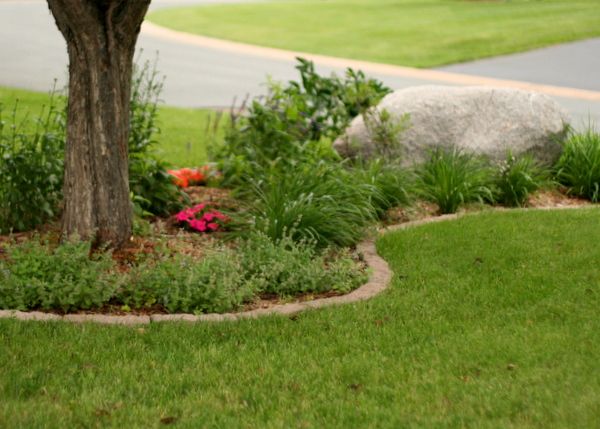 Oh! Who's cute shoes are those?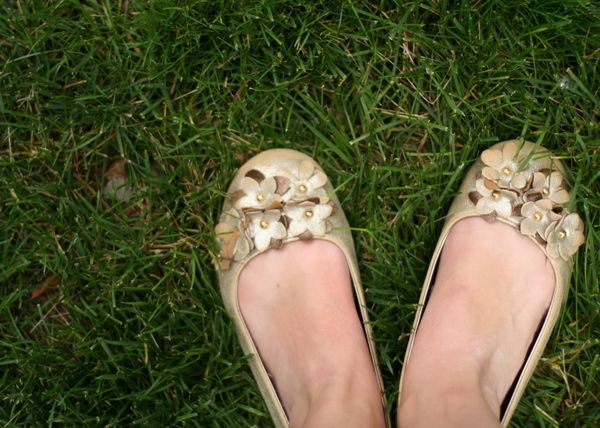 This next little table has been in my parents home for years. I've always loved it. So when I asked my mom if they were using it, she was happy to let me have it. Thanks Mom! I'm still looking for the perfectly shaped wingback chair to
slipcover
that will make up a new reading nook in our bedroom. The nook will include this table,
this lamp
(I've already bought one for the living room) and a black bookshelf on the wall filled with little gold and silver framed silhouettes . I was thinking of painting the table black, but will wait until the rest is done and see if I like it just the way it is more. It's even got a leather top which is embossed with a little edge design. Can't wait to get going on that corner. I can see it in my mind plain as day.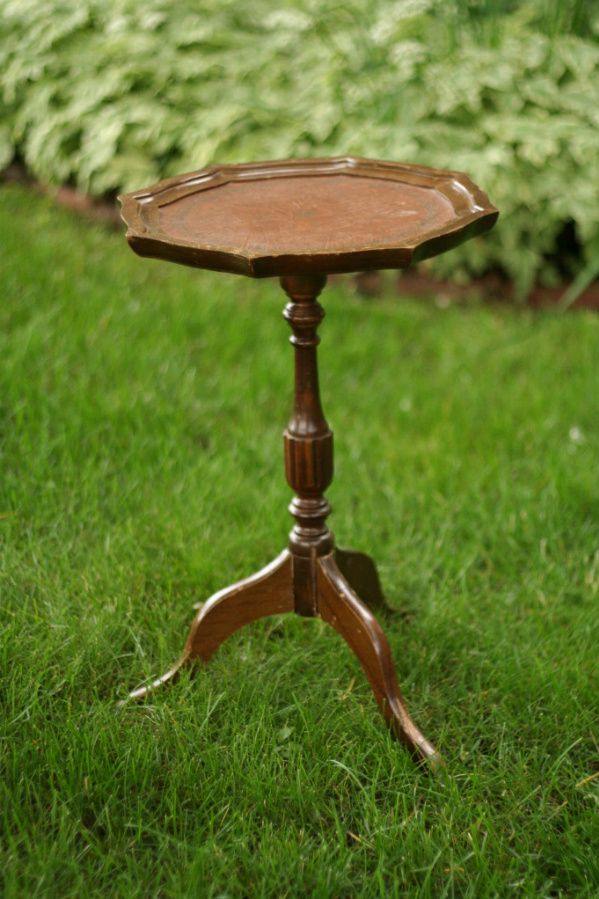 Now for the last piece. Are you ready?
TaDa!!!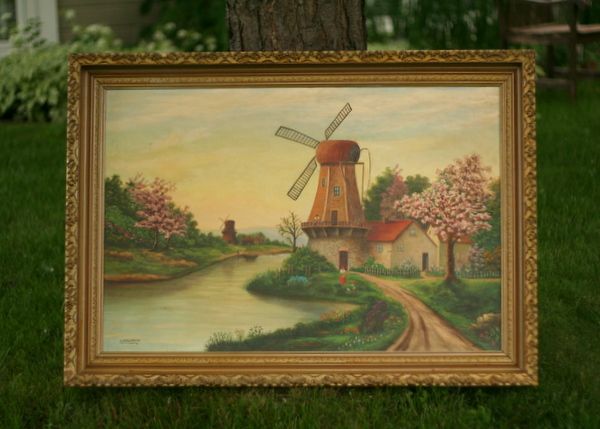 Ok, so David and I are having a little disagreement about this one. He actually wants to keep the painting. But I only like it for the frame. My mom bought it for a few bucks at an auction and is tired of it so she was happy to give it to me. The painting itself is pretty until you look at the spokes of the windmill, those are pretty off. I love it for the HUGE chunky, deep frame and that it's a stretched canvas. My plan is to paint the frame a fun color like turquoise and distress it. Then paint over the painting itself with black chalkboard paint. I want to use it for things
like this
and I have the perfect spot to hang it. Am I crazy or a genius? My husband thinks about the painter and how sad they would feel if they knew their painting had been painted over. What a sweet guy! But I say my idea is better. I need a chalkboard, not a windmill painting.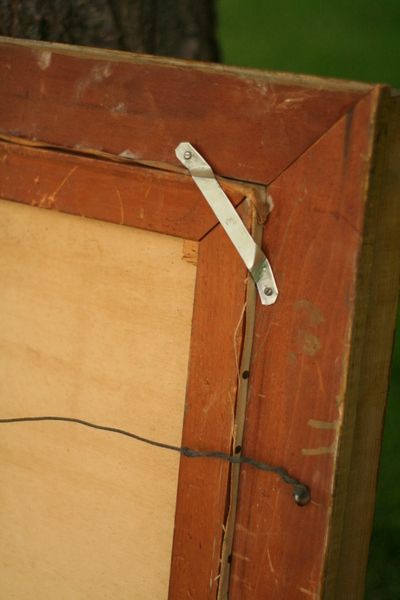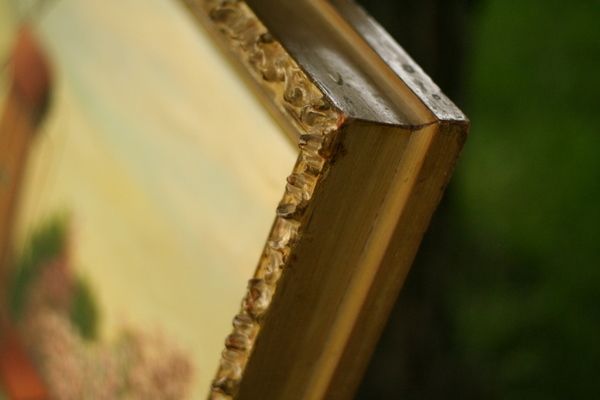 I love thrifting, and next to Pinterest and gardening, it's my new favorite thing to do. How about you? Have you found anything fun lately? I'd love to hear about it.