I know I haven't been so nice to you in the past, but I've changed my tune. My husband will be picking up this twin bed frame for my littlest, tonight for just $20. And it's only 2 miles from home. I'm excited to paint it and finally get his room finished.
And I've already been using this awesome drafting table in my new sewing "studio". It's been a wonderful cutting table. No longer do I spend hours on the floor. My knees thank you very much.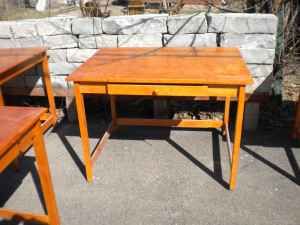 And we found matching Schwinn bikes for our girls at just $25 ea (no training wheels!!!). How perfect that even though the listing didn't say they had two, we found out they had twins when we got there. The girls love them and didn't bat an eye about having second-hand. Now if I could just find a listing for "I'll teach your kid to ride a bike", as this mama is going to have a hard time letting them fall.
Love,
Me