The girls had their first big Valentine exchange with classmates this year. It was a lot of fun and the whole day was just brimming with excitement.
We came home and opened up their bags to see what everyone had given them.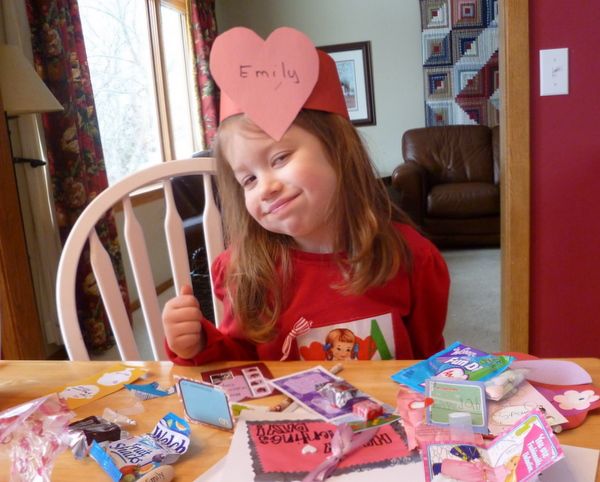 Don't let this face fool you. Can you tell that his eyes are watery? He had stopped crying just long enough to "smile" for the camera. Note to self: next year make Sam his own Valentine bag and fill it with goodies. We didn't give them our little surprises until dinner time, when Daddy was home too, so he was feeling pretty left out and had no problem making it known.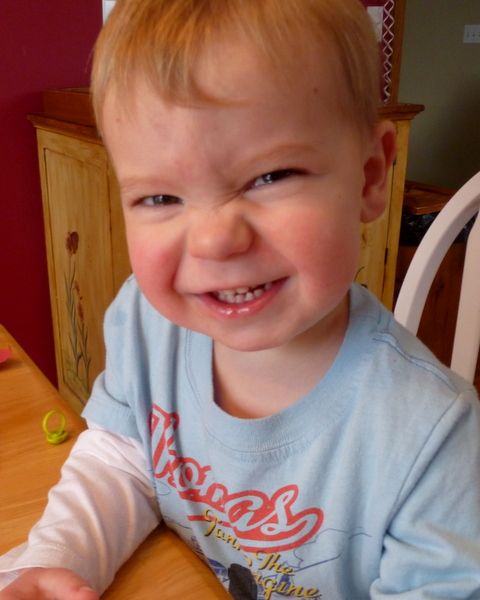 My favorite gift were all the hearts that Allison's class filled out about each of their classmates. What a fun keepsake!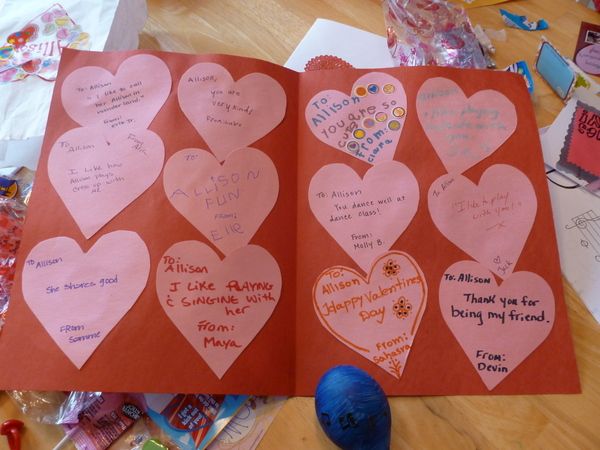 Joey must really like Allison. ;)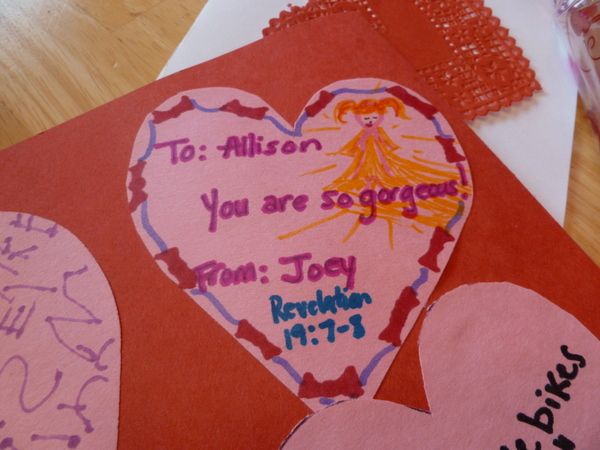 Once the sugar coma set in, I found them like this.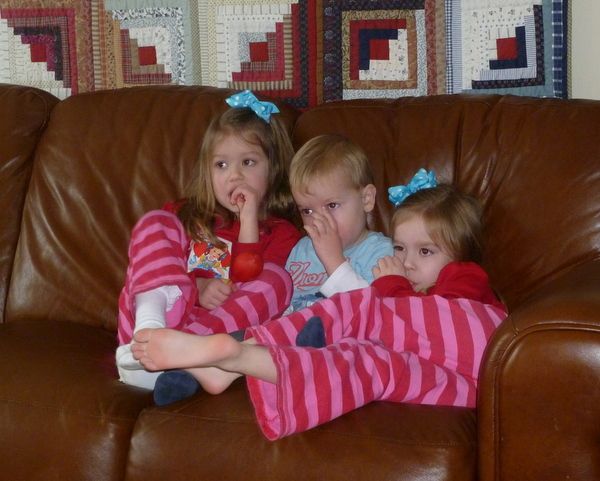 Later that night the girls had their first dance performance.
They had so much fun in this 5 week introductory class that we are signing them up for the next one. And seeing the high schoolers perform at the end made me wish I could have taken ballet. I'm so excited to be able to offer this to my girls. I think that knowing how to dance is a great skill to have and everything is based on ballet, isn't it? I hope they enjoy it for a long long time.
Yesterday, Allison lost her 3rd tooth! All 3 have been from the bottom row now. She put her tooth in the pocket of her Dollie and wouldn't ya know, the next morning, it. was. still. there. *gasp* I had no idea the Tooth Fairy could fail so early in the game. To top it off, she came running upstairs to show us and promptly lost it in the carpet. Thankfully the Dyson has a clear canister and we found it after vacuuming tonight. Whew! Allison even left a note of her own this time, asking the TF to "please leave my tooth, from Allison." And Emily created a work of art for her too. She's really dealt with this disappoint much better than the last two. I think waiting so long to be picked for show-and-tell at school has helped her in this area. Her teachers are good at reinforcing how we happily await out turn. Thank you Ms. Pat and Ms. Wendi!
Well, just one more day before our Fashion Show at Eagle Creek and wouldn't ya know they are predicting sleet and a foot of snow. Praying that we don't have to postpone the event due to weather. I just spent the last two days making Amy and myself fun aprons to wear and the girls all got to practice walking the runway tonight. We are ready!
Hope you all had a great week!