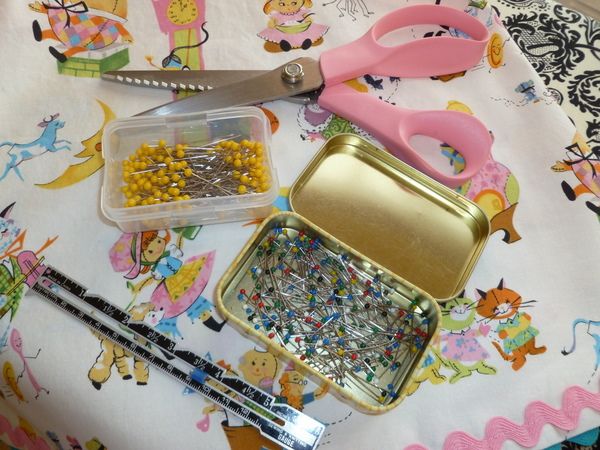 Next to my seam ripper, these are my most used sewing tools. And my favorites.
Pinking shears: everyone should have a pair. And they should certainly be pink. Don't you just love the name? They are a must for trimming a curved seam in a bodice, where you can't serge the fabric. Who wants to end up with a stringy mess after it's washed and risk that the stitching comes loose? Not me!
Quilting needles: those large pins with the yellow ends are THE best pins ever. I used to be a believer in only the little ones (on the right), until I saw Amy using them. She started out as a quilter first. You can find these with the quilting notions. They are much thinner than the old standard. Initially I thought to myself "Why would anyone use such huge pins? Don't you get stuck all the time?" But then I found myself at her house, without my own trusty pin box and I was slowly converted. I even ended up taking a few home with me and within days I found myself reusing them over and over. Little pins are a thing of the past.
Dear big pins, I love you.
Love, me.
A sliding metal ruler thingy: only THE best invention EVER! My mom used this when she taught me to sew. And everytime I misplace it (I have several), I feel lost. Try not to step on itthough, because once it's bent the slide thingy gets loose and doesn't work so well. Here, see it in action. This is so much better than fighting with a long tape measure that wants to keep falling off the ironing board or feels sticky around your neck. Or is that just me?
So next time you find yourself in the notions isle and everything is 50% off, pick yourself up some new gadgets. You'll thank me. And if you already have all of these, give yourself a big pat on the back. You are a sewing rock star. ;)
What's your favorite sewing tool?
*p.s. That nursery rhyme fabric is extremely hard to find. I think I may have bought the last yardage out there. If you are looking for cute fabrics, my favorite on-line shops as of late are
Etsy
and
fabric.com
. Search Alexander Henry, Riley Blake, Robert Kaufman and Michael Miller to see what's out there. When you find something you like, then look at everything else in that shop. Happy shopping!