I want to share with you something that's been on my heart this week. So much so that I actually cried as I was telling David about it and why I was helping out. But there is no way I can do this justice myself so I'm going to copy most of this
blog post
,here.
Do you see that baby over there in my sidebar? His name is Cliff. He has Downs Syndrome and is living in an orphanage in Russia.
Here he is...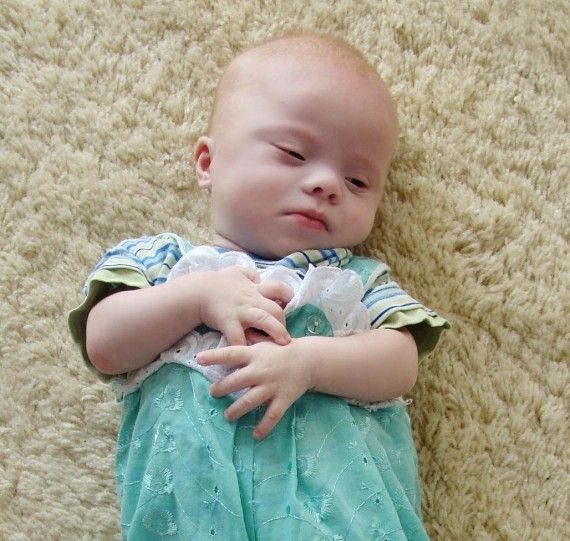 I'll let Jeannette tell you the rest...
"I will begin with a picture.
Of the sweetest, squishiest, yummiest little baby boy ever.
Of little Cliff.
Just 3 months older than my girls.
Cliff who has Down Syndrome.
Cliff who lives in an orphanage in Eastern Europe.
Cliff who is not a statistic.
Who is not a stock photo.
Who is a real, true, living, breathing precious babe.
Really, truly living in awful conditions.
Alone.
No mama to kiss a feverish forehead.
No daddy to throw him high in the air.
No amazing pediatricians to give him a sticker and a lollipop after a shot.
I've been tortured by this sweet face.
Every night I lay my own babes down in their cozy beds in footed pajamas.
Every night I kiss them with a "mama loves you. see you in the morning. i'll miss you."
Every night I crawl onto my own pillowtop mattress and cover myself with my plush down comforter.
Every night I think: "Cliff is still laying in a disgusting, stark crib in a government run orphanage on the other side of the world."
Cliff is real.
Cliff needs a home.
Cliff needs a family.
But for a family to bring home little Cliff, they need money.
And a lot of it.
And sometimes, it is simply that pesky issue of dumb, dumb, dumb money that keeps a sweet baby like Cliff in a vile government run orphanage.
Practically untouched.
Yet, I am encouraged by the fact that while Cliff may not have a cooing mama…he has a Father who loves him more than any of us can dare to imagine.
A sweet boy perfectly and wonderfully made by the same Creator that made your own little bundles.
Loved and as precious to God as we are.
Is your heart as broken and yet encouraged as mine?
Do you want nothing more than to scoop up Cliffy and hug him and kiss him and sing silly songs to him???
I do too.
My insides ache thinking abou t it.
Cliff is one of 143 MILLION orphans in the world.
Million.
Please stop reading right this second.
I want you to let that sink in.
143 million. Babies. Toddlers. Kids. Teens.
Children.
And Cliff is just one.
And that is crazy and overwhelming.
And it makes me want to throw up.
It makes me want to look the other way and walk away.
Pretend like I never saw it and go back to my turkey prepping, Christmas shopping, crafting, and wrapping.
There's nothing I can do. It's too big. It'll never go away.
Right?
"Once our eyes are opened, we can't pretend we don't know what to do. God, who weighs our hearts and keeps our souls, knows what we know, and hold us responsible to act." -Proverbs 24:12
WE can help Cliff.
One by one. Little by little.
I've teamed up with Reece's Rainbow to be Cliff's Christmas Warrior this season.
Here's the scoop:
We are going to band together to help bring Cliff home.
I don't know where home is, but we will make that easier for his family.
Donations will go directly to Cliff's adoption grant fund. Not the general Reece's Rainbow fund. Not spread out among 100′s of kids.
It will all be for Cliff.
So that when a family steps forward to take him in…some of the finances for his adoption will be covered.
Making it that much easier for them.
Because not all of us are called to adopt a baby.
But we are ALL called to serve, love and give.
"Defend the cause of the weak and fatherless; maintain the rights of the poor and oppressed." -Psalm 82:3
It's right there. No bones about it. God makes it ultra clear.
It's not about the perfect gift. A melt in your mouth turkey. Crafts. Or Martha-esque table settings.
THIS is what we are called to do.
To God be the glory."
You can donate to Cliff's adoption fund right here.
Tomorrow is the last day.
Only 40% of the goal has been met so far.Even $1 or $5 will make a difference for Cliff.


Thanks for listening.