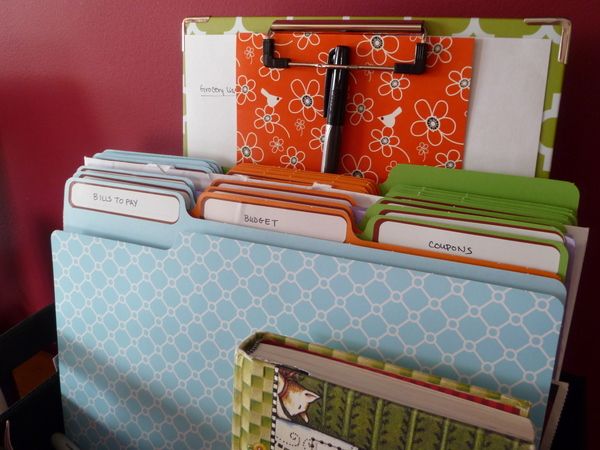 We've lived in our house for 11.5 years now. And I'm embarrassed to admit that we've never had a mail station that works for us. Until now. A couple of weeks ago, I ran across
this blog post
and her set-up finally made sense for our space. We don't have a nice big entry to set things down in. It's a split entry and every wall either has a door on it or one that opens up to it. So, everyday when the mail comes in, a decision has to be made. Bring the bills down to the desk, or go upstairs and hug the kids (and wife) first. Thankfully hugs are always first. ;) So that means the mail gets set in any one of 10 different places. And often it's right in the middle of where I'm making dinner.
I had never been able to find a sorter/holder/box thingy that I liked or was big enough to hold our stuff. So, can you beleive I chose to have
this
mess around me instead of at least buying something that wasn't "perfect" in the meantime? What was I thinking? It was so easy to let things pile up, because that was easier than trying to find a place for everything, when there really wasn't a place for anything. Yet.
Exhibit A
Even that high shelf isn't high enough anymore to keep things away from the kids.
And when company comes over, I usually resort to dropping all the junk into grocery bags and putting them in my bedroom because we don't even have room for junk drawers. Yeah, not so pretty. These two bags are
still
in there. That's next weeks task to get though. It's mostly kid stuff (coloring books, etc...) that gets moved from the table, to the hutch when it's time to clear the table off for a meal. Three. Times. A. Day.
I know!
If we could just stop eating around here, my problems would be solved, right?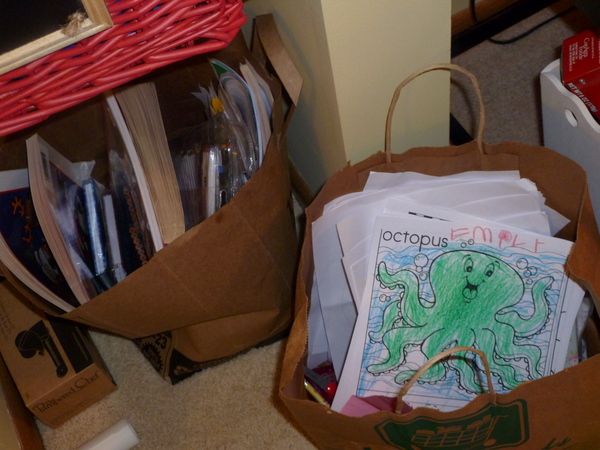 A couple of days ago, I went to Target and was able to find just what I needed to get
this look
. A little canvas covered black box. Pretty basic and non-descript. Perfect! I also found the same file folders and cute clipboard. I'll be painting that rooster hutch (and garbage bin) this summer too. I am SO over roosters. Can I get an Amen?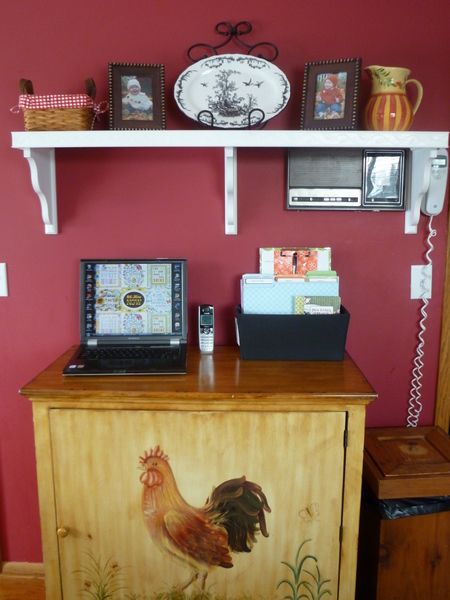 I've got big plans for this wall too. Would love to add cabinetry, including a tall 18" wide pantry cabinet on the right. It would perfectly cover up that ugly intercom and store the garbage bin and broom perfectly. Then a 30" wide base and upper cabinet to it's left. I'm just giddy about the prospect of having two, dare I say "junk" drawers right there and cabinets up top for kids crafty stuff. Next, we'd match our granite counters and add a white subway tile backsplash and paint the walls yellow. Sounds fun, doesn't it? Anyone have a magic wand I can wave?
So here she is again. Look at how organized this box of files makes me look.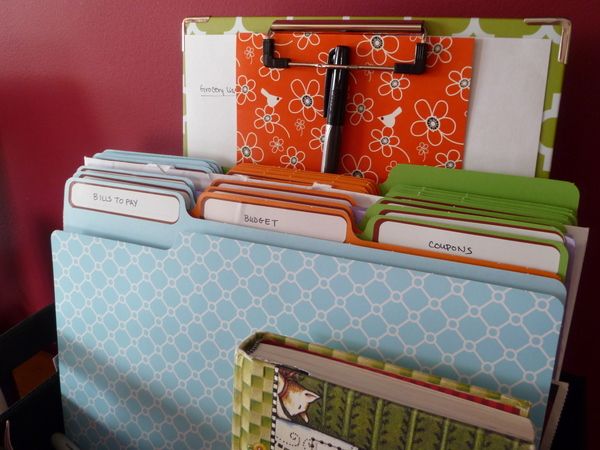 Here's a list of my folder names, in case you wanted to know...
bills to pay
budget (our envelope system is in here)
coupons
receipts - to enter (into the checkbook)
receipts - entered (that we need to save)
TaDa!
taxes
to file
church
school
compassion (international)
doctor (all those well-check papers I take so long to put away)
netflix (so tired of those discs and envelopes getting lost)
paper (just printer paper for the kids to use, we never seem to have enough)
misc (so far I haven't needed to use this one since there's a space for everything now)
I've got a clipboard in the back, with my grocery list on it (now that our fridge is no longer magnetic). And behind that goes any newspapers yet to be read. In the front of the bin is my address book, envelopes, checkbook and pens. But I really should add a file for "mailing supplies" to keep the stamps and envelopes in.
And while I was at Target, I couldn't resist these cuties. Isn't this roll of giftwrap fun? I think I need to go back for more. And I can't wait to fill up these little bags with goodies for Valentine's day.