I made homemade granola today. Wow! It's amazing. I'm totally keeping our house stocked with this forever and ever and plan to eat it as often as possible. Amen.
I made two batches today and have given away 2 bags of it already. David just ate it over yogurt for dinner and loved it. That's saying a lot since he's not a granola kind of guy.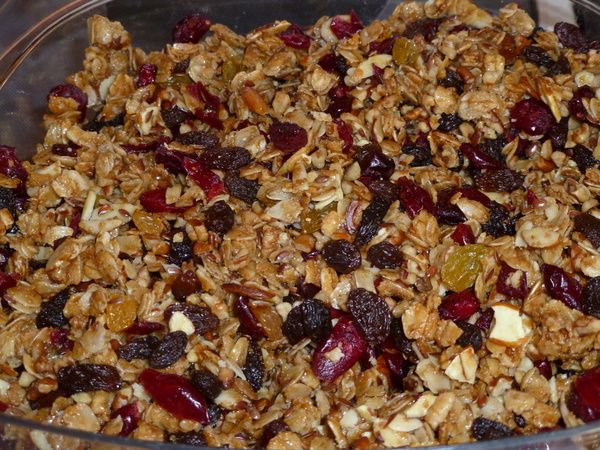 Here's the recipe which I adapted from
this one
. Enjoy!
½ cups Plus 1 Tablespoon Real Butter
⅔ cups Honey
¼ teaspoons Salt
1 tsp vanilla
3 cups Old Fashioned Oatmeal (uncooked)
½ cups Wheat Germ
2 Tablespoons Flax Seed
¾ cups Almonds, Slivered
¾ cups Pecan Pieces
¼ cups Light Brown Sugar
1 Tablespoon Cinnamon
½ cups Dried Cranberries (Craisins)
½ cups Raisins or any other dried fruit you like
First melt the butter in a 3-quart saucepan over medium heat. Add the honey and salt and briefly heat with the butter. Remove from the heat and add vanilla. In a separate bowl mix together the oatmeal, wheat germ, flax seed, nuts, brown sugar and cinnamon. Add the butter to the oatmeal mixture. Stir until everything is coated. Pour the mixture onto a lightly greased baking sheet. Spread the mixture out evenly and bake it at 325° for 10 minutes. With a spatula flip/stir the granola. Bake for another 10 minutes. It will remain chewy. If you like it more crunchy, cook for another 10 minutes. Remove from the oven and let cool for 5 minutes. Add the fruit and mix. Store in an airtight bag on the counter for one week or in the fridge for three.
*I was going to add dried apricots too, but I bought the kind not treated with sulfer and didn't like them. I think dried pineapple would be delish here too.
**This wasn't quite as sweet as I thought it would be for eating plain, but it's perfect when paired with vanilla yogurt. I might add more sugar next time.