Today I'm making a Thanksgiving meal to share with my parents in the hospital. Still figuring out how to get it all there. But I think it will work. And when I told my dad about it last night, he was thrilled. This wasn't the Thanksgiving any of us would have chosen, but we're making the best of it and are so thankful for the chance to fight this awful disease.
I just asked the girls "how do you make a turkey?"
Allison:
"You just cut up some vegetables and then you cut the wrapper of the turkey and then you put it in the pan. After you put it in the pan, you really do something too. You...put the butter on top and all over. That's all. It cooks for 45 minutes. Then when it's all cooked you bring it to someones house if you want to eat it there or at the hospital if you want to eat it with Boppa. Then you eat it there!"
Emily:
"I don't know Mom. You make it with eggs, and meat and cheese and sauce. You cook it in the oven or on the stove. I don't know Mama. Just tell me Mama."
Can you tell who helped me this morning?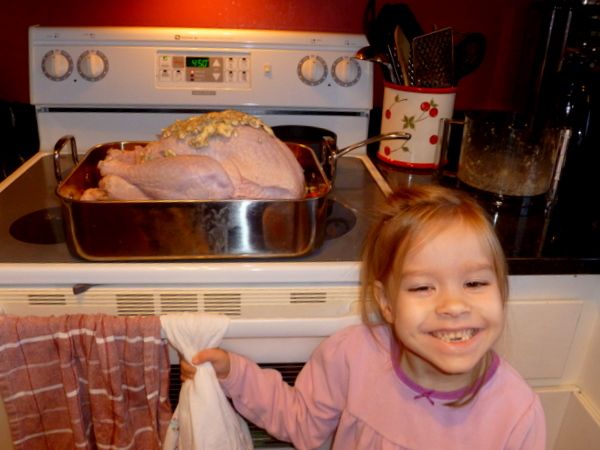 I'm using Bobby's recipe,
found here,
and so far I think it's going to be great. Sadly I missed his
Throwdown
at PW's ranch and didn't get to see him make it. I dont' have a go-to turkeyrecipe since I've only made two. I've tried it
Alton's
way and it was good, but a lot of work to brine it overnight. This time Bobby's was the first recipe I came across and thought "this sounds easy." I'll let you know how it turns out.
Sweet potatoes ready for the oven - Check!
Green bean casserole ready for the oven - Check!
Cranberry Orange Dream
dessert in the fridge - Check!
What's left
Stuffing
Mashed potatoes
Gravy
Two Pumpkin Pies
Pumpkin Pecan Cheesecake Pie
I better get crackin'!
I hope your Thanksgiving is shaping up nicely and you are able to spend some time and reflect on what you are thankful for this year.
God bless you and yours!