I had originally been dreaming about this bedding and color scheme from Pottery Barn Kids. I even thought I could probably paint a pretty decent Fire Truck on canvases.
But then the Fire Truck bedding either sold out or was discontinued. So sad. So then I had my heart set on the red star quilt from there instead. I could still paint his upper walls chocolate brown and add white beadboard all the way around the room. He's already got red gingham PBK curtains. I could still add some fire engine details to make it fun.
Then, after
today's episode
I started thinking of less expensive options since this needed to happen asap. Here's what I came up with next. It's all from Target, except for the Star Wars pillow and glow-stars for the ceiling which are from PBK. Cute huh? Ok, so it's a little over-the-top themed. But I was trying to think of what a little boy would think was fabulous and fun to grow up with.
I figured David would like this one even more given his love of space and the stars. He dresmed of going to Space Camp as a young boy and now he has a huge telescope. Oh and don't tell him I told you, but he loves to watch shuttle launches on NASA tv too. He even took me to Kennedy Space Center on our honeymoon. So I was pretty surprised to find he didn't care for the space theme. And he especially didn't like the cute robot bedding (just $30 for the twin 4-pc set at Target). What? So back to the drawing board.
Next, he really liked the
Pirate quilt at PBK
, but I didn't care of it. For that price, I thought it was kind of boring. One simple applique, I could have done that myself. Oh and guess what we are watching right now? Pirates of the Caribbean. His choice of course...hehe...
So now we are pretty sure it will be the
Freeport bedding set
. It's on sale, and we both love it. I like that it's not "little boy" cute and it can grow with him. And how fun that the black and white photos I took of sailboats in San Francisco Bay (back when you had to put black and white film in your camera...I feel ancient now) will be perfect hanging on his walls too.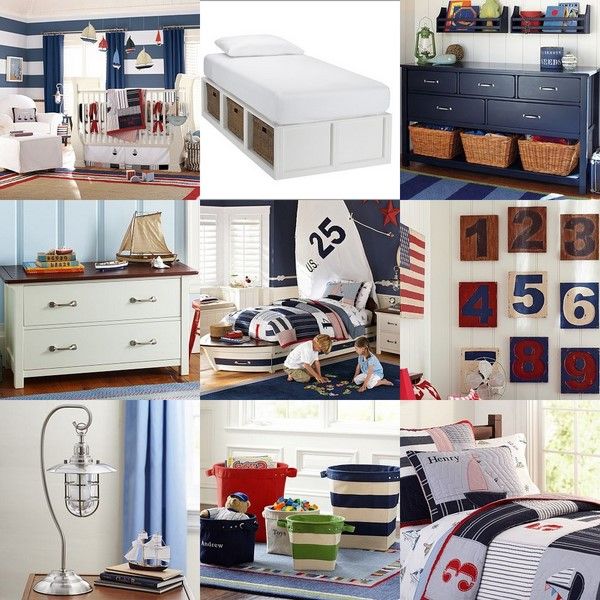 Sam's room is teeny-tiny, so my goal will be for it to feel really cozy. We both like the dark blue (not quite navy) wall color for above white beadboard. But I'm also liking the idea of the horizontal bold stripes. What do you think? Solid or striped?
Oh and that gem we picked up on our way home tonight? Well, I noticed that there was a new Goodwill store right by the furniture store we were at and asked on a whim if I could run in and see if they had any furniture. I've never actually been inside a Goodwill, but I've donated countless times. I've always kind of worried that I would see something I gave away and wish I hadn't (ahem...Madam Alexander dolls). Anyway, they had a great looking dresser for $35 which I'm planning to sand, paint and distress. It's long and low and has 8 drawers. It looked to be in pretty good condition, but after we bought it I said "Hmm...I suppose it would have been a good idea if we had pulled it all the way out and checked to see that every drawer was in good shape, huh?" Can you tell I'm new to this whole thrifting thing? David is picking it up after work tomorrow and I'm excited to get my hands on it.
I'm trying to decide if it should be painted white, dark blue (same as the walls) or red. It will be against white beadboard, so I supposed white should be out, but maybe it would be ok if I kept the top the wood color like the dresser in the above idea board. What's your opinion? Red, white or blue? I adore red, but maybe it's better to keep the red to a minimum and use it in just a few key accessories? The blue might be best to help keep it cohesive and soothing. Help!
Oh and those painted numbers up there? PBK is selling them for $35. Per. Number. Ouch! It's just painted on wood and distressed. I'm going to try to make them myself. They'll be fun to teach Sam his numbers with. And I have a feeling I can find some old nautical pieces at the
Junk Bonanza
, that will be my goal (along with vintage camera, a typewriter, globes and
letters
). I love that navy striped canvas bucket too.
Now for the bed. There is a strange nook in Sam's teeny-tiny room that's about 5" deeper than a mattress is wide, but only 1 inch (if that) longer than a mattress is long. There would be no room for a headboard or footboard, but it just looks like it's begging to have a bed tucked in there. And to put a bed anywhere else really takes up too much of the floor space. This whole time (I'm talking years) I had been thinking we needed to build something in there, a platform with storage under it for a mattress to sit on. I had been planning on making
this plan from Knock-Off-Wood
. It looks simple enough. But then I saw that people were saying it cost them $250 to make. Not so good. Finally David said, what about just the plain metal bed rails? Seriously? Yeah, why not? They are actually shorter than a mattress, so they would fit. I can't believe this had never occurred to me. I've been so anti-plain-bedrails my whole life that I hadn't even let myself think about it. So $50 later, we have bedrails which will be picked up with the mattress set on Tuesday. Of course that means a bedskirt now too and I have an extra red gingham curtain panel that I'll turn into a straight, tailored skirt. No ruffles in
here
.
Funny, but the one thing I'm looking forward to most is putting my favorite book front and center on a shelf over his dresser.
The sailor Dog
is seriously a cute book. If you don't have it, you really should buy it. I loved it growing up and the girls really like it too. So of course we'll need to include a hook for his hat, a hook for his rope, and a hook for his spyglass.
"Born at sea in the teeth of a gale, the sailor was a dog.