Summer means swimming and swimming means lessons. We are so glad we signed the girls up for lessons this summer. They think it's great fun and it's such an important skill to know. We really love our swim school. Their pool is designed specifically for lessons, the water is quite warm and their instructors are amazing.
This is day 2 of their lessons. Funny how one of my girls can be afraid of the shower head in the tub, but not mind the showers at the pool or getting her head fully submerged. She feels completely comfortable here. And perhaps it helps that her "no fear" sister is right next to her.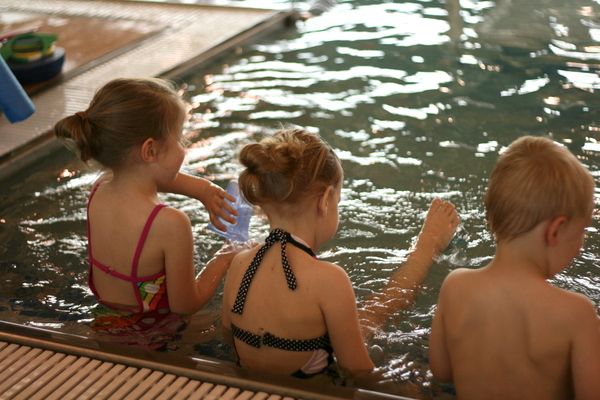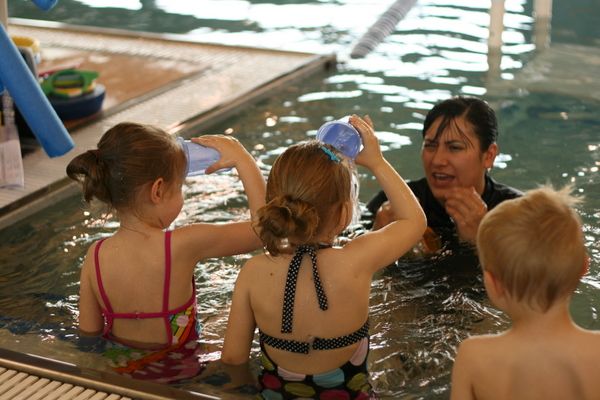 Their favorite part is dousing the instructor. She's really good at making it fun for them. Everything revolves around a child's song, game or animal. They are already practicing "Humpty Dumpty sat at a wall..." to get them to jump into the deep end of the pool. Then they learn how to swim in a tight circle back to the wall. Great way to teach kids how to get out of the pool if they accidentally fall in or get pushed in.
Goggles for the first time. They loved them so much, they are running around the house wearing them right now as they play "swimming."
Emily takes after me, her legs go right to the bottom.
And her kick looks a little more like crawling. She's got some coordination to work on.
Allison is just a little fish. I can't even tell you how many times I heard "don't help me, I can do it myself." Her teacher obliged her a few times and of course she sank. I love how she then said "I thought you were going to show me how you can do it?" I think Allison got the message that help is still ok.
See Emily back there? She really really enjoyed those goggles.
Learning to float as a "starfish." They get to chose what color starfish they think they are.
There is lots of affirmation and hi-fives throughout the lesson. The kids are always beaming and smiling back at me to see if I'm still watching. Oh and Sam sits patiently during the whole 30 minutes taking it all in. I bet he can't wait for his turn.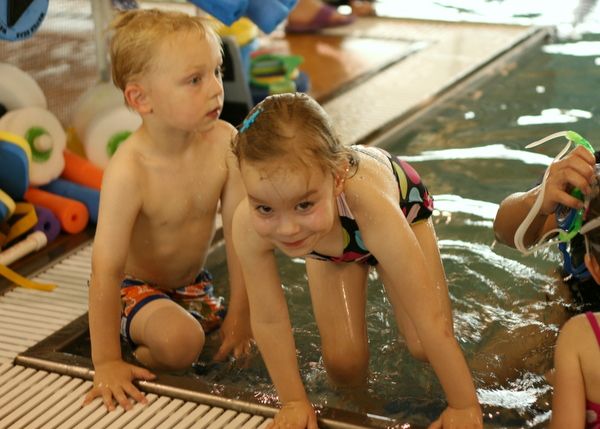 Way to go girls, you will be great swimmers before you know it!