The peonies are actually all gone now. And I can't wait to take my shovel to them and split them this year. I've got big plans for our flower beds this summer. I'm digging new ones and expanding existing ones. The bricks behind Emmy here are where I'll be planting hostas to fill up the space under our crab-apple tree. David won't miss mowing this hill and I think a sweet little bench or Adirondack chairs back there would be cute. I'll also be leaving space for a row of Hydrangeas along the back of the garage. And the Rhubarb will find a new home in a sunny spot back there too.
We've had so much rain here lately, and cool days, I'm ready for a heat wave again next week. Temps in the 60's just don't scream summer to me.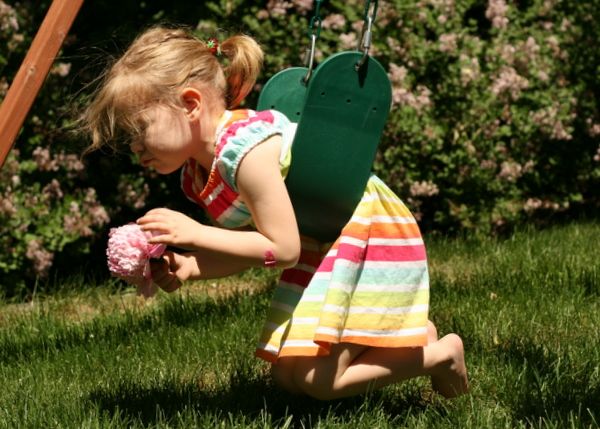 The girls sure enjoyed picking flowers this spring.
If they had their way, there would be none left on the plants.
I've finally become a coffee drinker. I never thought I'd see the day, but Coffee Mate French Vanilla is really yummy. Sleep is at a premium for us again lately. David being on call for work is a lot like having a newborn in the house. But without the sweet baby to cuddle.
I've managed to lose 8 pounds now. I'm a forth of the way to my goal.
Bahamas...here we come!