Ok, I'm not doing this in any real order. I'm saving the best for last. My mind is all over the place, I can't think quite straight as I'm still recovering from the massive had cold I started getting the day the Little Pumpkin's family arrived. Oh and Jessica started her trip out by losing her voice. What a pair we were! And I'm pretty sad that this is the only good picture of the two of us that ended up on
my
camera (of over 400 pictures!!!). I'm hoping she has a good one on hers. You can see what's she's started writing
here
and
here
.
Our day at the Mall of America was really fun. We started with a quick ride on the Hot Air Balloons and then off to lunch at Rainforest Cafe. I really love that place, but my sweet and
very
sensitive Emily, cried through most of it and plugged her ears through almost all of it (even asking
me
to feed her). We were sat right in the middle of the gorilla room and boy was it loud and evidently scary too. Kind of funny to see Allison and Grace across the table from us loving every minute and pretending to be monkeys themselves. They had a blast!
Taking pictures in Lego Land. The Lego sculptures are enormous!
Two of a kind.
I love that at this age we can walk right past American Girl and no one even notices.
All aboard!
We were pretty surprised that we both fit in there with all five kiddos.
I think this was Hudson's first ride.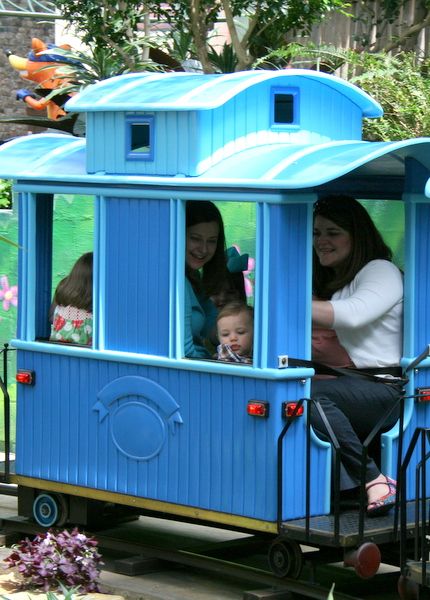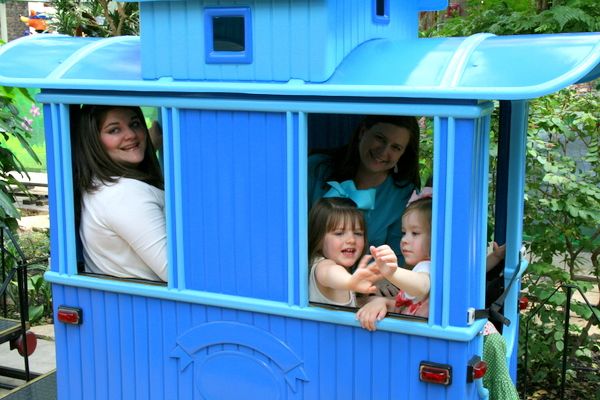 I never got a good picture of it, but Hudson loved to grab at Sam's hair, and Sam would just giggle the whole time because it tickled.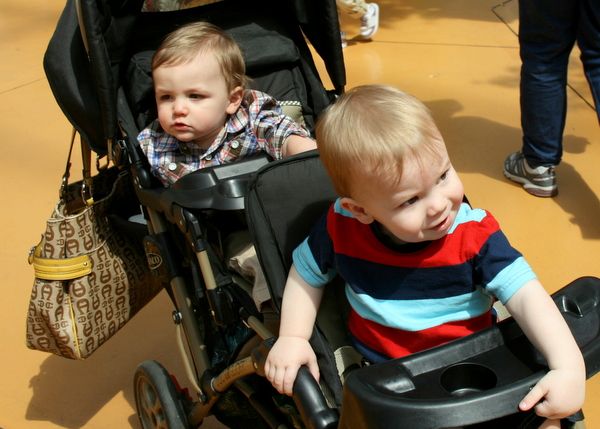 Hudson is a good on-the-go napper. This little boy is just precious!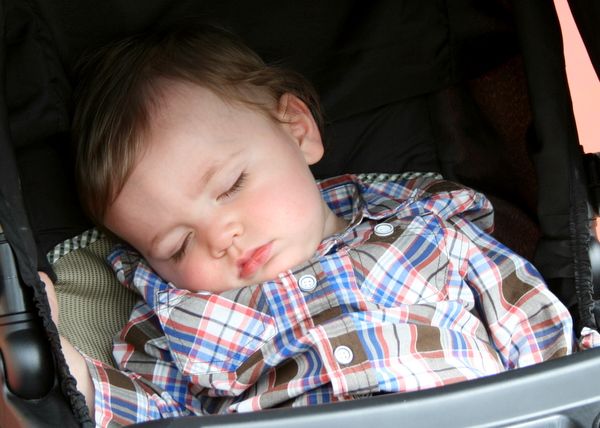 Couldn't resist a picture of my big guy. :)
The Merry-Go-Round is always a favorite.
And the roller coaster was hilarious. I sat with Sam and my little daredevil thought it was great fun. Even Virginia (aka Noonie) enjoyed it.
Allison sat in the front row all by herself. What a big girl!
Of course Emily wouldn't get near this one.
Someday...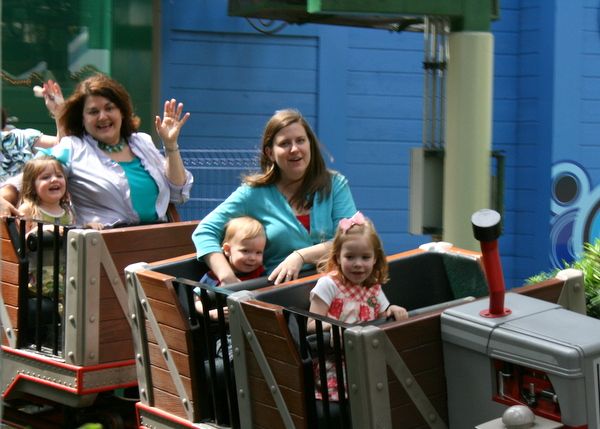 We finished our time with the Ferris Wheel. I still have yet to go on it, but I'm sure the view is great from up there.
I've got at least one more post about our week-end, but bye for now. I'm about to go catch some sun in the backyard with the girls, sip some lemonade and nurse my poor arms and hands that were butchered at the Dr.'s office this morning. Just the normal cholesterol and glucose test (now that I'm over 35). Five pricks later, and lots of digging, they finally got what they needed. But the bruises are already starting to show up and man does it hurt. Ouch!
Oh and a little teaser for you. Amy and I are going to a book-signing this Saturday night. And we will be giving away a signed copy of
"___________"
on the blog next week. Can you guess which book it is and which amazing woman we are so excited to meet? Never a dull moment around here!