While it's raining and the girls and I are waiting to go outside and goof around for the camera, I thought I would share with you some of what I learned at a DSLR class I took last night. First, I have to thank my generous friend for using one of his free class tickets on me. A perk he received when we bought his new camera and one that he shared with me. I am so thankful for that!
I've had my Canon Rebel XTi for almost 2 years now. And I really didn't have a full grasp of what aperture shutter speed and f-stops meant. Seriously, almost all the photos I take that turn out decent are usually just happy accidents. Pretty sad, huh? Last night was perfect for me, because no matter how many books I read ( like
this one
or my manual) I think I learn so much faster by hearing or seeing something rather than just reading. So here is what I took away from last night...
1. Format your Card
Always format your cf card, in the camera (never when it's hooked up to a computer) in order to delete photos you have just downloaded. Huh? I had no idea that formatting my cf card was something I needed to do. I've always downloaded photos to our computer and checked the box that says delete from card when finished. That's a big NO NO! The reason is that if you do this over and over again, your card will get corrupted and eventually not work any more. He couldn't stress this point enough. Sorry I can't reiterate the technical reasons, just know that you shouldn't do it. Instead, download (leaving them on your card) then put the card back in your camera and go to the main menu and look for "card formatting". Also, never move your card in or out of the camera while it's on. Also, don't change lens' while it's on, the sensor will attrack dust to it inside the camera.
Never choose the "erase all" or "delete all" option when you are viewing photos. This doesn't actually erase them. Only formatting your card will remove them fully. However, if you are out shooting and accidentally "erase all" don't panic. As long as you don't keep shooting, you can bring your card in to a shop and they will be able to retrieve them. A good reason to always have two cards with you. Time to dig out my smaller cards.
2. Center Focus Lock
When you get your camera, it comes set to a focus zone with multiple sensors. See the diagram in the left sidebar of
this site
. You need to change it to "center focus". Look in your manual for more directions on how to do it. It's really the first thing you should do to a new DSLR. Luckly for me, a friend of mine did that for me last summer when he gave me some quick tips. Also, this center weight will be the most accurate in low light. You can only choose your focus zone when you are in one of the manual modes like P, TV or AV (not auto), so there is another reason to stop shooting in auto.
This one you all probably know already, but I needed to hear it again. You know how you can hold the button down halfway and it will focus without taking the picture yet? Well you can do this and focus on your subject and keep the button pressed halfway while you then reframe the shot so your subject is no longer in the center. This is how you get more artistic photos with your subject still in focus. You can read more about it
here
. I'm totally doing this after it stops raining!
3. ISO
I've had somewhat of an idea of what ISO is, but didn't quite grasp it fully or know for sure what numbers to use for when. ISO is the cameras sensitivity to light. Also, the higher the number you set it to, the more grainy your photo will be.
100 = Full sun
200 = Cloudy
400 = Dusk or in your living room using the flash
800 = Low light with no flash
1600 = Indoor sports like hockey
One thing that I thought was very interesting is that you should always choose your own ISO, don't set it to auto. He said every brand of camera chooses poorly, there seems to be no rhyme or reason for the ISO they choose when you leave it up to him. Seems pretty simple to figure out what yours should be set to, so always choose it yourself. Another reason to be only shooting in non-auto (the green box) because you can't choose it in auto.
4. "P" or Program Mode
Look for the "P" on your dial. In P mode the camera chooses both shutter speed and aperture. It does a great job of capturing light well, but not motion. The difference between P mode and full Auto is that you can choose your ISO, white balance, whether or not you want to use a flash, and you can change the focus points to just use the center point (part 2 above).
Program mode is great for shooting under bright light, when your subject is not moving and anytime you are using a flash. Try it in your living room, ISO 400 and with your flash and see what you get.
5. Shutter Priority or "S" or "TV" Mode (controls motion)
You set the shutter speed and the camera picks the corresponding aperture (depth of field). The smaller the number (like 1/2000 - Read: 1 2000th of a second) the less light that is coming in to the camera due to a faster shutter speed. This is great for stopping action, think sports, wildlife and of course 2 year olds.
In your camera, look at the bottom row of gibberish, the far left number is your shutter speed. Fractions are represented as whole numbers. Whole seconds end with "quotes" (ex. 2" = 2 seconds).
1/2000 These numbers are all great at stopping action and will give you sharp detail
1/1000
1/500
1/250 These numbers are the typical "P" program settings
1/125
1/60
1/30 These settings let in more light, slower shutter speed, and require a tripod
1/15 They show motion (think card headlights down a freeway making it look like a line)
1/8 and capture low light scenes
1/4
1/2
1" (Read: 1 second)
2"
4"
8"
15"
30" (Read: 30 seconds)
B
6. Aperture Priority "AV" f-stops, (controls Depth of Field (DOF))
The f-stop number is the second number from the left inside your camera, on that bottom bar of gibberish. It's just to the right of the aperture (shutter speed). It's shown as just the number, without the "f" in front of it. The "f" is called a stop and the same way that dollars are a way to count money, stops are used to measure light.
The higher the aperture number, the greater the DOF. A low aperture = less DOF.
f 1.8 has a shallow DOF, your subject will be in focus and only a little bit in front and in back of them will be. Everything else will be blurry. The lower this number, the more Bokeh you will get. And we all love
Bokeh
don't we?
f 1.8 = shallow
f 4.0 = shallow
f 8 = medium
f 11 = medium
f 22 = greater
So when you care more about your Bokeh than with stopping motion, set your camera on the AV setting to a small number and the camera will change the shutter speed accordingly. Don't forget to set your ISO appropriately.
These are from
a walk in the woods
last summer and show you some fun Bokeh.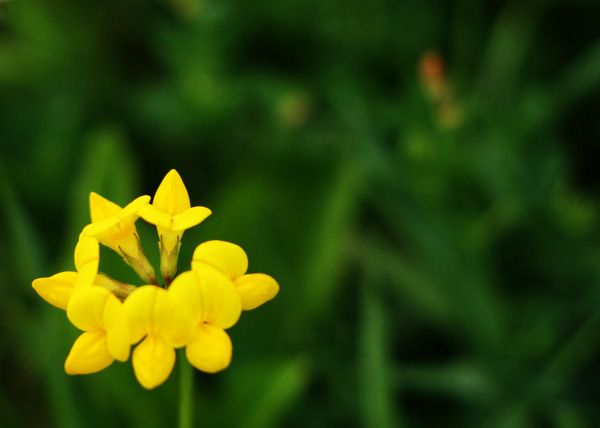 So, there you have it! I hope this helped you a little bit. I can't wait to get outside and start practicing. How about you?
**Added to say that I'm also going to buy polarized lens filters for both of mine because the difference in outdoor photos with and without it are pretty amazing. A polarized filter removes the glare you see in water and just about anything really. He had a shot of the Vietnam memorial wall in DC and you know how normally you would see a lot reflected in that large piece of polished stone, well the polarized filter took that away so you could actually see what was written on the wall. Or think about when you take a photo of something in a storefront window and all you see is what's reflected in the glass. The polarized filter takes that glare away and lets you capture what is inside. They range in price from $60-$160 and with these, you get what you pay for.