Two years of blogging has really flown by. I've loved sharing with you my sewing creations, recipes we've loved and a little glimpse into our home and the craziness that is raising 3 kids 4 and under. I hope you've enjoyed what you find here and will continue to read. If you are new, take a gander at my free tutorials (see sidebar). You may find a little inspiration to get crafty.
And because I've enjoyed getting to know so many wonderful folks around here, I'd like to give you all the chance to win a little something I've made.
Without further adieu...
The Dress
This past week I've made 5 dresses in this style and wouldn't ya know this is the one both girls say they like the best. So I hope your little one does too. And don't worry, I've got tons of this fabric, I'm sure I'll be making it again for my girls.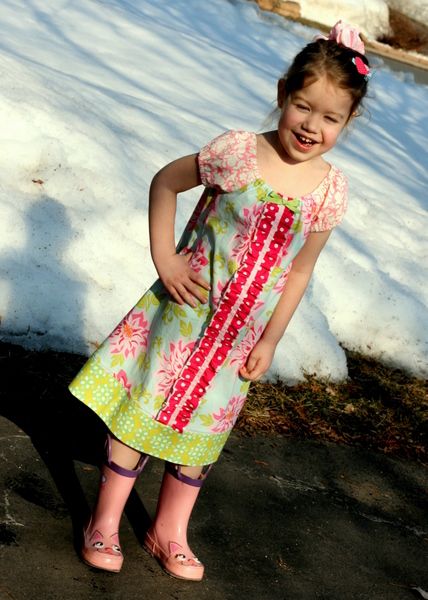 This is sized to fit most sweeties size 3/4/5. For reference, Emily is now wearing size 5 tops and 4 bottoms.
Measurements:
Chest 27"
Length 25.5"
But if you are thinking, "my darling wears a size 3T and 25" is just way to long for her" I'd be happy to shorten it. We'll talk later.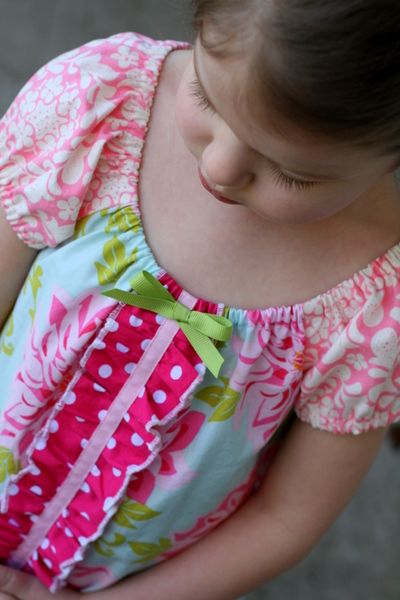 The Details
Enter to win this pretty little dress by leaving a comment here. Just tell me a little bit about the sweet girl this dress might be going to, what you love about her the most..
For an extra entry become a public follower (see sidebar) of my blog. Just leave a separate comment telling me you're following. And if you already follow, great! Let me know that too, in a separate comment.
And for a third entry, blog about this giveaway and leave another comment telling me you did so, with the link.
Winner will be drawn next Friday night, March 12th at 9pm cst.
Good luck!
Thanks so much for reading my blog! I'll be sharing more details about this dress and the 4 others I've made very soon.