Don't forget to enter my
dress giveaway here.
Today is the last day! I've really enjoyed reading all your entries. You all are so sweet and I have no doubt that this dress will find a lovely home with a sweet little girl to love it. I'll close comments at 9pm cst tonight and draw the winner Saturday morning with my girls. I'm not using the random number generator thingy this time because it seems like #1 never wins. So we'll be drawing entries out of a bowl, I figure that's as fair as I can make it.
*Oh, and if you aren't sure how to leave a comment, just e-mail me at tadacreations@gmail.com and I'll enter it for you.
Not much to report here accept that I'm still buried in laundry, at least it's all clean.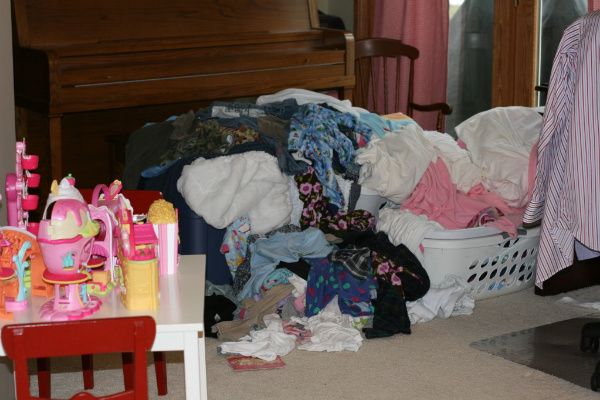 *I seriously have nothing more exciting to show you than my laundry pile.

I'm finally folding all the fabric that Allison decided she needed to cover herself in last week. Yep, it takes about a week to get to somethings.
Little man has a terrible head cold, his first ever I think. He's been pretty miserable, whimpering and wanting to be held a lot. So far he has passed it on to approx 1.5 people in our house. And there he goes again, drinking from his sister's sippy. I can't keep up with all the contaminated sippy cups around here. Oops, looks like he just got his first taste of chocolate milk and he's going back for more. I can't blame him.
Tonight David is bringing home Chinese take-out from
Great Wall
. We're ordering General Tso's which I find funny because I've never actually ordered it from a restaurant before. I've only made
this fabulous recipe
which we all love. So I'll get to see how it stacks up. We're also getting chicken and snow peas. Snow peas make me think of summer and that's a good thing.
It's another drizzly, misty, gloomy day here in MN. At least the snow is almost gone. We actually had a thunderstorm here earlier this week. It was strange to here thunder and still see snow outside.
Saturday we have a 4th Birthday party for my cousin's daughter. I'm making her a dress. It's almost 1:00 and I haven't started it yet. I better get on that, the party's at noon tomorrow.
Oh, and the girls Easter outfits are almost done. I'll share them with you after I add the ruffles to the pants and decide if the dresses need pockets. I wish I wasn't having such a difficult time finding shoes to go with them.
What are your plans for this week-end?