Snow has been falling steadily since Sunday. Last night David took all three kiddos out to play in the snow...20 minutes to get them dressed, only 5 minutes until there were tears to come back inside. Sam has already outgrown his snow-boots, he never even got a chance to wear them. Are you as tired as I am of having to struggle with winter coats and car seat straps?
Though the snow is beautiful, I am ready for spring to get here. Quite literally actually. I've done most of the girls summer clothing shopping already. And I'm really proud of myself for doing it at Target no less. I didn't even use my Gymboree Circle of Friends coupon last week-end. That was a hard decision, but the right one. There will always be
more cute clothes
, right? *sigh*
Anywho, I was so excited to find these adorable shorts at Target. I bought 2 pairs of each color. They will be adorable with all the little blouses I plan on making from my
stash
.
I love the little scalloped pockets, the longer (more modest) length of them, the cute pink buttons on the denim pair and the plaid that reminds me of Gymboree's past Tutti Fruiti line. And you can't beat the price of just $5 a pair! Well, I actually bought them on sale at $3.50 each a couple of weeks ago. But still, $5 for cute shorts, that's a steal. I bought them in 5T which ran big for us, but I figure I can sew a little pin-tuck in the waist (unfortunately, these don't have adjustable waists, one reason they are so cheap I'm sure) and they may still fit next year too.
I thought these dresses were so sweet! My motto has always been coordinating, not matching, so these were perfect for that. But that's actually starting to change a little, I'm finding it kind of sweet to see them matching and it makes getting dressed easier. I think these were about $8 a piece.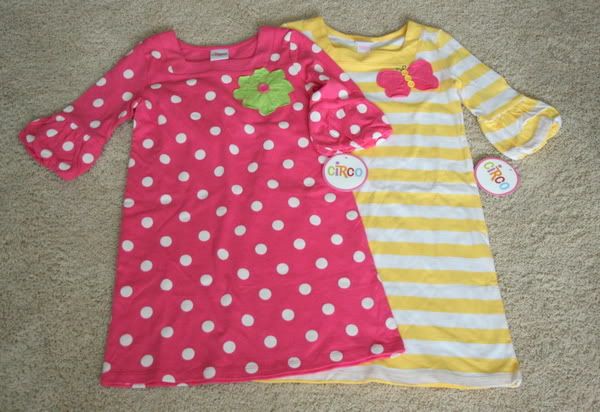 Then there's the cute, bright cardigan. And the jeans fit perfectly now and will be great as capris this summer. I found them in the Big Girls section. Can't believe we are already shopping over there! I loved this one so much that I bought them matching outfits. I hesitated on the matching part for oh, about 2 seconds. This outfit was the biggest splurge of the day. Both pieces were about $10 each. One or both might have been on sale?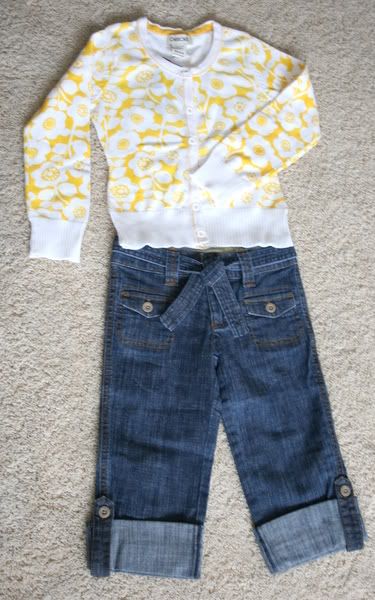 I bought a TON more there. So if you haven't checked Target lately, you should. They've got some really cute pieces at great prices.
I also picked up these for myself. I haven't had rain boots since I was a smallish girl. Hey, kids can't be the only ones to have fun in the puddles. And for $6, they had to come home with me.
April showers, I'm ready and waiting for you. Please hurry!