I've finished week four! I'm only about 7 months behind, but who's counting? Thanks Amy for helping me figure out the final placement. Getting that random look was harder than you'd think.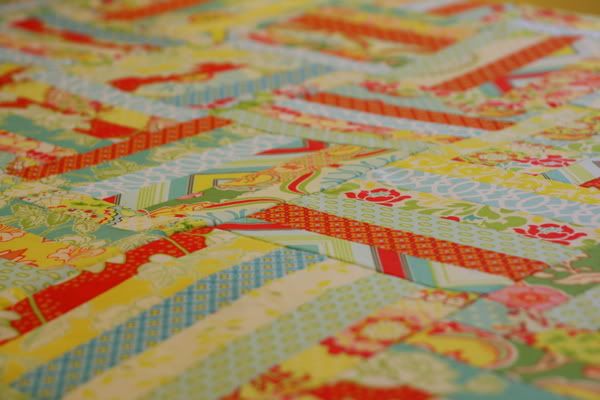 The top is sewn together. Just need to order the
backing fabrics
, purchase the cotton batting and send it off to be quilted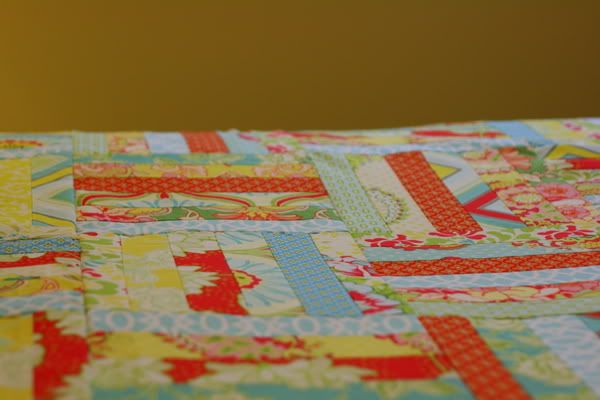 I waffled back and forth, and back and forth about whether to make this throw size or a Queen. What I've decided, is that I'm just not good at making permanent decisions. But I did ultimately decide that it needs to be a Queen. I'll swap out our
new bedding
for this in the summer and use it as a cozy blanket in the family room, in the winter. The best of both worlds!
After I got it all together I realized that there is a
ton
of yellow. So much so that maybe I
should
have painted our walls light aqua (there's that inability to make decisions creeping up again. Shhh...go away!). And that red is
super
orangey. I'm not really an orange kind of gal. If I had it to do all over again I would have chosen differently. But that's all part of my learning curve I guess.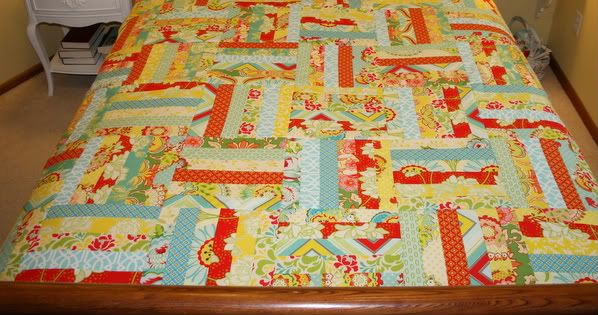 I'm looking forward to binding it in a couple of months. My pal Amy and I have decided to bind our quilts together while watching old movies. She's got a few that just needed binding, and her blind hem stitch is phenomenal and I'm hoping to learn a thing or two. Seriously, the best I have EVER seen! I'm voting we watch Charade, That Touch of Mink or To Catch a Thief (or all three!). I love, love, love me a good Cary Grant movie.
Do you like old movies? What are your favorites?