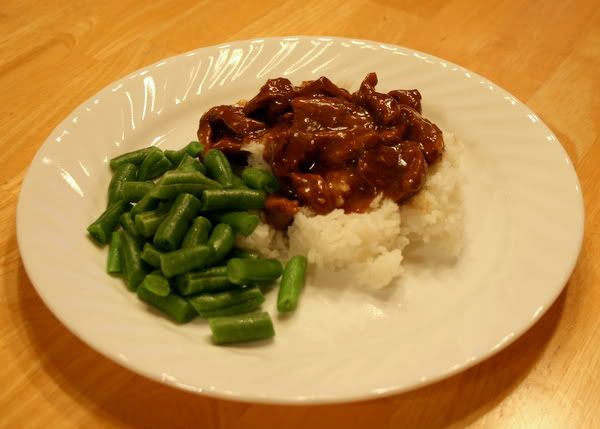 I made this today. We haven't even eaten dinner yet, but I'm so excited about it that I had to get this blogged asap. In fact, I just let the rice boil over in my zeal to get this out to you. It is that Fab-u-lous!!!
I have no idea what Mongolian Style Beef is supposed to taste like, but this is sure yummy. And the beef just melts in your mouth. But that may be because I used top sirloin steak instead of the called for flank steak. Remember, I'm
making it work
this week.
This was cooked in 5 hours on low, but I'm thinking it will still be ok if you need to be gone longer. Maybe in that case flank steak would be better, I think it's a tougher cut? But really I have no clue. I'm also thinking that if I had had some fresh broccoli, I would have steamed it and tossed it in just before serving and voila, Beef with Broccoli. For very little effort (and money) it will feel like we are dining out tonight. Have I told you how much I
love
to eat out? So when it's not in the budget (and it's not), it's great to find special recipes like this one.
Crock Pot Mongolian Style Beef
1 lb beef flank steak, sliced thinly across the grain
1 medium white onion or yellow onion, sliced thinly (about one cup)
(I used diced because it was already chopped in the fridge from the last meal.)
1/2 C soy sauce (I only had about 1/4C left in the bottle)
1/2 C dry sherry (I used cooking sherry, same thing, no?)
1/2 C chicken broth (add more if you need to substitute any of the wine)
1 Tb minced garlic
2 Tb hoisin sauce
1/4 C brown sugar
1 Tb ground ginger, or your could use fresh (I used half, not a big fan of ginger here)
1/2-1 tsp red pepper flakes, to taste (I did 1/4, kids ya know)
1/4 C cornstarch
1 C cut scallions in 1.5" pieces (I only had 2 left and chopped them up because I can't read)
1/3 C fruity white wine (though the house smells like wine a bit, you can't really taste it in the sauce)
Slice the beef thinly across the grain in 2-3" long strips. Add 1/4C cornstarch to a zip bag and add the beef, shake to coat. Set aside.
Combine all else except the 1/3C white wine. I just dumped it all in the crock pot and stirred. Add the beef to the crock pot and gently push down into the liquid. Then pour the wine over top but don't stir it in. I have no idea why, but no use messing with a good thing.
Cook on low for 4-5 hours. An hour before you are ready to serve, turn to high and add the cut scallions. Cook for an additional hour. Serve over rice
I'd love to know if you make this!
*David loved this and so did Sam (of course I did too). I think the girls just weren't very hungry. They ate mostly rice.