OK, so did you notice that I changed this from
"25 Days of Christmas"
to just
12
? What was I thinking? I was going crazy trying to think of something new for everyday and realizing that 25 is
huge
. So I gave myself a little talking to and said...self, stop making more work and adding unrealistic goals. Twelve days is plenty! So, there you have it. 25 is now 12 and I can breath again.
Today is about fun little finds you might not readily think of for gift giving, but I think would be lots of fun.

Maybe someone on your list would enjoy...
A string Keeper Can from
The Small Object
, $16
You could store anything in these, it doesn't have to be string you know.
Basil dish soap, hand soap, and hand lotion set from
Willaims-Sonoma
$39.95 (sale)
Mmm...Basil, in the kitchen, that's what everyone needs.
(I'm pretty sure my hubby has bought me this.)
The Great Cupcake Pan from
Williams-Sonoma
, $36
Oh my, this is what every Birthday cake should look like! Buy this for someone who loves to bake. Seriously, make her day and buy it.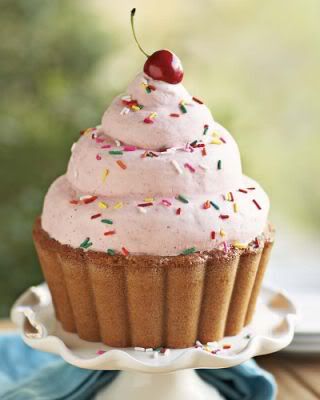 A Red and White Striped & Polka Dot Bowl from
Feather Your Nest
, $16
See the whole collection, plus red or black polka dot
melamine plates
for $5...LOVE! (Would make a fun Valentine's Day gift too.)
Aqua Square Melamine dish set at Target, $24 for 12 pieces. I think these are available open stock in the store too. These would be so fun to mix things up once in a while or to take on a pic-nic next summer.
Swell Tea Towels from
Feather Your Nest
, $24 (set of 4). Swell is one of my all time favorite prints. Wishing I had bought full bolts of all the prints. *sigh*
Christmas Tea Towels from
Feather Your Nest
, $25 (set of 4). Oh...simply adorable! I'm not a huge fan of Christmas themed gifts for Christmas, because by the time you give it, there's only a week or so for someone to enjoy it. But these are a definite exception to that. These are the towels your grandchildren will remember you for. In that case, you better buy two sets, one just won't be enough.
Turquoise Mini Suitcases from
Paper Source
, $8-$14.50
(Love the red/aqua color scheme)
Set of 3 Suitcases from
Land of Nod
, $19
(even more fun colors to see) Wouldn't these be adorable for young and old to store little treasures in?

Owls from
Pottery Barn Kids
, $24-$29. Oh the cuteness!
(These were sold out by Christmas last year)
I realize I've left out the men (unless they need soap...hehe), so here's one for the guys. The guitar playing guy that is.
Rock Star Dad custom guitar pic from
Kristin's Custom Creations
, $25.90.
I had her make one for David (with his favorite quote) for Father's Day last year. He
loved
it!
She's still taking orders for Christmas, but you better hurry.