I came home with 8, different dozens, of cookies last night. I am definitely doing this again next year. The surprise favorite for me was this little beauty.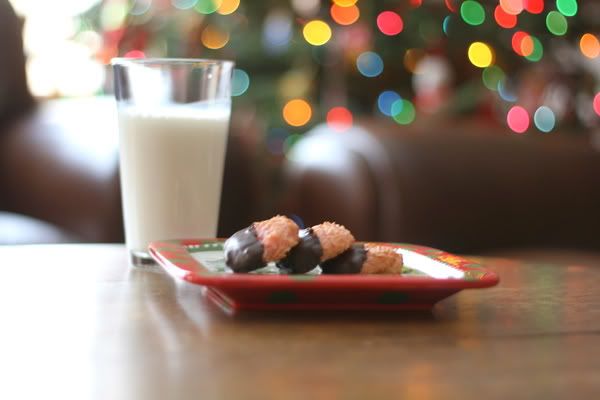 I say surprise because I generally do
not
care for coconut. But this cookie is amazing! And the ingredients couldn't be more surprising. It has a chewy bite, but I don't cringe like I usually do with the texture of coconut, so the ratio must be just right.
Raspberry Macaroons
(though they taste more like a chocolate covered cherry)
1 pint raspberry sherbet, or any other flavor
2 tsp almond extract
1 box white cake mix
6 cups flaked coconut
Mix everything together until blended. Drop by tablespoonfuls 2" apart onto a cookie sheet. Bake at 350 for 12-15 minutes or until edges are browned. Remove to wire rack and cool completely.
Chocolate Dip
Semi-sweet chocolate chips
Oil (vegetable or olive)
Melt some chocolate chips and add just enough oil so that when you lift your spoon up the chocolate drizzles evenly off the spoon. Experiment with a little bit at a time. Sorry I don't have measurements for this part.
*Try these with orange sherbet for Halloween or Lime for St. Patrick's Day. Or use white chocolate chips for Easter.