It's a dreary, rainy, gorgeous, fall day here in Minnesota. But instead of waiting for the sun to shine again, I took photos this morning anyway. The room is almost fully complete. Just waiting for the
pink fan
, and I need to swap out the curtain rod for the same white wood one that's in all the other bedrooms. Other than that, we are done! Yippee!!! See more before
here
and
here
.
Looking in from Sam's room, across the hall.
I love this little woodland theme of wall appliques to greet you at the door. They are available at Target right now in the kids/girl bedding section (but not on-line, I've looked and looked in hopes of providing you a link here) . The whole set was about $15. When I first spied these in
Jenn's girls playroom
, it was love at first sight. I love how they added more colors to the room than just the pink and green that we started with. It gave me the go ahead to choose the 4 fabrics for over the bed. Which was a sacrifice since they will no longer be used to make skirts for myself. But that's ok, there is always new fabric to fall in love with. And in here I'll get to see them everyday and they won't fade from washing. So it's all good.
I showed you in
the last post
the eye-sore of an electrical box that's on this wall. Seriously, who decides to put an electrical panel in a bedroom when the utility room is along this same outside wall. I've been wanting to cover it up since we moved here 10 years ago. Now, that is what I call
procrastination
patience. Or just a lack of direction, until now.
What I did: I figured out that in order to have it in the center of the wall, leaving room for the appliques on either side and not having to nail where the panel is, I had to find (4) 24"x24" canvases. The local shops didn't have anything that size so I searched on-line. I was thrilled when I found
Artist Brand Canvas
. They had 24" x 24", 1-5/8" wrapped canvases. So for around $50 I had the base I needed to fill the wall. I just stapled on the fabrics, from
Heather Bailey's
Pop Garden line
, and made hospital corners so they wouldn't show on the sides. I love that I can swap out the fabric if we need to. I will probably add furring strips to the wall since I realized as I was hanging these, that the panel wasn't flat against the wall.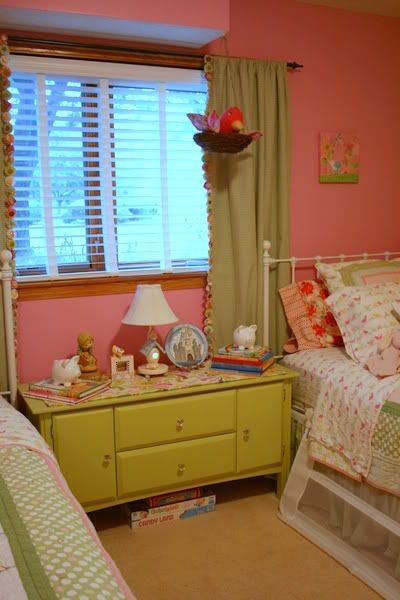 Here's another eye-sore that's found throughout the house. The dark brown intercom system. I think we've decided to just remove it and patch the walls. The house is so small that we've never needed to use it. If the doorbell wasn't connected to it I think we would have removed it years ago. But it's one of those things that's way down on the list considering we'd have to learn how to patch large holes in sheetrock. I can think of better ways to spend our Saturdays right now though.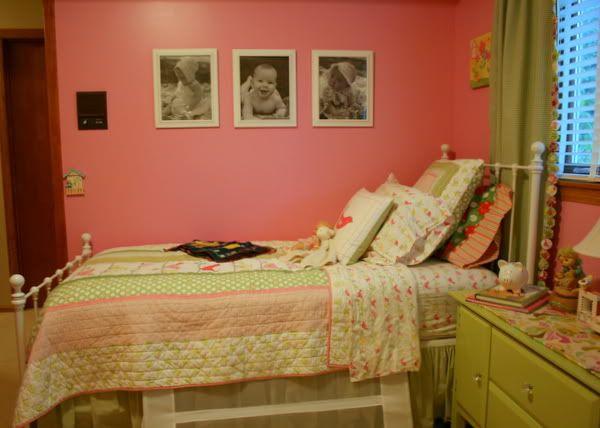 And I have finally found a growth chart I can live with . I like that it's removable and adding yellow to the room seemed like a good idea. I still need to find all their well-check Dr. appt sheets so I can go back and fill in their measurements. They are going to get a kick out of being measured for the first time though.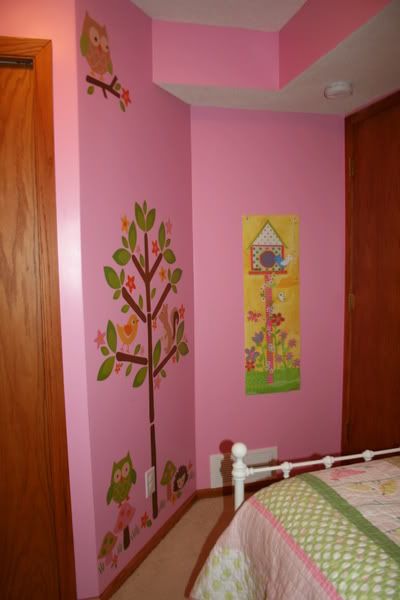 So, that's it. A lot of punch packed into a teeny tiny room (about 8'x9' of usable floorspace). I can't imagine two teenagers sharing this small of a space so hopefully we'll have moved by then.