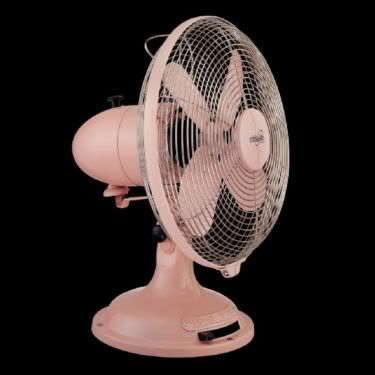 Earlier this summer the girls and I helped my brother, Jason, shoot a commercial for this fan and lighting store. A few years ago, Jason and his partner bought the store from the original owners that were going out of business. He figured instead of being out of a job, he'd rather own the place. Perty smart, I'd say.
You can see the
commercial here
, just scroll down a bit. Jason's the one in the green short-sleeved shirt talking to the couple wearing black (in case you wondered). And I'm in the first 8 seconds of it, wearing my VERY purple shirt. Go Vikings? I had no idea I had such bad posture and I could really use some new jeans. LOL
By the way, I've got him ordering me the cutest little PINK, retro looking,
table-top fan
for the girls' room. They are gonna L O V E it! I'm thinking white noise here. Grasping at straws to stop their insane habit of waking up 2-3 times each night. It's actually gotten better since it's no longer every 1-2 hours all-night long. Their pediatrician recommended a reward system and that's helping somewhat, but not quite the miracle I was hoping for. So we trudge on and pray for the sleep we so desperately need.
I'll show you the fan in the girls' completed room, when it comes in. I've been doing a lot fo decorating lately and I have loads of pics to share. But, that party comes first...