We had a beautiful Sunday afternoon in our backyard. It was the perfect day for a party, though it was touch and go just before it started. David had to set-up the tables and hay-bale-seating twice, since it started sprinkling after the first time. I was still decorating the cake while he was putting everything back in the garage, just 15 minutes before showtime. Talk about stressful! My heart sank at the prospect of having 25 people in our tiny living room, and by now a disaster of a kitchen. But those sprinkles left just as quickly as they had started and it ended up being a perfectly warm afternoon with a nice breeze. The rain didn't come back until we were tearing everything down. Thank you Lord!
We had a Care Bear,
R
a
i
n
b
o
w
, themed party. I made
crayon rolls
for each little guest. It was fun to use up some of my
HUGE
fabric stash and to give them all a fun and practical gift. But let me just say that quality assurance goes way down when making 10 at a time. I suggest planning ahead. And buying the crayons super cheap during back-to-school sales,
would
have been a great idea. We live and learn, right?
Allison said her favorite part of the party was playing Pirates with her cousin and friends. That must have been what she was doing here. So serious at her role.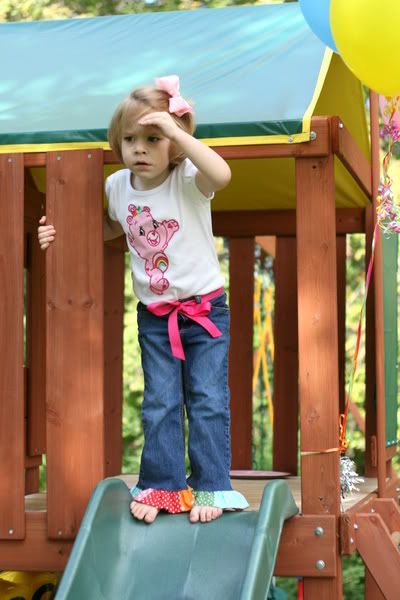 The girls each picked out their favorite Care Bear. Emily surprised me by picking Sunshine Bear. I asked if she knew he was a boy. Yep. I stayed up until 3:30am the night before the party, making their tees and then got up at 7am to start on the jeans. I'm a little crazy. I'm so thankful my mom was able to come over a few hours early to help with a gazillion things. Thanks, Mom! You are a life-saver.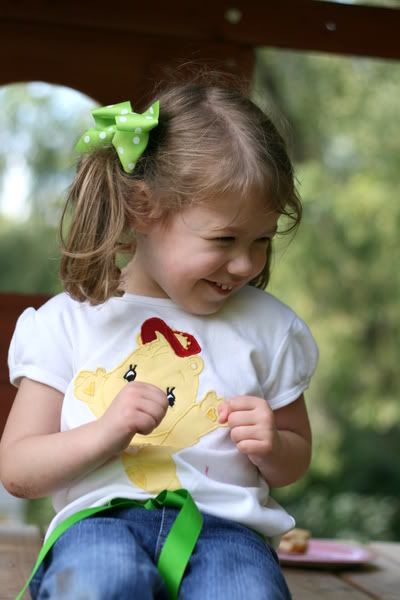 Cousin Mason got to try out the new baby swing for the first time. He kept asking his Daddy it take a nap. What a sweet little boy.
The pinata was a huge hit (no pun intended). I actually had to buy a baseball bat just for the occasion. My first pick was a pink bat, but then I remembered Sam. It's one of those defining moments in shopping (is there such a thing?) that I don't think I will ever forget. The realization that we have a little boy who will be playing ball in our backyard someday. But I digress...I was very impressed at how well all the kids did. I was thinking the pinata would be impossible to break open. But when it got to be cousin Hunter's turn (he's in 2nd grade), I was worried no one would get another chance to hit it. :) It turned out perfectly.
This photos of Allison hitting the rainbow is much neater up close. You can see the candy falling out and pieces of the pinata flying.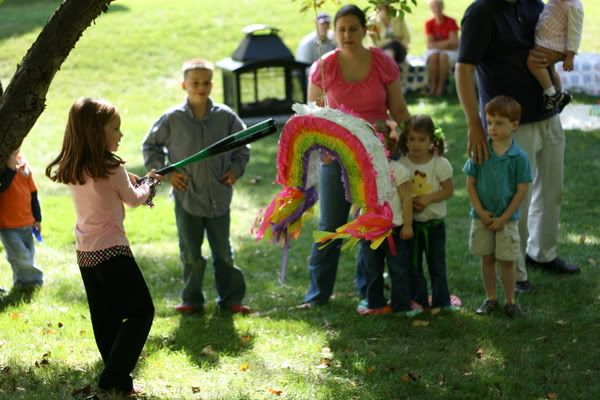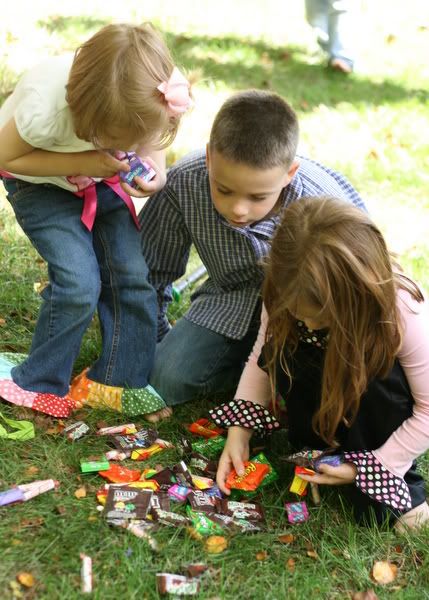 It took me a while to figure out how we could have enough seating for everyone. We ended up with hay bales that we covered in quilts. They were perfect! I got the idea after seeing
this
gorgeous wedding.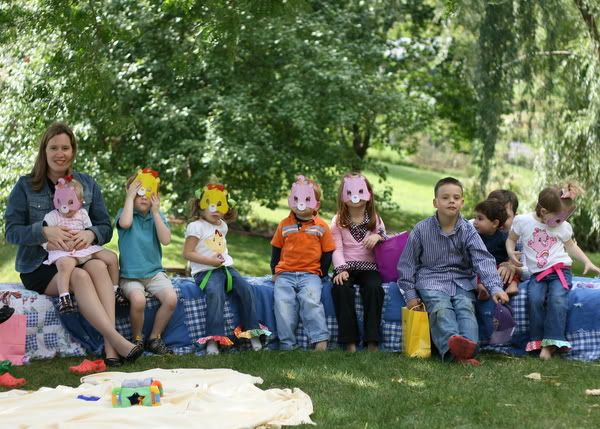 My sweet little Cheer Bear. She was so excited to wear her Birthday outfit. Allison is
all
about the
PINK
.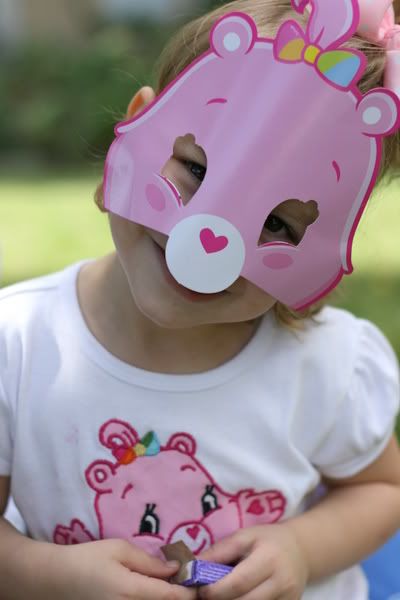 The kids LOVED the Care Bear cake. Me, not so much (notice the lack of close-ups...hehehe). This might be the last time I make a cake this fancy for a party. It's just too much stress at the last minute. Just like
last year
, I had to bake 2 cakes, when the first one wouldn't come out of the pan. I think I'll save these for their actual birthdays and get a store-bought cake for all future parties. That way they can help me when it's much less stressful and I know they would enjoy the process just as much as the end result.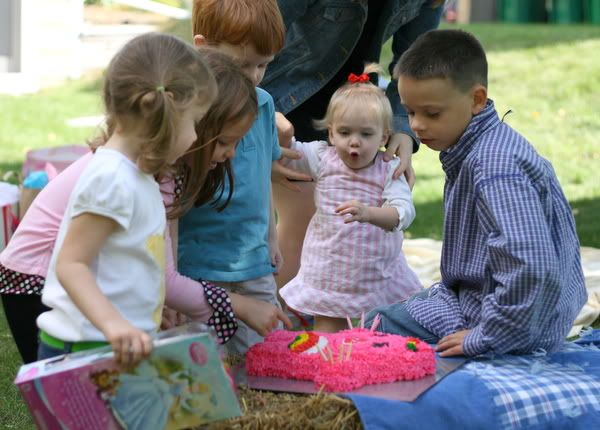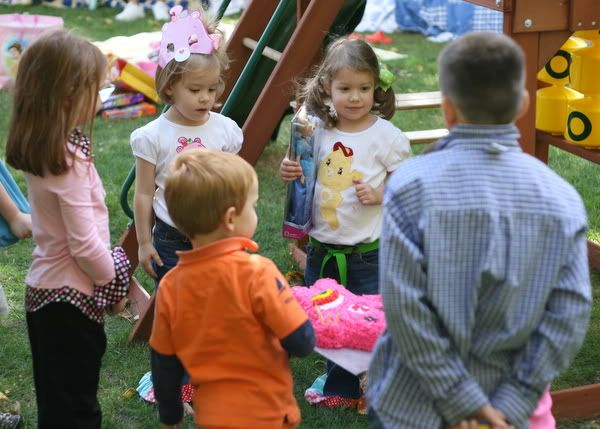 We did a new thing this year. We sang Happy Birthday to each girl individually and they both got to blow out their own candles. The look in their eyes while we were singing to them was confirmation that we made the right decision. What a special moment, where they feel individually celebrated. It would be sad if they never got to hear Happy Birthday sung just to them. That's one of the tough parts about being a twin. There are so many things that you have to share on a regular basis, but Birthdays too. I'm sure when they get older we'll have some years where they get separate parties too.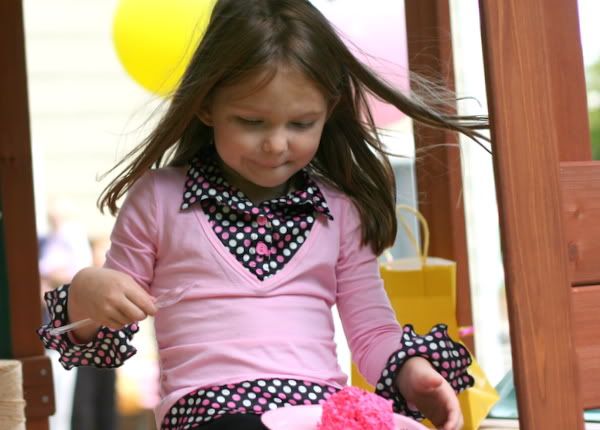 My sweet Sunshine Bear and her goofy Dad.
Happy 4th Birthday, girls! We love you so so so so much!
xoxoxoxox
Mommy & Daddy