Last Friday, two days before THE wedding, 35 of us converged on the newly opened
Mediterranean Cruise Cafe
in Burnsville MN, formerly in Eagan, for the rehearsal dinner.
Can I just say right now, how glad I am that we don't live in Eagan? I don't think anyone would ever spell our last name correctly again (most don't anyway). Imagine, the Eagen's from Eagan. Anywho...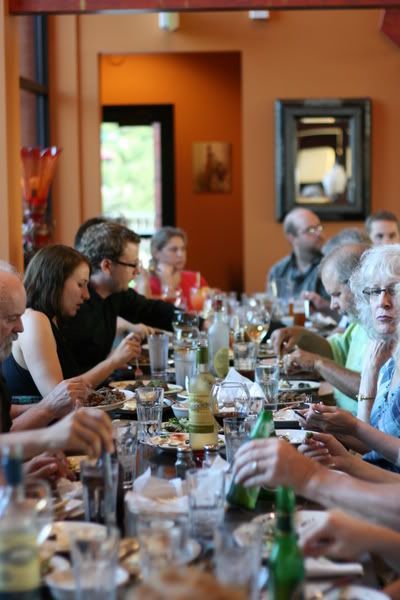 I could have just left this post out, especially since it's out of chronological order and you've already seen the wedding day. But this restaurant was just so much fun that I had to tell you about it. If you are local (or visiting that mall we've got) this place deserves a stop.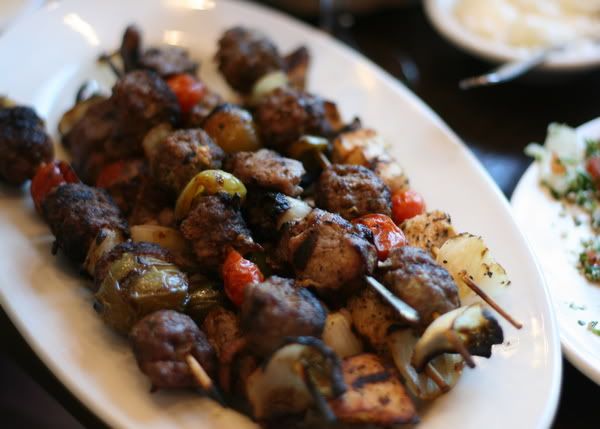 The food was fabulous. This is only the second time I've eaten at a Greek restaurant (the first was in Chicago) and I loved it. I'm a big fan of pita and hummus, and theirs was perfect. It reminded me of being in Israel. We had the benefit of being a large group and having the family style meal pre-ordered by Gretchen and her mom. They did a superb job because if I had had to just pick out one dish for myself I would never have gotten to eat so many different things. It was fun to be sitting there as they kept bringing plate after plate of food. We were next to Gretchen and Jeremiah and they were our little tour guides. I tried things I probably wouldn't have because they were so excited about them. I think we had just about every appetizer on their menu. Oh and the chicken kabob was super tasty. I also really loved the Greek salad. Can you still call it a Greek salad when you're at a Greek restaurant?
Hmmm..."I'll have the Greek salad, you know, instead of the Italian salad that you don't offer."
I must say that this place is hoppin'. We drove by it on our way home, at about 10pm, and it was packed. Thursday through Sunday nights they have Belly Dancing and it was quite entertaining. At one point, I looked over at a table with a family of 4 young sons (about 7-12 years old) and every pair of eyes were glued to her, jaws dropped. You could tell their mom was a bit uncomfortable, I would be too. I wonder if they knew about it before they came for dinner. This dancer also gave lessons to a couple of young girls and even this little flower girl.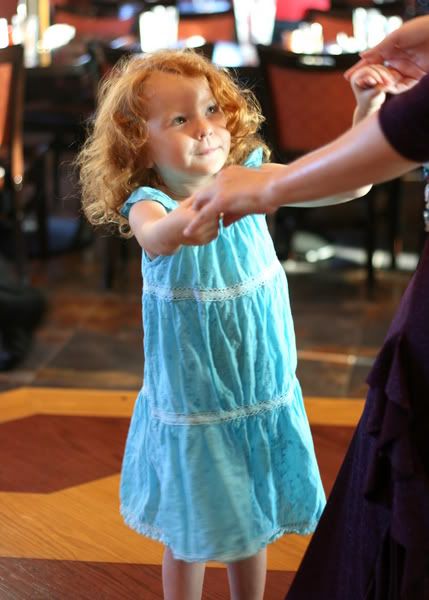 Though it was great fun and entertaining, I feel the need to warn you about it a bit. The dancing in the middle of the room was very tasteful, but when she starting working her way around the room, it had a different feeling. I saw several tables where men were slipping bills into her waistband instead of the tip basket on her head. It was just this side of stripping in my opinion. But you can avoid all of that if you visit Monday, Tuesday or Wednesday nights, which we will probably do next time.
After dinner we headed down the street to my aunt and uncle's home for dessert. Jeremiah's mom brought the most delicious cakes from
Cafe Latte
. A lemon cake and a very rich dark chocolate cake. Which reminds me, I've had the recipe for their
Turtle Cake
, from a magazine tear out, for forever. I need to make that. Like right now. But since I gave you the recipe, maybe you'll beat me to it.