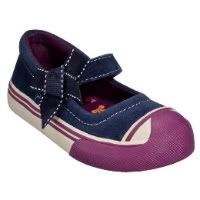 We took the girls shoe shopping today and found these adorable tennies for fall. They have outgrown all of their shoes except for crocs and open-toe sandals which won't get them very far in a Minnesota winter. Somehow they went from size 7.5 straight to a size 9. I was tickled to find these adorable little
rubber soled and toed shoes
at Tarjet Boutique today. They are knock-offs of the ever popular
Tessa Mary Janes
by Morgan and Milo, but for half the price.
I started by laying out the three choices and asking the girls separately which color was their favorite. Allison chose pink and Emily chose navy. Then I asked them 5 different ways hoping that one would waiver and give me a different answer. Not once could I get them to choose the
brown
pair. Then I resorted to begging and pleading David to let
ME
have the brown shoes. "But they don't come in your size" he says (hardy har har, Mr. Smartypants), "they won't ever wear them, they chose the other colors." Ugh!!! There was no way I was leaving that store without the brown ones too. I had already designed 2 dresses and 2 blouses, using my leftover
Anna Maria Horner
Chocolate Lollipop fabrics
, in my head. I even resorted to hiding them in the stroller before I finally said "I know, they can come out of my miscellaneous money!"
Meanwhile, as I was creating my own drama, Emily was making some with
this pair
of pink, princess glitter shoes. There was no way
she
was leaving the store without them. I asked her if the cute tennies fit well and she said "no, just the princess shoes fit." Later, David found her stuffing the princess shoes into the wrong box and putting them in our stroller, telling Daddy "There are
no
princess shoes in here,
just
regular shoes." Oh boy, sound familiar?
Happily we both walked out of the store with the shoes we wanted.