I took the girls in to get their hair cut lasterweek (it's a word, just ask my girls). Their first real cut from someone else. Allison has seriously needed one for quite a long time. I did even things up a bit
last year
, but since her hair likes to grow mainly in the back, her baby mullet made a come back. It's not the best look in the world for a little girl. Or anyone for that matter.
I worried a bit about having her hair shorter than her sister's. I hoped they were too young to worry about such things and I was right. It went very well. There was no remorse from anyone. I think it helped that I had just had 8" chopped off of my hair and the girls wanted to go the "beauty salon" and get their hair cut short like Mommy. Yeah, I talked it up for a while. LOL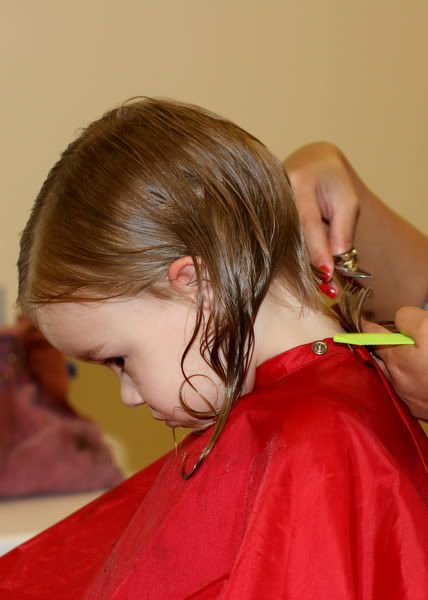 There's no going back now!
She was so brave and did a great job of sitting still.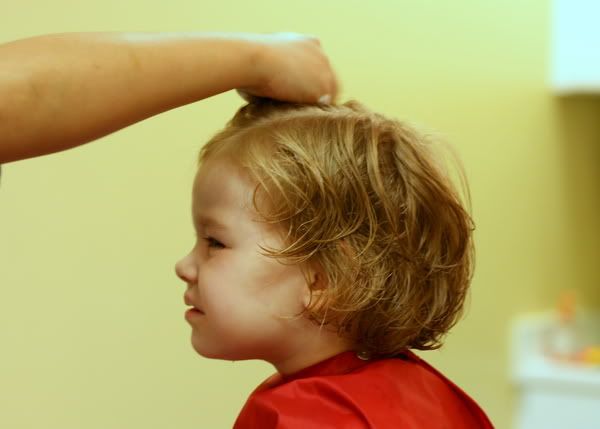 She got a few layers to help it stay fluffy and camouflage her naturally short areas, after we discovered that, just like her mom, one side flips under and one side flips up. She's got some natural body in her hair just like me too. Oh boy, she's in for some disappointment in her life.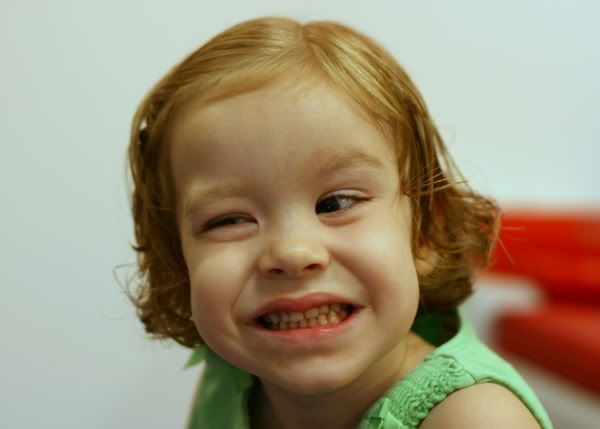 And why do I still ask them to say "cheese"? Who ever thought of that anyway? Didn't they realize they were setting society up for a lifetime of strange looking smiles?
Meanwhile, Sam went from happy...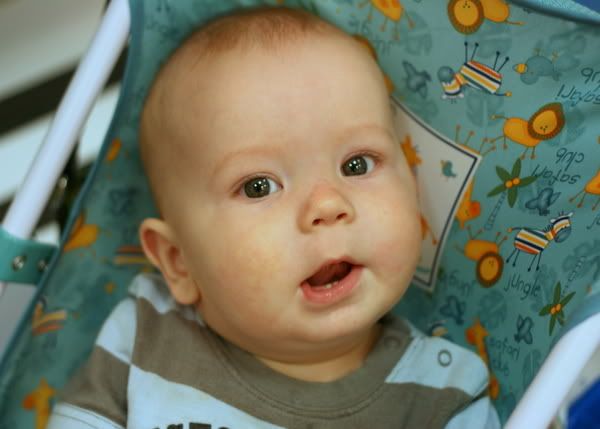 ...too extremely irritated in about 2 minutes. I think he was jealous. He doesn't have much hair. Though strangely, people remark that he has more hair every time they see him. Where is he hiding it, I'd like to know.
I ended up looking like the crazy mom trying to juggle the fussy, wiggly baby and still take photos. Thankfully we were the only ones in the "beauty salon."
Emily insisted that Allison go first. She does that for everything. And thankfully Allison is always a willing participant. She's a thrill seeker. You should have seen her at the Dr. yesterday. After going first for the throat culture, I don't think she'll fall for that one again. But that's for another post another time.
Not quite fear, just concern on her face. We heard "I have a question" quite often, which is her way of stalling these days. She likes to know exactly what's coming next.
Another "cheesy" grin.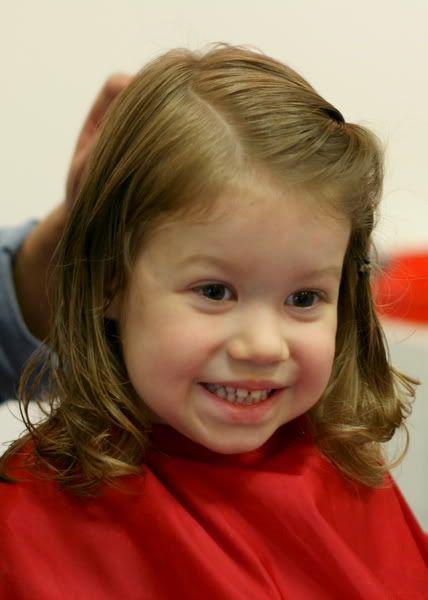 And finally, the promised suckers. I love that they get such enjoyment out of little things. I'll remember these days fondly when they become teenagers and the bribes become much larger and more expensive, while we are still on a "dum dum" budget.