We have THE best friends in the whole wide world. Friends that will spend their entire week-end at our house building a playset for our children. With only the satisfaction of a job well done and yummy food as compensation. Thank you, from the bottom of our hearts and the bottom of our little ones feet who happily play all over their "park" every day.
Farewell to you garden. In this season of life, a playset just makes the most sense. We promise to reprise your role in a sunnier spot next year. I do believe David felt physical pain when he removed the asparagus, tomatoes, strawberries, beans and peas. And finally put his foot down when it came to the carrots and beets, determined to let them live another month.
We still need to add more dirt to make it level with the retaining wall and then lay sod so our kids aren't literally playing in dirt forever. Let's just say my carpet will thank us when we do.
There was much girl-wrangling to be done.
By young...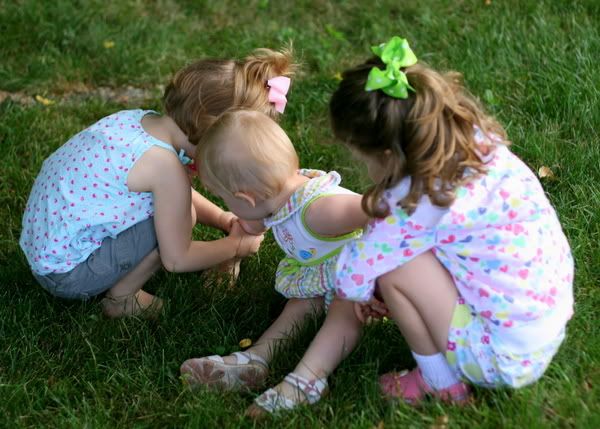 ...and old.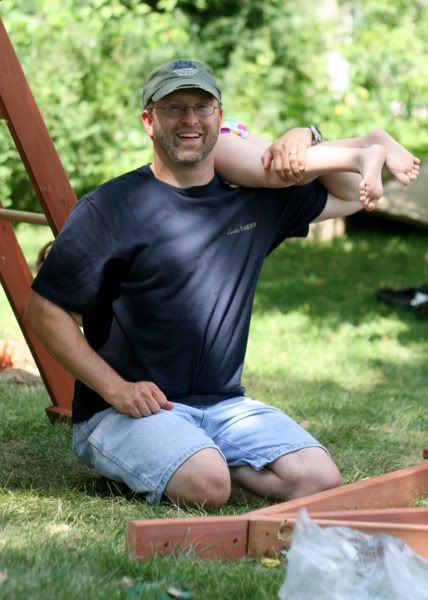 Sorry Jeff, just realized I called ya old. Relatively speaking you know. But, now that I think about it, you
are
a couple of years my senior. I mean, not that your are anywhere near being a Senior, yet. Oh, you're over half-way there? Do forgive me for bringing it up. I promise I won't do it again. Or not.
Holly was my partner in crime, as well as wife to the other Dave and mother to the adorable little girl and redhead. We probably took more pictures than necessary and neglected our kid wrangling duties a few too many times.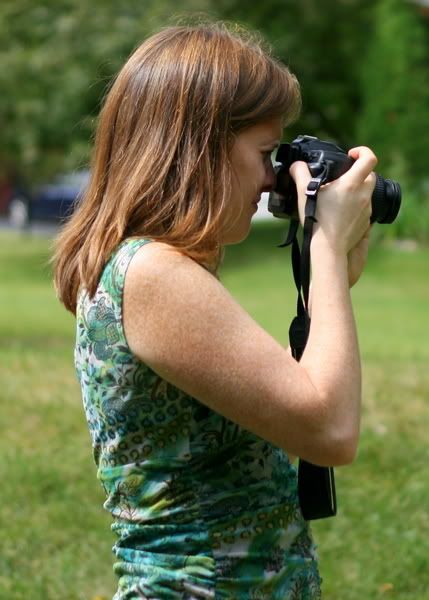 It's hard to get much done with four, four year-olds under foot. But I wouldn't know, I was taking pictures.
It looked really difficult from behind the lens though.

The third Amigo is Jeff's daughter.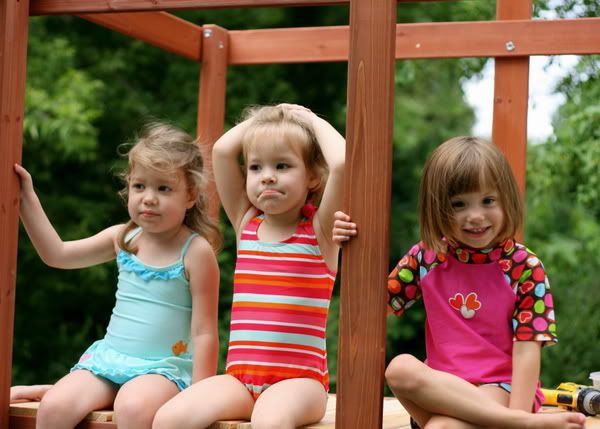 There was a lot of this going on.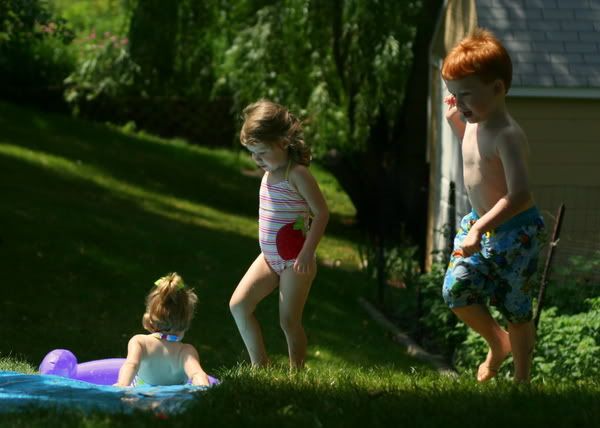 Some of this.

I love his crooked little teeth. They may be crooked, but they are perfectly crooked. No?

And a bit of this.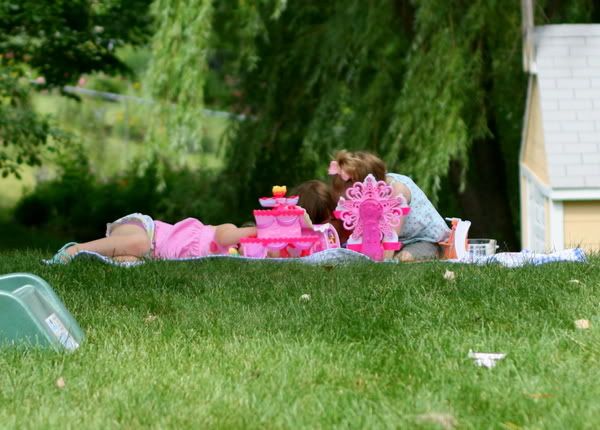 And even some raspberry picking from the neighbor's garden. I promise, "Mrs. Debs", they only ate the ones they could reach from our side of the fence. Just like you taught them. Pay no attention to how adept they've gotten at pulling the branches closer to the fence. Don't worry, we'll replace the 1,428 bushels of raspberries they've consumed, later this fall. We'll be dumping them on your doorstep, so be ready to start preserving. I'd hate to see them go to waste. Just sayin' is all.
And who is this handsome Debil? Doesn't he look mischievous?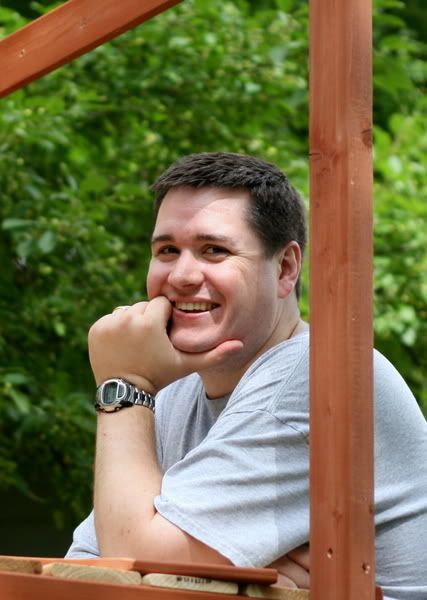 That was right before he decided this was a good idea.

Mr. S thought so too. Thanks
Jenn
, for the onesies! We love hand-me-downs. :)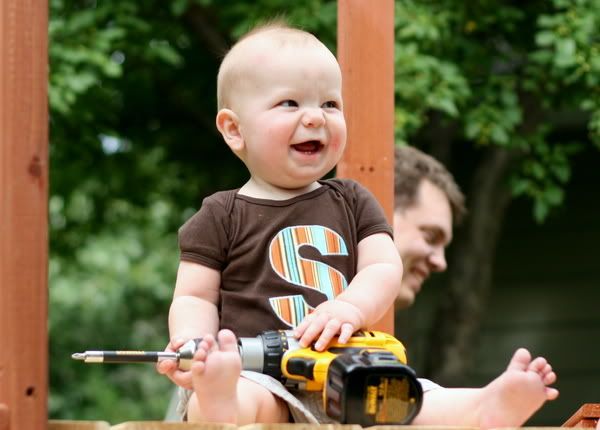 I can't blame them really. Because this photo would make a fabulous 1st birthday party invite (try not to notice that I chopped off his foot).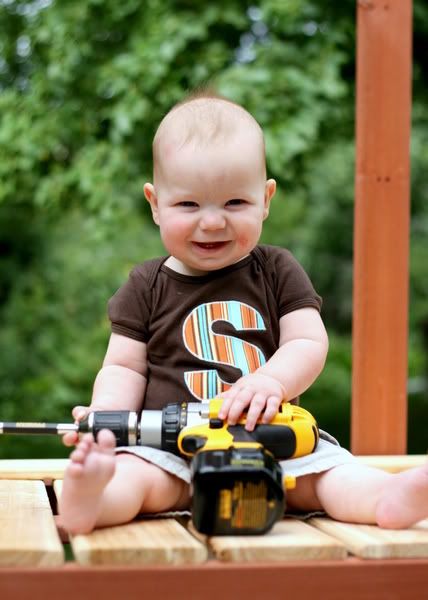 Jeff, being the engineer that he is, was assigned the role of contractor. You know, (in geek speak) the guy you contract out to, to build all the components so you can put them together and look like the hero and you don't have to provide 401k or insurance to? But that's ok, he didn't need 401k or insurance, so I think he was fine with it. Jeff did a fabulous job of building the ladder, rock climbing wall, and tic-tac-toe board.
While the structural work was left to "the Dave's."
Don't they look all professional here? Right after this piece was screwed in, I, in all my womanly wisdom came over to inspect it. Did you guys make sure it's level? You did? Oh. Do you think it matters that the ground it's on isn't level? I don't think they will live that one down. In fact I plan on reminding them every chance I get. Sorry guys, that's just how I am. And I'm not ashamed to admit it.
All joking aside, well not really...don't you think it's cute how the Dave's coordinated their outfits? I must have missed that early morning call of "Hey, whatcha wearing today?"
But I shouldn't speak. Ever the hostess with the mostess, I managed to bring out bowls of watermelon just as they were doing the tough over-the-head work and couldn't possibly take a break. That probably wasn't very nice of me. I won't win any hostess awards.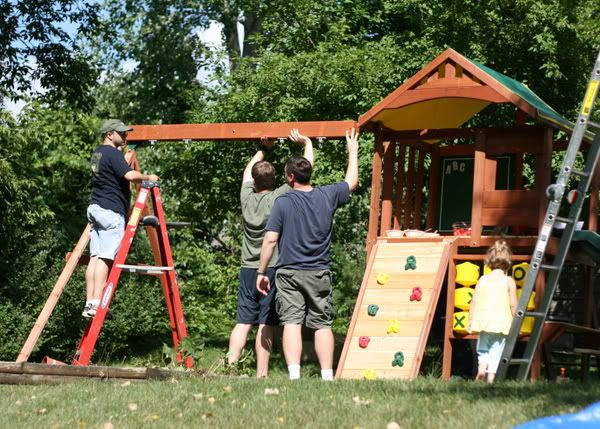 In all seriousness (seriously this time), they all did a fabulous job of installing
the playset
. They made it through all 33 man hours, over two days, without a single accident. OSHA would be proud of you. I know I am.
We were so thankful to be able to get this playset for free, through David's work. Sure, it's not the best set out there and it's only made of treated pine. Yikes! But we'll be diligent to stain and varnish it as much as it takes to make it last as long as it can. We feel so blessed to be able to have this for our children, in the safety of their own backyard. What a treat!
Just the other day, David sent me this e-mail:
"Check out
this other playset
from the same manufacturer of ours. When our ship comes in and we are awash in cash, having fully funded the work of Christ, we'll get one of these for the kiddos."
Having fully funded the work of Christ
...makes my heart sing. I love the way he thinks. I'm so happy God paired me with you!
David works for a company that does incentive programs for other companies and their employees get the added perk of earning points to purchase things from their catalogs too (he's a Sr. Unix Admin and runs the servers that run their clients incentive program sites).
Sorry we couldn't also get the flat screen TV, Dear. That's next! But I know our children love that you worked so hard to get them this. If the countless days of hearing "are you winning me a playset Daddy?" aren't proof enough, the look on their faces is. You are their Hero! What could be better than that? Well, don't ask Allison, she might say a pony.