My Uncle John owns a dairy farm in southern MN (and a second one the next road over with no cows, just the house and buildings). Though he has a day job in the city, I think he would rather be a farmer. He jokes that he works just so he can keep his farm going. He worked the summers of his youth on his uncle Paul's farm (the same one my Grandma grew up on). And I have very fond memories of spending many a week-end there as I was growing up.
I'm thrilled that our kids have my uncle's farm to visit now. I wish every child could have an opportunity like this. It's such a different life from the city and I love everything about it. One of my favorite childhood memories is going with my dad's cousin into the creamery and dipping a juice pitcher into the big milk tank to put it over Rice Crispies for breakfast. Fresh. Whole. Milk. Yum!
A couple of months ago there was a fire at the farm. It started very early in the morning, just as the hired hand was getting up for the day. He noticed the smoke right away and was somehow able to safely get 90 dairy cows out of the barn without a single loss or injury. My uncle rushed down there and was just beside himself. When he called to tell his mom, she told him not to worry, that help would start pouring in from everywhere...that's what farmers do. She was right.
He was so touched when people from surrounding farms came to help. The place was swarming with men lending their very capable hands. Cows needed to be milked out in the field, with the portable milkers they brought. And later they were able to transport them all down the road, with the trailers they all brought, to a barn that just happened to be standing empty and ready to receive and start milking ALL of the cows. Within a matter of hours they had that empty barn cleaned and ready to go, meeting all the necessary industry standards.
Since then, the barn has been rebuilt and the cows are back home. But today, 2/3rds of them are being
auctioned off
. Eventually they hope to build up their numbers again. But for now they are slowing down the business.
After church last Sunday, we drove an hour and a half, down to Mantorville to visit all the cows before they are sold. It will be a while yet before there are this many again. The girls had THE best day. I think Allison was meant to be a farm girl. She has no fear of the cows and isn't afraid to get slobbered on.
I must admit that I felt a little bit like
The Pioneer Woman
, with my camera constantly in front of my face, but with much less talent.
Driving the 4-wheeler on her daddy's lap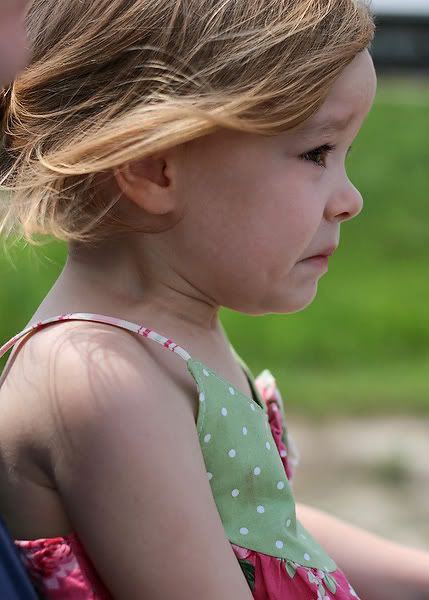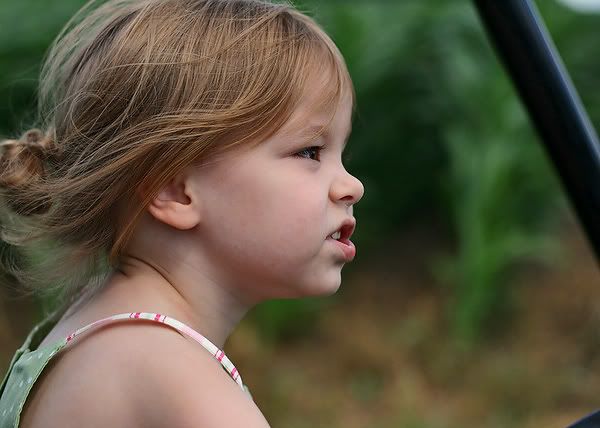 Feeding dinner to all the crew helping to get ready for the auction.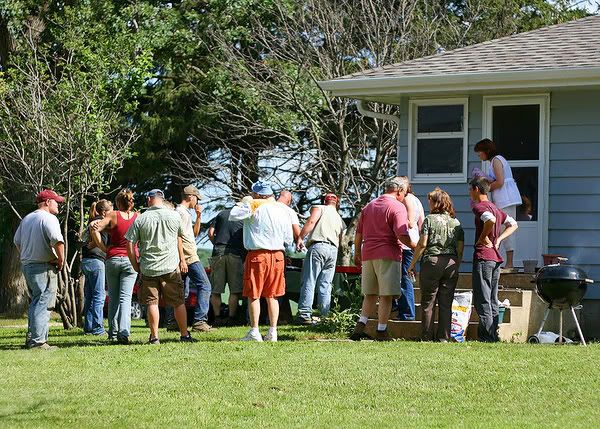 My aunt's organic garden and greenhouse.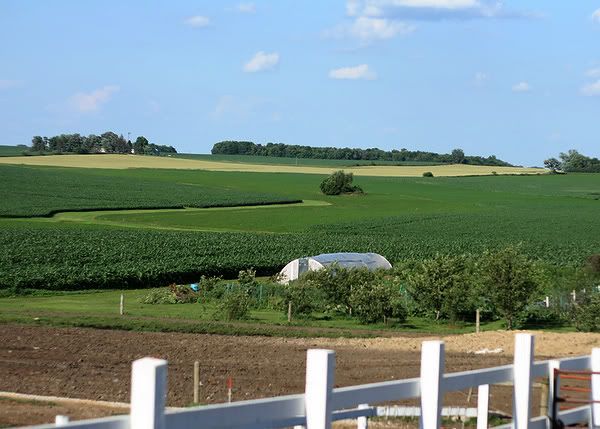 Chaps, on a diary farm? Who knew?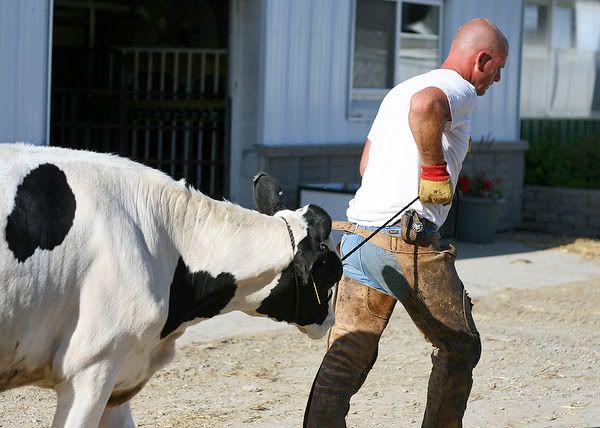 Haircut station.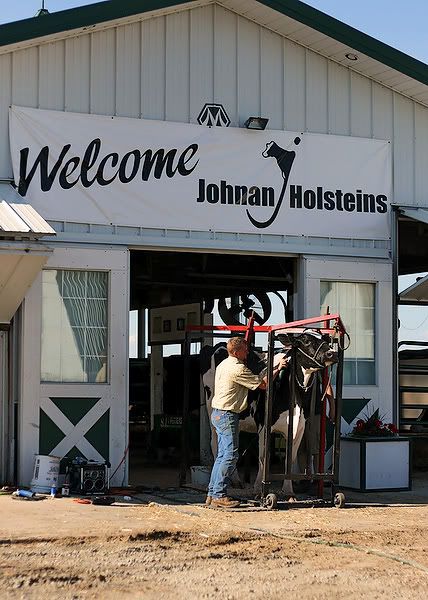 Just bathed cows. With dirty knees.
Happy cows are from Minnesota.
The old creamery.
Moo!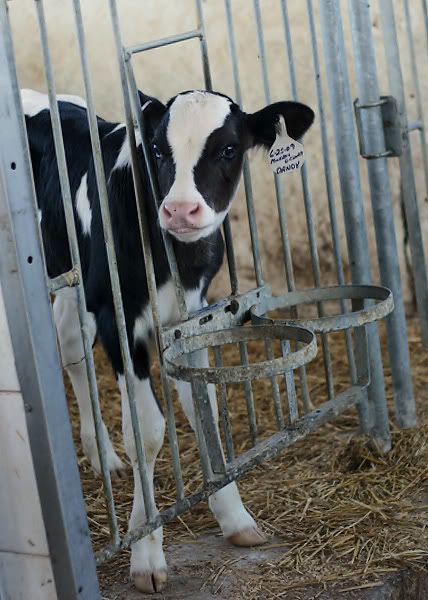 Fearless.
Slobber.
I'll show you around.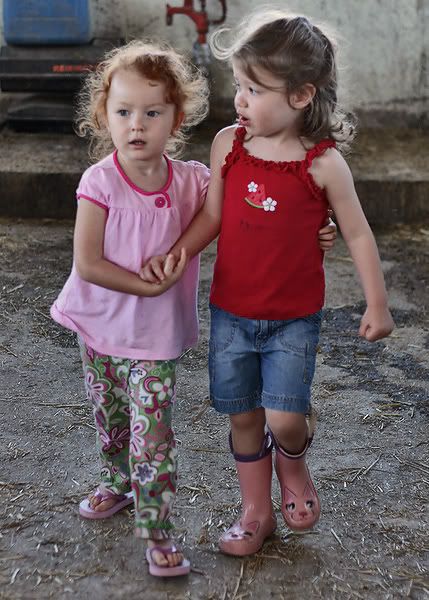 Getting her groove on.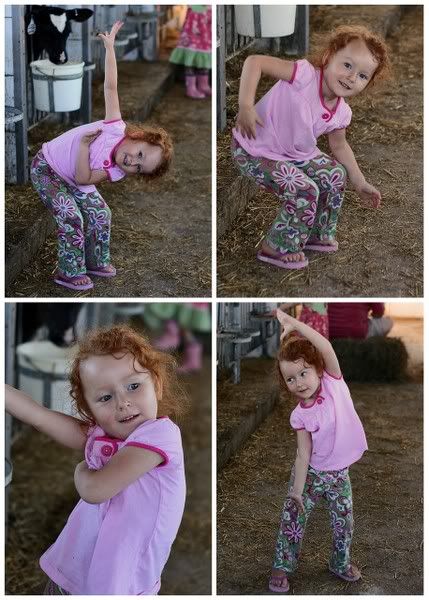 We had a fabulous Sunday!