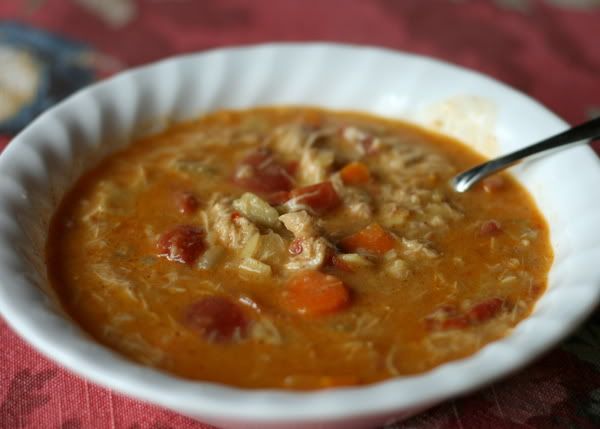 Mmm....Chicken Tortilla Soup! I've never actually ordered it in a restaurant. Frankly the idea never sounded yummy to me and I'm not one to order something new unless I'm certain I'll enjoy it. What a waste of money it would be to end up with a dud.
But, when I found this recipe, something just clicked and I could tell this would be awesome. And guess what...it is. I think my favorite part are the tomatoes and the corn tortillas, but it's all delish. Try it, you'll see what I mean. Or not. Really, it's up to too. I'm just here to show you how tasty it is.
For the full recipe, in an easy to print format,
go here
.
I started out with a whole cut up chicken (bones and all). It was on special at the supermarket this week. I added half an onion, 2 stalks of celery, 2 carrots, 3 cups of water and salt and pepper to make the stock too. You can cook your chicken any old way or pick up a rotisserie chicken and use store bought stock if you like. It will save you a bit of time.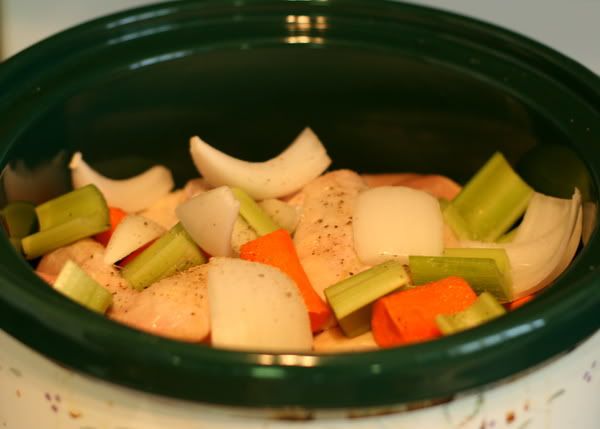 I let it cook on high for about 6 hours. If you are going to be gone for the day, put it on low and let it cook all day. Your house will smell great when you get home. Like chicken soup. And it looked like this when it's ready.
You'll need to separate the meat and put it aside for your soup. I don't remember how much it yielded. Definitely more than the 12oz called for. I meant to save about half for my
Cocka-Doodle Chicken Noodle Soup
later this week. But I forgot. I do that sometimes.
Next, strain the liquid from your cock-pot. Discard everything else. I ended up with almost 4 cups. I added enough ice to reach 4 cups and then put in the fridge to separate the fat. I spooned off the top layer of fat and ended up with this. It's highly concentrated. I later added 4 cups of water to it since you need 8 cups of stock for this recipe.
Chop up your onion, celery and carrots and place the mire poi plus 2 Tb vegetable oil and 1 clove of minced garlic in a pot to saute.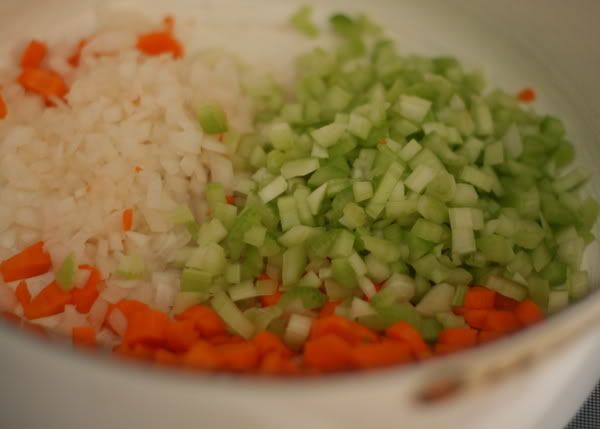 Add your salt and pepper. I don't have a photo, but also add the chicken broth and bring to a boil.
Add the can of diced tomatoes, Rotel and packet of
taco seasoning*
and chicken. I used regular diced tomatoes this time, but remembered later that the petite diced are really nice for this soup.
You may need to watch your step if you have a blueberry throwing little boy supervising you. It can get squishy.
I cut the tortillas into about 1" squares. I actually used 13 tortillas, instead of 10. I like them, that's why. Whatcha gonna do about it?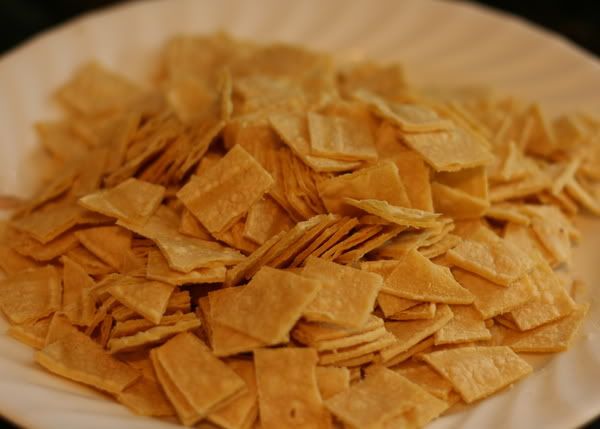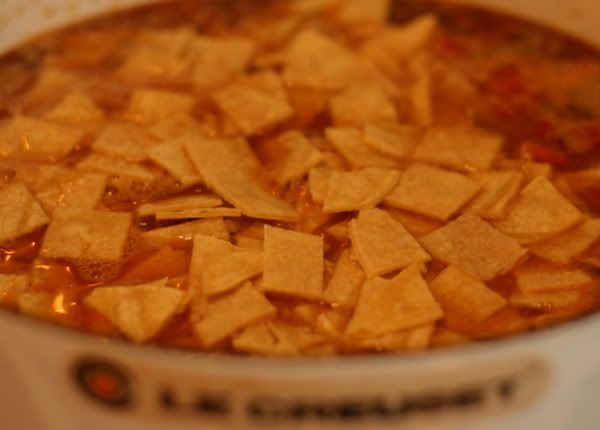 Let boil for 20 minutes or until tortillas are thoroughly incorporated. It's very important to stir often or they will stick to the bottom of the pot.
Shred the monterey jack cheese. It may seem like too much, but really it's not.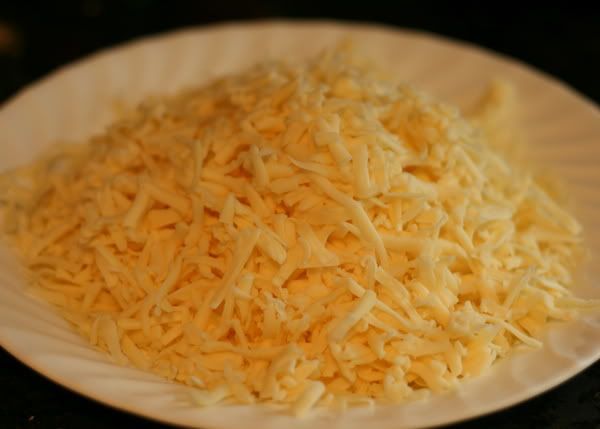 Reduce heat and add the yummy cheese. Simmer for 10 minutes.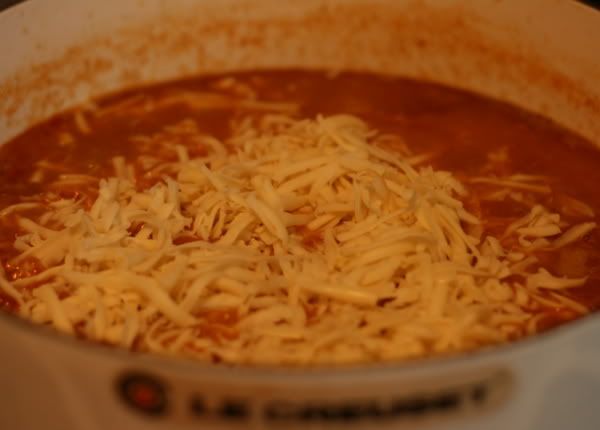 Add 1 cup of milk and simmer 10 more minutes.
Serve to your starving family.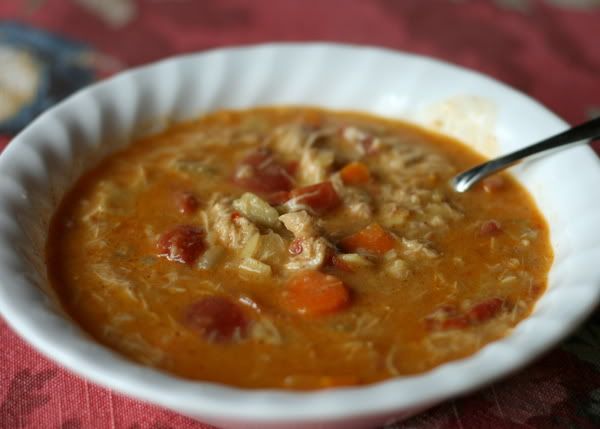 And enjoy!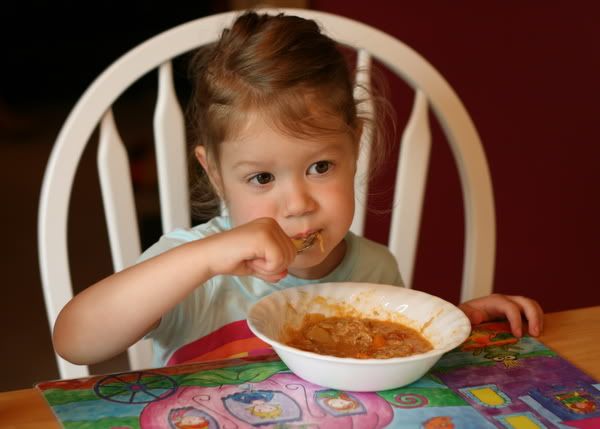 I don't know if this freezes well. I've never tried it. But I suspect it would be best to freeze half before you add the tortillas.
*Make your own taco seasoning
1/4 cup instant minced onion
2 Tbsp. chili powder
2 tsp. paprika
2 tsp. crushed dried red pepper flakes
1-1/2 tsp. dried oregano
1/2 tsp. dried marjoram
1 Tbsp. salt
1/4 tsp. pepper
2 Tbsp. cornstarch
1 Tbsp. instant minced garlic
1 tsp. ground cumin
Combine all ingredients in a small bowl and blend thoroughly with wire whisk. Spoon mixture into a tightly closed container and label as "Taco Seasoning Mix". Store in a cool, dry place. Use within 6 months. Makes 6 packages (about 2 Tbsp. each) of mix. 2 Tbsp. equals 1.25-oz. pkg. purchased taco seasoning mix. Later 2Tb mix, and 1/2C water to 1# cooked beef or chicken.