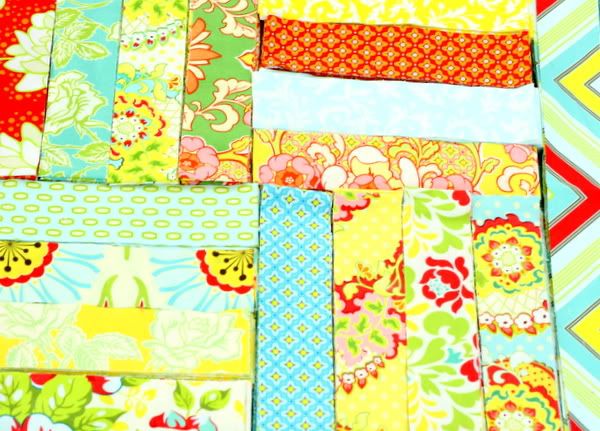 In about an hour, I was able to finish up
week two
of the quilt-along. Now I don't feel so behind and that's kinda nice. I've changed my mind again and the queen size quilt as back on. LOL I decided to add in the 3-4 prints I held back because I had thought there was too much green, orange and yellow. But I like it now with all of them together. The green in the top row, 4th in from the left was added, also the red floral in the upper left. And a couple more that I don't remember now. I've also got one more print coming in the mail and one I'll pick up tomorrow while the girls are at their last day of school. I've just been guesstimating how many yards I need for a queen, so i really need to sit down and do the math. I love math! It was my only "A" in college.
I'll have to order more fabric for the binding when the time comes. I had originally planned the zig zag stipe for that, but after a great suggestion from my week one post I'm seriously considering using the red/orange ditty. I think that will help anchor it better.
Week three has us sewing the strips together and creating our blocks. This I'm sure will take quite a bit more time and I hope to get started tonight.