Here's a quick peek at my strips. I threw 6 sets (out of 19) up there to see how they look against the yellow paint. I painted our bathroom last summer and we plan to extend this color into our room this summer. I actually want to paint our kitchen and living room this color as well. It's so warm and inviting and it goes with everything we already have. I think I'll like the continuity from room to room.
Now I'm busy cutting the strips into squares but I'm finding that my seems must be a bit irregular since I'm not getting quite as large a block size as I had counted on. I bought three new feet for my machine last week (ruffle, walking foot and narrow hem), but I guess I should have picked up a 1/4" hem foot too.
I have decided to make the quilt backing by just piecing together wide horizontal stripes of 3 or 4 of my most favorite fabrics. After seeing these together, I think just 3 is plenty. The top and bottom fabrics will make for a very pretty turn-down cuff and without a definite top or bottom I can change which side is up whenever I want to.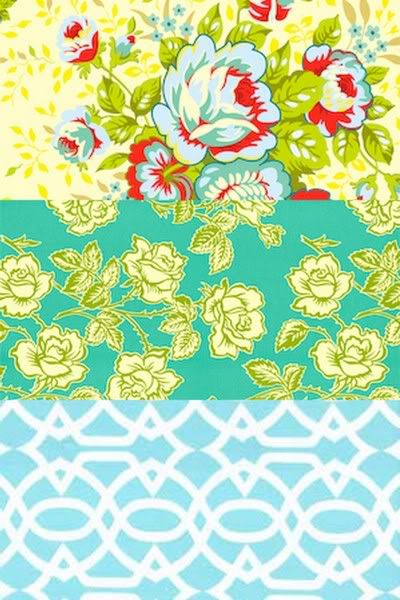 I'll hang new curtains in plain white twill that I'll add a 1.5" border of the aqua lattice print to. This is my favorite print from
Paula's
Flights of Fancy line
. I'll add that same border to the shower curtain. Then I'll recover my sewing chair and make a new ironing board cover with that print as well.
I'm getting excited about the new look! We've had the same style for 11 years now and I'm tired of the sage green walls and blue cabbage rose print duvet and curtains from Eddie Bauer Home. It's looking pretty dated to me.